Learning how to become an air marshal can lead to a very rewarding career. If you enjoy traveling and have an interest in law enforcement, this could be a good fit for your career.
An air marshal offers a career with strong earning potential. You can also make a difference by helping to fight terrorism. For many, this career is very fulfilling.
Before you decide to go down the path to becoming an air marshal, you should know the job duties. Let's look at what air marshals do and how you can become one.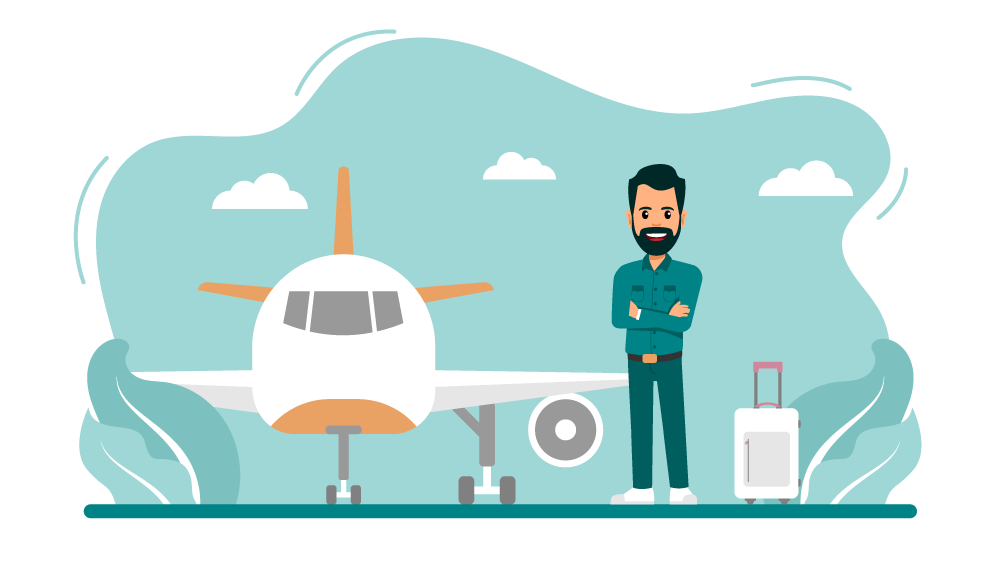 Job Duties of an Air Marshal
As an air marshal, you will be trained as a law endowment officer working for the federal Transportation Security Administration (TSA). You will be armed and your main job duty is to protect the crew and passengers on international and domestic flights.
Air marshals have the task of identifying dangerous people, preventing criminal activities in airports and on flights, and apprehending dangerous people. Some of the common job duties include:
Detecting hostile acts
Defeating any hostile acts against aviation
Boarding random flights
Monitoring passengers
Identifying threats and taking access
You will work closely with federal and local law enforcement to ensure the best security possible. You will also assist the security for other transportation, such as passenger trains.
How To Become an Air Marshal in 5 Steps
Step #1 – Complete High School
You will need a high school diploma or equivalent to become an air marshal. Most air marshals go on to college, so doing well in high school can help. If you score high on the SAT or ACT, you might get into a better college program.
Step #2 – Get Your Bachelor's Degree
It's not required for an air marshal to have a bachelor's degree. However, it's preferred by the government and helps make it much easier for you to land a job. Without a degree, you will need at least three years of relevant experience.
Getting a college degree will help you become an air marshal faster. These jobs are very competitive, so you want to give yourself the best opportunity. A bachelor's degree in law, homeland security, criminal justice, or aviation business administration is a great choice.
Step #3 – Gain Experience
Whenever possible, gain experience in a field that demonstrates you can identify solutions to problems and gather data. You will also want to make sure you can prove you have excellent communication skills.
An internship or entry-level position is the best way to gain experience. You can join a local law enforcement agency. Military experience is a huge plus for those aspiring to become air marshals.
With law enforcement or military experience, you will gain a competitive edge. This shows you have marksmanship skills and the required physical fitness for the job.
Step #4 – Meet All TSA Requirements
you will need to meet all the necessary TSA requirements for this position including:
Must be 21 to 36 years of age when you apply
Must undergo a drug test
Must pass a criminal and credit background check with no criminal convictions or disqualifying financial delinquencies
Must pass a physical health evaluation
Must pass a mental health evaluation
Must go through a panel interview
Must qualify for top-secret security clearance
Must pass a PolyGram exam
If you can pass all of these requirements, you can move on to the final step in the process of how to become an air marshal.
Step #5 – Complete Air Marshal Training
Once your application process is done, you will need to complete a 16-week training program. This training program will be held at the Federal Training Center in Artesia, New Mexico for the first phase. The first phase of training includes some classroom instruction, physical fitness, and marksmanship.
The second phase of your training will take place at the Federal Air Marshal Service Training Center in Atlantic City, New Jersey. This phase will include advanced weapon training, international law, defensive techniques, and aircraft safety protocols.
Common Skills of an Air Marshal
If you want to become an air marshal, you want to work on specific skills including:
Becoming more reactionary
Coping well with stress
Marksmanship
Independence
Observation skills
Law enforcement commitment
Humility
Understanding the behavior of people
Aviation knowledge
Discipline
Many of these skills are taught to those in the military and in law enforcement.
Frequently Asked Questions About Becoming an Air Marshal
How much can I make as an air marshal?
The typical pay scale for air marshals goes from $46,950 to $82,471 per year. The more experience and training you get, the higher your salary. Military veterans are preferred over civilians and may earn more starting out. However, those with a background in law enforcement may also be preferred as air marshals.
The average salary for an air marshal will be around $68K per year. It's common to earn more than the minimum since you will need experience to start out. Those with law enforcement or military background may earn a higher starting salary than others. It's possible to earn a higher salary of around $118K per year with lots of experience and training.
What are the common job titles for air marshals?
When you become an air marshal, your job title may simply be air marshal. You may also be a Federal Air Marshal, a US Air Marshal, or a Sky Marshal.
What are the hours like as an air marshal?
When you become an air marshal, you will work about five hours per day, and about 15 days per month. Air marshals work a total of 181 days each year. This means you will work about 900 hours a year.
Where do air marshals work?
It's common for an air marshal to work in an airport, on the runway, and in aircraft. They are typically undercover and spend many of their working hours waiting. Most flights will be in the United States, but some may extend internationally.
As an air marshal, you won't clock in for your job. You will need to be flexible with your location and schedule. Most air marshals are on-call 24/7. It's necessary for an air marshal to be able to change flight plans quickly.
Do all flights have an air marshal on them?
No, it's actually rare for a flight to have an air marshal on it. About 1% of flights will have an air marshal on board. Flights are chosen based on risk assessment software that analyzes the departure city, destination city, amount of fuel onboard, aircraft, and flight path.
Will the flight crew know who I am as an air marshal?
Yes, the flight crew will know who you are as an air marshal. The flight crew always knows of all armed passengers including law enforcement officers and air marshals. Your ID will be checked and the crew will know which seat you will occupy. Most airlines will keep two seats open on all flights in case an air marshal needs to join the flight.
How many air marshals will be on a flight?
When air marshals board a flight, they will usually board as one or two for domestic flights. If it's an international flight, there can be up to four air marshals on the flight.
Do air marshals sleep on flights?
No, even if it's a long-haul flight, an air marshal will never sleep on a flight.
Is the career of an air marshal in demand?
No. This is actually a career field that is declining just a bit. It's a very competitive field due to the fact that it's not growing much. However, some have predicted air marshals may become more in-demand over the next five years.
Will I get to see the sights in cities I travel to as an air marshal?
Yes and no. Air marshals often have a very uneventful job. Usually, flights go as planned without incident. You may spend time overnight in destinations across the United States. There may be a little bit of time to see a few tourist sights, but there is less time than you might think.
With domestic flights, you will likely stay overnight and travel back in the morning. International flights may have you staying for a day or a day and a half before returning. Either way, you may not have much time to enjoy the destinations you fly to as an air marshal.
Do I need a degree to become an air marshal?
No, but it's preferred. The government tends to give priority to those with a bachelor's degree. If you also have military or law enforcement experience, you might end up at the top of the stack of resumes.
If you want to help keep flights safe and you enjoy law enforcement, becoming an air marshal might be the right career for you. It's necessary to enjoy air travel and to have the right skills. Those with previous experience in law enforcement or the military will fit right into this career, as well.