If you want to become an art teacher, you need the right education. First, it helps if you love art and want to help students learn about art. When it comes to how to become an art teacher, it starts with a passion for art.
The right education and training will allow you to teach art in an elementary, middle, or high school setting. It's even possible to teach art at the college or university level. But, first, let's look at the common steps taken to become an art teacher.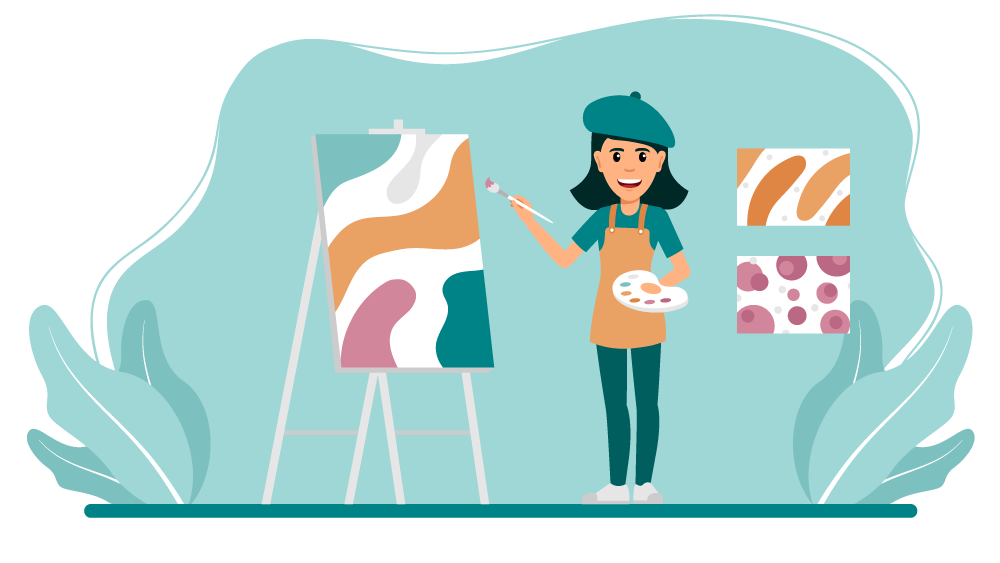 Steps to Teach Art at Any Level
Step #1 – Develop your Artistic Skills
Art teachers should start by developing their artistic skills. You can start in high school by taking art classes. It can even be helpful to take classes outside of high school to gain even more knowledge of artistic skills.
It's important to develop skills in oil painting, clay, charcoal, watercolor, and other mediums. Choose different courses to learn the many mediums you need to know to become an art teacher.
Step #2 – Get Your Bachelor's Degree
You will need to start with a bachelor's degree if you want to become an art teacher. A degree in art education is the right choice for this career path. You will take courses focusing on educational psychology and courses to develop your artistic skills.
You can also get a degree in art and complete a teacher education program to become an art teacher. It's common for teachers to specialize in a specific art field, such as graphic arts, digital art, painting, or art history. Therefore, the classes you will take may cover painting, color theory, and design.
Step #3 – Finish a Teacher Education Program
It's important to complete the teacher education program if you want to become an art teacher. This program will help college students become prepared to teach after graduation. Typically, you will need to take supplemental courses in classroom management, teaching methods, and lesson planning.
Students will also need to teach at a school with the supervision of a licensed teacher. Your supervising teacher will provide feedback and help you improve your ability. You will be able to use the methods and techniques you learn to become a successful art teacher.
Step #4 – Get Your Teacher's Certification
You will need to meet your state's requirements to gain your teacher's certification. In addition, after completing the formal education, you will need to pass a basic skills test for reading and math. It will also be necessary to show off your competency in art, design, and media.
You may need to complete the West-B skills test, the California Basic Education Skills Test, and the Praxis test. These are common tests teachers must complete to gain certification. Some states will also require you to gain training in special education, even if you won't be teaching special education courses.
While a teaching certification will be necessary for public schools, it's not always required for private schools or community art programs. You may be able to teach in some settings without a teacher's certification.
Step #5 – Become an Experienced Art Teacher
You will likely need to volunteer or complete an internship to gain experience as an art teacher. For example, you can work for community children's programs or gain experience as a substitute teacher. This experience can help you gain full-time employment and network with people in schools.
You can also find openings through online job listings, local school boards, teachers' unions, and publications for educators. Gaining experience can help you land a better art teaching job.
An Alternative Path to Become an Art Teacher
If you already have a bachelor's degree in art but haven't completed a teacher training program, you have an alternative path. You can earn a master's degree with the teacher preparation courses included. Many art teachers decide to go this route because you can earn a higher salary with a master's degree. It can also open up more job opportunities.
Duties of an Art Teacher
If you decide to become a high school art teacher, you will be responsible for many things. It starts with preparing lesson plans. You will also need to grade the work done by students, create tests, assign homework, have conferences with parents, and assist students.
As an art teacher, you will use many materials, such as colored pencils, paint, dyes, and crayons. In addition, you will help educate students when it comes to visual art. In some cases, you will work with a computer graphics design program or even help with creating sculptures.
Art teachers can work in public or private schools where art is a part of the curriculum. They can also work in a school where art is a much larger focus of the school.
What to Expect at Each Level as an Art Teacher
When you decide to become an art teacher, you can teach at many different levels. Each level is a bit different and will include different types of tasks. Therefore, before you decide to go into a certain level of teaching, it's a good idea to understand what each level offers.
Elementary Level Art Teachers
If you want to work with children ages 5 to 12, this is the right level for you. You will have to handle a bit of chaos with this age group, but it can be rather fun. Those enjoying working in a busy, unstructured environment will enjoy this level as an art teacher.
Typically, you will work to inspire students to express themselves through art. Teaching the basic skills of painting, crafts, and drawing are most common at this level.
Middle School Level Art Teachers
Working with children ages 11 to 14 is the middle school level. This type of teaching will require a better understanding of this age group's social, psychological, and intellectual development. In addition, students will have quite a bit more going on in their lives at this level than at the elementary level.
You will work with children to help them gain a better understanding of art. Some of the basic skills they learned in elementary school now need to be refined. This level of art teacher will also introduce new art theories and art history to students.
At this level, you will start to work with perspective, textures, shapes, and other elements found in art. The student's abilities will vary quite a bit at this level. Students may be very motivated or not motivated at all.
High School Level Art Teachers
At the high school level, an art teacher will work with students motivated to create art. Since most art classes in high school are taken by students choosing to take them, you will work with serious students in art.
The high school level will provide more concentrated classes. You might teach classes focusing on one or more mediums. For example, you might teach an art class in photography, computer animation, ceramics, video production, or another medium.
Many high school students will show a higher level of talent. They will be looking for real guidance and support from their art teachers. You might even find students looking for help with college and career options after high school.
Postsecondary Level Art Teachers
If you want to teach only the most serious art students, the postsecondary level is for you. As an art professor, you will likely teach classes focusing on one medium. You will even be able to show off and sell your work.
When you work at the postsecondary level, you'll gain flexibility with your schedule. You might only need to be on campus for a few hours a day, depending on the classes you are teaching. Courses are more specialized and may include subjects, such as:
Painting
Graphic design
Animation
Media arts
Art history
Photography
Sculpture
Drawing
You will likely need to have a few years of experience as a professional artist to teach at this level.
Online Art Teachers
Another option for teaching art is to do it online. You can teach at many different levels online, but most online art teachers will work with post-secondary students. It's common to work with students for multiple schools as an online instructor.
Frequently Asked Questions About Becoming an Art Teacher
How much can an art teacher make each year?
If you work in an elementary school as an art teacher, you can expect to earn around $60K annually. Middle school teachers may earn just a little more, and high school teachers will earn a little more than middle school teachers.
If you gain further education, you can get paid even more. Some urban and rural areas may offer higher salaries. Working at the college or university level may also help you earn a higher salary.
What is the current job market for art teachers like?
The market for art teachers is expected to grow at about 4%, which is just below the average of all occupations. However, the number of high school art teachers needed has grown over the past few years and is expected to keep growing.
Who makes a good candidate for the career of an art teacher?
If you're already an artist or have a love for art, you might be a good candidate to become an art teacher. It's a good idea to make sure you want to work with children. Even if you want to work at the college level, you'll need to make sure you want to teach art.
Art teachers have to be able to encourage others to be very creative. However, they also have to be flexible and skilled with many art techniques.
Related Learning Opportunities
How To Become a Professor

To Become a Professor you need to · Get your bachelor's degree · Choose your subject specialization · Get your graduate degree · Gain experience

How To Become a Special Education Teacher

If you have a passion for working with students with physical, learning, or behavioral disabilities, this is the career for you.

How To Become an Online Tutor

Have you considered becoming an online tutor? Find out what it takes to start teaching remotely and earn extra money or begin a new career!