Do you enjoy doing your friend's nails? Are you interested in providing manicures and pedicures for a living? Learning how to become a nail tech is the first step towards this type of career path.
If you want to become a nail technician, you will need to complete the right training. Every state is a bit different. Make sure you check the licensing requirements in your state. First, let's look at the job duties of a nail tech and how to become one.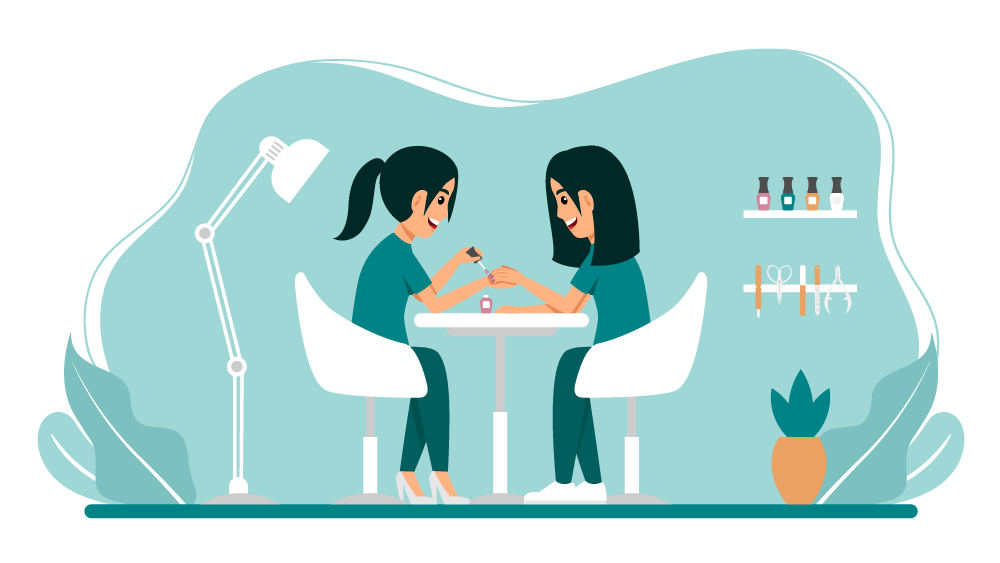 Job Duties of a Nail Tech
If you want to become a nail tech, understanding the common job duties is a must. As a nail tech, you will likely do the following:
Provide nail care
Keep your work environment clean and sterile
Provide manicures and pedicures
Offer acrylic nail application and other treatments
Offer massage treatments as a part of a manicure or pedicure
Promote yourself and develop clientele
Some nail techs will do a bit more than others. But, again, it depends on the type of work environment and the training you may have in other areas of skincare.
How To Become a Nail Tech in 5 Steps
Step #1 – Complete High School
You will need to complete high school or get your GED to become a nail tech. This is an important step as it will allow you to enroll in a cosmetology school.
Some high schools will even offer cosmetology programs to help you along the way. For example, if you go to a technical high school with a cosmetology program, this is a great way to speed up the process of becoming a nail tech.
Step #2 – Finish a Cosmetology Program
If you couldn't complete a cosmetology program in high school, you would need to complete one after.
Usually, you will find these programs through technical colleges, community colleges, and, of course, cosmetology schools. Some of the courses you will take include cosmetology chemistry, nail disorders, artificial nails, and disinfection and sanitation.
Some of the other courses you might take include:
Anatomy
Chemistry
Histology of Hands and Nails
Hygiene
Customer Relations
While a cosmetology school will help provide you with the skills you need, it's also a chance to start building your portfolio. You want to save any work you can and build a portfolio to present it when looking for a job in the future.
Step #3 – Pass the Licensing Exam
Every state is a bit different, but you must pass a licensing exam to become a nail technician. In addition, some states will have a written and practical exams. This means you will have to demonstrate your skills, along with proving your knowledge about sanitation and safety.
Once you pass the exam, you will be a licensed nail tech.
Step #4 – Maintain Your License
Every few years, you will need to renew your license. Some states may require some continuing education courses, as well.
Step #5 – Advance your Career
Many nail techs will move up the ladder when they gain some experience. However, you can also gain more training and become an esthetician or cosmetologist. This allows you to do more than just nails in a salon.
If you want to advance your career, you must figure out what license is necessary for your state. Then, fulfill the education requirements through a community college or trade school.
Necessary Skills for Nail Technicians
If you want to become a nail tech, the right skills will be necessary. This career isn't for everybody. However, if you have the following skills/attributes, you might make a great nail tech:
Plenty of patience – You will be working with people regularly, and you will need plenty of patients to apply nail polish all day long.
Passion for your career – Nail technicians should enjoy what they do.
Creativity – You might need to come up with new patterns and ways to paint nails.
Customer Service Skills – If you don't have good customer service skills, you may not succeed in this profession.
Attention to Detail – Your job will include treating clients and providing manicures and pedicures. It's important to have good attention to detail.
If you have these skills, you can follow the steps above to become a nail tech. You will likely be successful in this career with the skills above.
Benefits of Becoming a Nail Tech
There are many benefits to this type of career path. If you love to paint and decorate nails, this is a growing industry with lots of opportunities. Most training programs are rather quick and affordable, too.
As a nail tech, you get to enjoy being social and earning money from repeat customers. In addition, you can learn about the industry and even open your nail salon in the future. Nail techs often have a flexible work schedule, too.
Frequently Asked Questions About Becoming a Nail Tech
How much can I earn each year as a nail tech?
A career as a nail technician isn't known as a high-paying career. The average annual salary is about $28K. However, the salary range can go from about $20K to $36K per year. Some nail technicians make more, especially if they open their own nail salon.
Additional training in other salon and spa services can help you earn more. For example, you may work as a hairstylist and nail tech or a massage therapist and nail tech.
While the salary for a nail tech may seem lower, they also end up receiving tips and sometimes bonuses. In addition, customers often tip in cash, which can add up for a good nail tech.
How long does it take to become a nail tech?
You can complete the necessary training to become a nail technician in about three to nine months. However, most nail technicians will become licensed in less than one year.
How many training hours will I need to become a nail tech?
The state you live in and the training program you choose will determine how many training hours you need. Some states only require 200 training hours, while others are as high as 750 hours of training. Most will fall somewhere in the middle.
Check your state to find out the necessary training hours requirement. Any good nail tech program should help you to meet the training hour requirement.
What is the job outlook for nail technicians?
The career of a nail technician is growing and is expected to continue to grow. The expected growth rate is about 13% over the next ten years.
Is there a minimum age to become a nail tech?
The minimum age to become a nail tech will depend on your state. Some states require you to be at least 18 years of age, while others only require you to be at least 16 years of age.
Do I need a degree to become a nail tech?
No. In fact, 98% of nail techs don't have any type of degree. You will likely need to finish high school or get your GED, however. Only 2% of nail technicians hold any type of college degree.
Where will I work as a nail tech?
Nail technicians tend to work in many different places. Most commonly, they are found in salons and spas. In addition, however, you might work in a hair salon or even on a cruise ship.
Some nail technicians go on to be sales representatives, while others work at a beauty school. Thus, there are many job opportunities and different work environments for nail techs.
What is the cost to become a nail technician?
If you want to become a nail tech, you will need to complete the right training program. The cost can vary from one school to another. You will likely pay between $2,400 and $4,300 for tuition.
While the program you choose will have a cost, you will also need to pay an application fee, license fee, and testing fee. Other fees often cost between $300 and $1,500, including your application, books, tools, and supplies.
What type of skills are taught in nail tech school?
When you enter a nail tech school, you will learn many different skills. First, of course, you will learn the skills of manicures and pedicures. You will also learn about nail art and design, gels, calf and foot massage, sculptures, tips, and more.
Some schools offer more training than others. Make sure you choose a school with the necessary training for your needs.
---
Those looking for a career option requiring very little formal training might fit well into a career as a nail tech. Of course, you will need a passion for painting nails and taking care of people. As a part of the beauty industry, this can be a good stepping stone towards owning a salon or moving into a higher-level position.
If you want to become a nail tech, follow the steps above. The training won't take long, and you can start working rather quickly.