You're a teenager and you want to make some money. However, you prefer to find one of the online income opportunities for teens so you don't have to actually go to a job. There are many benefits to earning an online income.
If you don't want to spend time at a restaurant or grocery store working, an online income opportunity might be right for you. However, not all options are available for teenagers under 18 years of age.
Finding the right ways for teens to make money online doesn't have to be difficult. If you want to work on your own time, make a good amount of cash, and enjoy what you do, there are options available. Let's look at some of the top online income opportunities for teens to consider.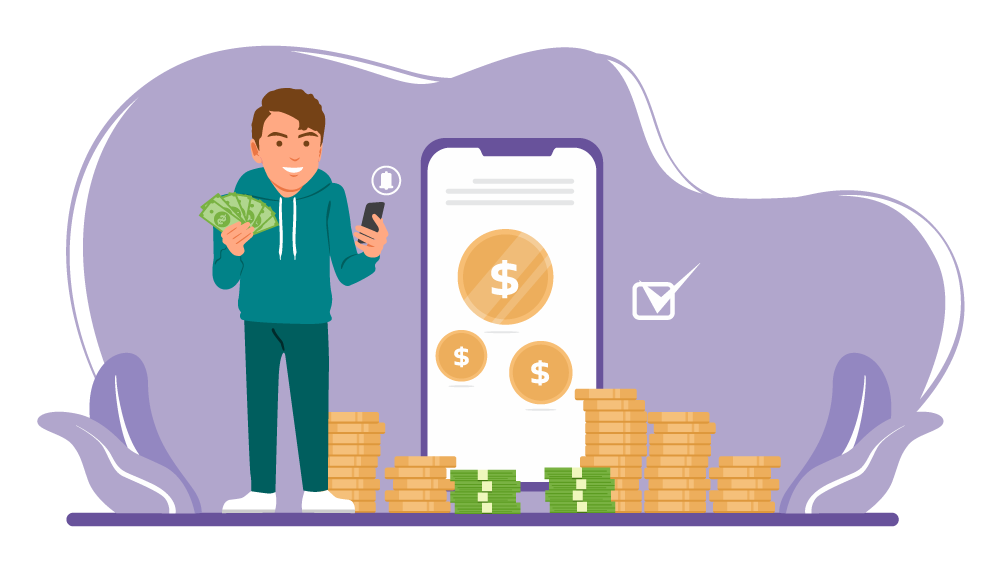 Top 17 Ways for Teens to Make Money Online
1. Use Survey and Reward Sites
They aren't the most exciting options on this list, but survey and reward sites offer some of the easiest online income opportunities for teens. There are plenty of good options to choose from and many survey sites want teenagers. You can have the cash sent directly to your PayPal account or cash in points for gift cards.
Some sites will only offer surveys, but others will allow you to surf the internet, watch videos, and play games to earn rewards. The one big issue with this option is you won't make much money. Usually, it comes out to around $5 per hour, but it's something.
It's best to sign up for multiple sites if you want to make money with this income opportunity. Some of the most popular choices include:
Swagbucks – You only have to be 13 to use Swagbucks and it's free to join.
LifePoints – You will need to be 14 or older to use this site.
Toluna – If you're 13 or older, you can earn rewards with Toluna by providing feedback on many topics.
User Interviews – At the age of 13, you can participate in some of the options on User interviews to earn money.
There are several other options for those 18 years of age and up.
2. Remote Customer Service Representative
Another good online income opportunity for teens is working as a customer service representative. You will likely need to be 16 years old to get this type of position, however. It might not allow you the freedom you want either. Instead, you might have set hours you have to work.
U-Haul is known for hiring at 16 for this type of position. They usually pay around $9.50 per hour and you will simply help customers book their moving trucks. It's typically an over-the-phone or an online chat job.
3. Tutoring
If you're highly skilled in a subject at school and at least 14 years of age, you can start tutoring online. There are many subjects to consider and this is one of the higher paying options on the list. Many tutors, even at 14 years of age can earn between $15 and $30 per hour.
SimplyHired is a good option for those 17 years of age and younger. If you're 18 or older, Tutor.com and Kaplan are good options.
4. Become a YouTuber
In today's world, becoming a YouTuber is very possible and it can be incredibly lucrative. It takes time to build up your following, but you only have to be 13 years of age to start. Teenagers can earn a decent income by creating videos about their hobbies and things they like.
If you want to become a YouTuber, there are plenty of guides out there to help you, too. You won't even need any professional equipment, either. Just a camera phone will do the trick.
5. Social Media Marketing Assistant
At the age of 14 and up, you can start working as a social media marketing assistant. You probably use social media daily, anyway. Why not turn it into a way to earn money?
As a social media marketing assistant, you will have a bit of a steady position to gain some experience. Many local businesses need help managing their social media accounts. This is one of the online income opportunities for teens that tend to be pretty easy to find.
6. Become an Influencer
It goes along with becoming a YouTuber, but you don't have to use YouTube or create videos. You can earn money by becoming an Instagram or TikTok influencer. This online income opportunity for teens offers the ability to build something for the long-term, too.
You will need to build up a following and keep them engaged. Making money comes in when you partner with brands to sell their services or products. You can also sell your own services or products, too.
It's important to keep your parents involved as they will likely have to negotiate with companies. They will be the ones signing the contracts if you're under 18 years of age.
7. Online Writing
You only have to be 13 years old to start selling writing services online. This is an opportunity that offers incredible flexibility and plenty of pay. You can choose how much you write when you write, and what you write.
Fiverr offers a good marketplace for teenagers to offer gigs. You can offer writing gigs and earn money every single time you provide content for your clients. With a few regular clients, you can easily earn a few hundred dollars per week working just a few hours.
8. Data Entry
You will likely need to be 16 to work in data entry, but it's an easy option for making money as a teen online. If you're comfortable with spreadsheets and detail-oriented, this might be the right job for you.
It's a boring job, but the money can be pretty good. There are usually several option positions found on FlexJobs and other job sites.
9. Sell on Etsy
If you have parental supervision, you can sell on Etsy at the age of 13. Maybe you know how to create jewelry or you grow a garden and want to sell the seeds. There are a ton of things you can sell on Etsy to make a nice income as a teenager.
It's even possible to create printable PDFs to sell on Etsy. These could be signs for parties or anything you want. You can even customize these types of products for an extra charge.
10. Design Images and Graphics
While Fiverr offers a great place for you to sell writing services, you can also sell services designing images and graphics. Maybe you have an eye for graphic design. Why not turn it into an online income?
You can create logos, website graphics, social media images, and more for your clients on Fiverr. It can be rather lucrative if you get lots of five-star reviews. Many customers will come back again and again if you design good images.
11. Become a Flipper
While some of the work will not be done online, you can become a flipper and make an income as a teenager. You might need to work through a parent's account on eBay or Amazon, but this is a lucrative option.
As a flipper, you will need to go to garage sales, thrift stores, and other places to buy things you can sell for a higher amount. This could be video games, jewelry, clothing, camera equipment, books, or anything you want.
12. Review Phone Calls
You can review phone calls through Humanatic or another similar company. This is an easy job for teenagers and can be done on your own time, usually.
You can get paid to simply listen to phone calls and answer questions provided about the calls. When you provide the feedback, you get paid. With Humanatic, you get paid through PayPal. They allow you to sign in and sing out of the system whenever you want.
13. Sell Pictures
Did you take a photography class and you loved it? Maybe you want to sell some of the pictures you've taken as stock images. You can sell photos and earn money online as a teenager.
This online income opportunity allows you to be creative and make money ongoing. You can sell the rights to use your photos more than once, making this a passive income opportunity.
There are many websites that allow you to do this. An app called Foap is another option, which allows anybody to use it, no matter the age. The app uses your phone camera to make it easy to upload your pictures.
You don't need any photography experience or a nice camera with this app. Instead, just take pictures, according to the brand challenges and themes requested, and upload them.
14. Become an Affiliate Marketer
If you want to start a website or blog, you can make money as an affiliate marketer, even as a teenager. You will be promoting other people's products on your website/blog. This can be done through reviewing the products or in another way. Of course, you can also use social media to make money as an affiliate marketer.
You might need the help of your parents with some of the affiliate marketing sites. However, if you have their help, this can be a very lucrative option for teenagers.
15. Complete Microtasks
There are some online websites that will allow you to complete microtasks for clients and earn money. You don't have to commit to something more long-term with this type of income opportunity for teens. Instead, just choose a task, complete it, and get paid.
Some of the microtasks are repetitive, but they can help you earn fast money. However, the pay is usually rather low with this type of income opportunity.
16. Use MTurk
Amazon's Mechanical Turk offers a place for people to get virtual jobs done. you can become someone that does these jobs and earn an income. It can be a nice side income as a teenager, especially for older teenagers.
You can work when you want with MTurk and do simple tasks. Often, the tasks include things like moderating forum content, research jobs, data entry, and more. You won't need specialized skills for these jobs, either.
17. Become a Proofreader
If you're very good at English and detail-oriented, you can make money as a freelance proofreader. Fiverr and Upwork offer ways to turn your proofreading skills into an income. You may have to start with lower-paying jobs to build up a reputation, however.
Good proofreaders can earn $20+ per hour, however. It's best to make sure you use a program, such as Grammarly to help you spot the errors, too.
Frequently Asked Questions About Online Income Opportunities for Teens
Am I allowed to sell a product online as a teenager?
Making money online by selling a product is one of the best options. However, you might not be able to join many of the biggest platforms until you turn 18 years of age. eBay, Amazon, and Shopify will only allow you to sell if you're 18 or older.
Many of these platforms will allow you to operate a business under a parent or guardian's name, however. They will have to assume legal responsibility. In fact, a 17-year-old that makes more than $13K per month sells on Shopify under the account of a parent. You can read about it in this article.
Can I start earning money online if I am only 12 years old?
Pre-teens can find some interesting opportunities to earn money online. The online income opportunities for pre-teens include:
Selling pictures you take
Starting a YouTube channel
In most cases, you will need the help of your parent or guardian to make money as a pre-teen online.
There are many great online income opportunities for teens to explore. Some will likely require the help of parents. It's always best to have your parents help, anyway. If you want to earn money online, on your own schedule, and without clocking in at an actual job, consider the options above.