If you're considering a career in public health, you might want to learn how to become a health inspector. A health inspector has a rather unique job. It's a necessary job to help protect the public.
There are many things you can do in the public health sector. Becoming a health inspector is a popular option for those looking for a stable career. You will need to follow the right steps if you want to enter this career.
Before you choose to go down this career path, you should understand the job duties. Let's look at what a health inspector does and the necessary steps to enter this career.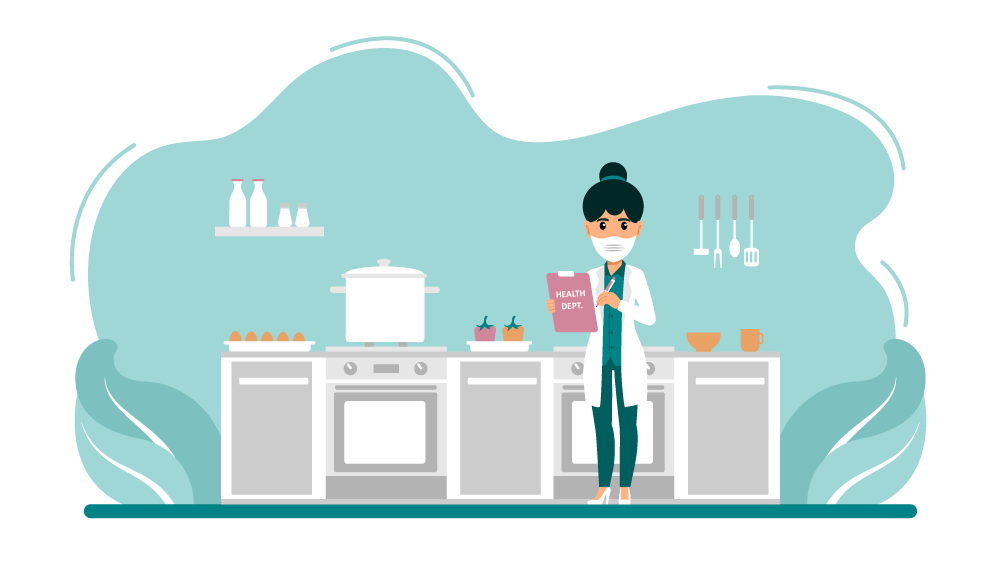 Job Duties of a Health Inspector
Most health inspectors will be restaurant health inspectors. This type of health inspector is responsible for making sure restaurants and other food establishments are clean and sanitary. They will regularly inspect these establishments and provide a health score/report.
Health inspectors may show up during business hours or after hours for an inspection. The common job duties will include:
Remaining up-to-date on federal and state food safety guidelines
Inspecting different areas of a restaurant for rodents and insects
Checking the food storage practices of a restaurant to ensure food is properly stored
Inspecting restaurant equipment, materials, and tools to ensure they are properly cleaned and sanitized
Evaluating the hygiene of the workers handling the food
Tasting meals to make sure they are correctly cooked
Conducting surprise inspections of restaurants
Ensuring a restaurant is following necessary health and safety guidelines
Providing a score or a grade for an establishment
Issuing citations or even suspending the operation of a restaurant, if safety standards are not met
A health inspector isn't someone that will necessarily be liked for the job they do. However, their job is very important. Food establishments have a duty to be clean, safe, and sanitary for their customers. As a health inspector, you will help make sure the public can trust the restaurants they choose.
How To Become a Health Inspector in 5 Steps
Step #1 – Finish High School
You will need a high school education to become a health inspector. Most health inspectors go on to college and doing well in high school can help you get into a better college. You can also increase your chances by scoring well on the SAT or ACT. With the right prep course, you will score much higher on these tests.
Step #2 – Get Your Bachelor's Degree
The most common type of degree for a health inspector is a bachelor's degree. You will want to get a degree in public health, physical science, public health nutrition, environmental health, or another related field.
Expect to study topics, such as nutrition, organic chemistry, biology, microbiology, toxicology, and other science courses. It's also helpful if you can take courses on public safety codes and regulations. Any food safety guideline courses you can take will also help.
Step #3 – Earn your Certification or License
Depending on your state, you may need to get a certification or license to work as a health inspector. You will need to look into your state's guidelines to figure out the requirements.
The health department for your city or state will likely offer programs for certification. They will cover topics, such as food service, public health, sanitation, and code enforcement. You may need to take a few courses and pass a written exam to get your certification.
Step #4 – Complete an Internship
You will likely need to complete an internship to gain some experience before becoming a health inspector. Usually, you can enter an internship as a part of your degree. Public health programs often work with private health organizations and government agencies to provide internships for college credit.
With the right internship, you can gain hands-on experience in public health. This can also help you gain valuable connections and even land a job once you graduate.
Step #5 – Continue Your Education
As a health inspector, you will need to continue your education, if you want to advance your career. You can gain a graduate degree in public health. This type of degree will allow you to take on advanced roles and earn a higher salary.
A graduate degree will likely teach you about food law, risk assessment for food, food biotechnology, and microbiology of food. With a graduate degree, you can work in a higher position within a local or state health department.
Types of Health Inspectors
While the most common health inspector is a restaurant health inspector, there are a few different types. You can become a safety inspector, a public health inspector, or an environmental health inspector. Each of these careers is a bit different.
Restaurant health inspectors are often known as public health inspectors. If you become a safety inspector, you will likely look at workplaces and how they are adhering to OSHA regulations. An environmental health inspector will focus on making sure businesses follow the environmental laws.
Each type of health inspector is a bit different. Make sure you have an idea of which career you prefer before choosing your degree major.
Common Skills Needed to Become a Health Inspector
As a health inspector, you will need to have a deep knowledge of the food and safety guidelines. These skills can be learned through proper education and training. Some of the other skills you will need include:
Excellent communication skills
Great attention to detail
Interpersonal and listening skills
The ability to remain calm during high-pressure situations
Time management skills
Excellent organization
Professionalism
Integrity and honesty
It's not an easy job and can be stressful, at times. You may have to deal with food establishments that are simply not safe for the public. When this happens, you will need to rely on your communication skills and professionalism.
Frequently Asked Questions About Becoming a Health Inspector
How much can I make as a restaurant health inspector?
The median salary for a restaurant health inspector is about $72K per year. This works out to about $35 per hour. Your actual salary will depend on your location and your experience level.
What is the job outlook for health inspectors?
The career of a health inspector is expected to grow by about 4% over the next ten years. This is about the average growth rate of all occupations. While it's a growing career, it's not a fast-growing career.
What is the work environment like for a health inspector?
Depending on the type of health inspector you become, you will likely travel throughout your local community often. You might need to inspect restaurants regularly and other food establishments. Some health inspectors will also inspect laboratories, swimming pools, and other public facilities.
It's common to spend many of your hours in facilities each week. You will also work in an office to complete your reports some of the time. Most health inspectors will spend time driving from one place to another, as well.
What type of hours do health inspectors work?
Most health inspectors will work full time. They may not keep common 9-to-5 hours, but they will likely work around 40 hours per week. Sometimes, you may need to inspect a business later in the day or earlier in the morning.
The hours can vary a bit, but you will typically work eight-hour days and a pretty common full-time schedule. If an accident or emergency does come up, you may need to work overtime and odd hours, however.
Is the job of a health inspector difficult?
It can be a difficult job, since you may have to deliver bad news. You may have to inspect a restaurant and deliver a bad report. This can lead to managers or owners getting upset with you.
The job can also require you to deal with dangerous things. You may need to wear specific clothing or gear to protect yourself from illness or injury during an inspection.
Do I need a bachelor's degree to become a health inspector?
Yes. Most health departments will require a high school diploma and a bachelor's degree. If you have an advanced degree, it might help, but it's not required. Along with a degree, you may also need professional certification or license, depending on your state.
What type of advancement is available for health inspectors?
Many restaurant health inspectors go on to earn their graduate degrees. With an advanced degree, they can move into a management position or a higher-level position within the health department.
Who do health inspectors work for?
Most health inspectors will work for the government. They may work for a local or state health department. The U.S. Department of Agriculture and the Food and Drug Administration also employs health inspectors.
Some health inspectors may work for food distributors or supermarkets, as well. They will work to make sure the food received from suppliers is safe. It's also possible to work for restaurants associations or other food monitoring services.
If you want to become a health inspector, use the steps above. With the right degree and some experience, you can enter into this rewarding career.