Getting a real estate license in Kansas takes dedication and discipline. But the hard work pays off because real estate is a potentially lucrative career choice.
One benefit of becoming a real estate agent is you have more control over your income. Another benefit is that you have more control over your schedule. Many real estate agents enjoy a sense of freedom not possible in most other careers.
Are you ready to earn your Kansas real estate license? Here's some info to get you started.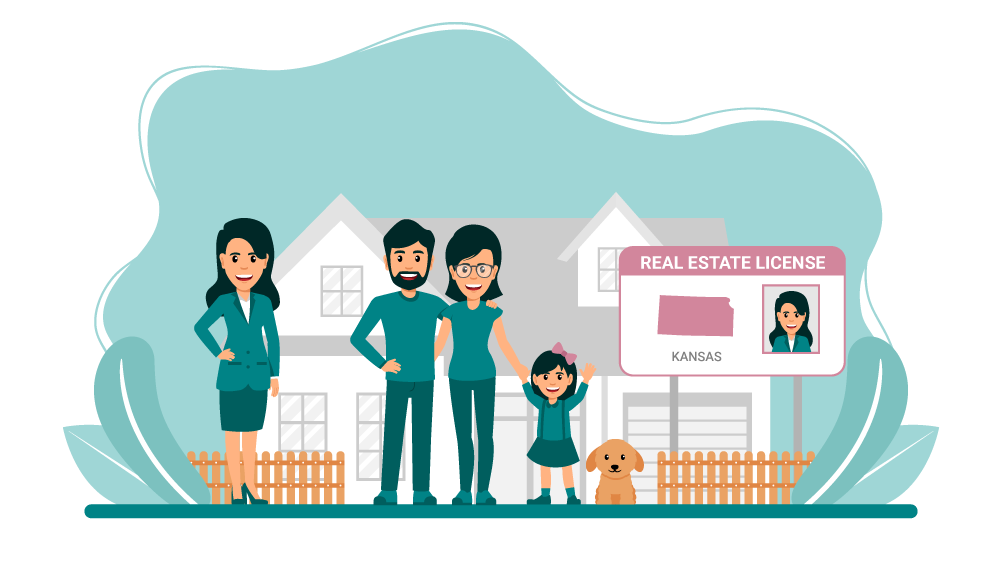 Steps to Obtaining a Kansas Real Estate License
1. Kansas Legal Requirements
Any individual aged 18 or older can become a real estate agent in Kansas. A high school diploma or its equivalent is also a requirement. You must meet these requirements before you can pursue a real estate career in Kansas.
Having a criminal background can possibly hinder your chance of receiving your license. The Kansas Real Estate Commission has strict rules concerning criminal behavior.
When applying for a license, you must disclose any pending felony or misdemeanor charges. You must also inform the commission of your past criminal convictions – if any.
A criminal background will not necessarily stop you from receiving your real estate license. The commission might decide to approve your request for a license, but they do have the right to refuse your request based on your criminal history.
The most problematic crimes are felonies involving financial fraud and physical violence. The commission considers the circumstances surrounding each case, and makes their decision on a case-by-case basis.
2. Successfully Complete a Kansas Real Estate Course
You must complete an accredited course about the basic ideas of real estate. The course is 30 hours long, and is available in the classroom or online.
"The Principles of Real Estate" course includes subjects such as legal matters concerning real estate, basic math, and understanding real estate documents.
3. Pass the National and State Real Estate Exam
You must first complete the accredited real estate course. After you pass the course, you have up to one year to pass the real estate exam. The real estate exam consists of two sections: one section is for Kansas and the second section is a national exam.
The timed-test requires a score of at least 70 to pass. You must pass both portions of the test – but not necessarily at the same time.
If you fail either part of the test, you must take it again. But you must pass within six months of the earlier test date.
When you've passed both parts of the exam, you'll receive a certificate that's valid for six months. You'll have to show proof of this certificate when you submit your application for a license to the commission.
Contact Pearson VUE to register and pay for your exam.
4. Pass a Criminal Background Check
You must pass KBI and FBI criminal background checks. The Kansas Real Estate Commission will take this information into consideration when deciding whether or not to approve your application.
5. Successfully Complete a Real Estate Practice Course
This is a 30-hour practice course that covers everything you learned in the accredited course mentioned earlier in step 2. Basically, you'll take everything you learned in the first course and put it into practice.
When you pass this course, you receive a certificate that's valid for six months. Submit this certificate as part of your application for the license.
6. Find a Kansas Real Estate Agent or Broker to Represent You
You will perform real estate duties while supervised by a Kansas real estate broker. You aren't allowed to perform any duties that require a real estate license.
7. Applying for the License
You can apply for your license within six months of passing the real estate practice course.
The application must include the certificates you received for completing the real estate courses. Add to that reports from Pearson VUE stating that you passed the state and national exams.
The material authorizing your background check is also required. And finally, get the application signed by your supervising real estate agent.
Renewing a Real Estate License
To keep your Kansas real estate license active, you must renew it every two years. And you must complete 12 hours of continuing education classes.
As of October 2020, the renewal is $125 for a salesperson. And the fee for a broker is $175.00.
If you're unable to complete the classes in time, your license might renew late once you've completed the 12 hours of classes. You can also change your license to inactive status and then renew it.
If your license expires, and you don't renew it, you have to cease performing real estate activities that require a license. However, you can continue with real estate activities that don't require a license.
Renewing an Inactive License
Renewing an inactive license doesn't require the 12 hours of continuing education classes. However, you will have to eventually take the 12 hours of classes to get the license changed to active status.
If your license has been inactive for more than two years, you might have to take additional courses to get the license reactivated. If your license has been inactive for at least five years, you'll have to retake the real estate exam.
The Kansas Real Estate License
Getting a real estate license isn't easy. It takes time and hard work. But it's worth all the work if a career in real estate is your goal.
Your real estate license makes it possible to become a full-fledged real estate agent. You might also choose to eventually become a real estate broker.
A real estate broker is licensed the same as a real estate agent. But a broker has taken additional real estate courses – such as from a Kansas real estate school – in addition to courses required to become a real estate agent. A licensed broker is able to manage a real estate office that has multiple agents.
Related Learning Opportunities