If you want to go into nursing, there are many specialties you can choose from. Learning how to become a neonatal nurse, also known as a NICU nurse is one of the specialty options. This type of nurse will work with newborn babies and their families.
It's a very rewarding career option. As a neonatal nurse, you will need the right education to begin this career. Following the right steps will help lead you along the path to enter this career. Let's look at the job duties of a neonatal nurse, along with how to become a NICU nurse.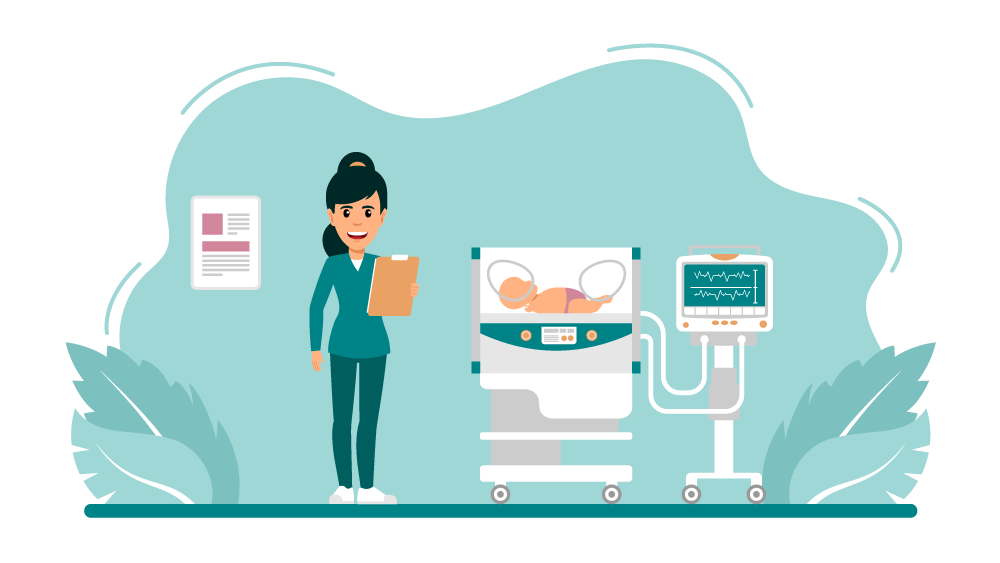 Job Duties of a Neonatal Nurse
As a NICU nurse, you will work with neonates or babies from the time they are born to about four weeks of age. This type of nursing will focus on providing care for these newborn babies. Often, you will work with newborns requiring special care, such as:
Babies born prematurely
Babies with chronic health conditions
Babies with congenital defects
Babies with surgical issues or body malformations
As a NICU nurse, you will be trained to provide the necessary care and support for the first month of the baby's life. Some of the job duties will include:
Training families on proper care for their newborn
Changing diapers and providing other comfort care for the babies
Communicating with the medical team about the health of the baby
Providing medications for the baby
There are different levels to NICU nursing. The level of care you will provide will range from supportive to intensive, depending on the level. The four levels are:
Level I – Basic care for a newborn baby
Level II – Care for babies born at or after 32 weeks with some health issues, such as breathing issues
Level III – Care for babies born before 32 weeks with serious health issues
Level IV – The highest level of care for babies, this level includes newborns with critical health issues
Depending on your training as a neonatal nurse, you may provide care at any of these levels.
How To Become a Neonatal Nurse in 5 Steps
Step #1 – Complete the Registered Nursing Program
Before you can become a NICU nurse, you will need to complete a registered nursing program. During this program, you will take courses including Anatomy, Biology, Psychology, Microbiology, Chemistry, Physiology, and Statistics.
Step #2 – Become a Registered Nurse
You can get an associate degree in nursing first, and then a bachelor of science in nursing. This is a common career path to become a NICU nurse.
Getting an associate's degree will take about two years, while a bachelor's degree will take about four years. Many hospitals will hire both RNs with associate's degrees and bachelor's degrees. Others will only hire those with a bachelor's degree.
After completing a nursing program, you will need to pass the National Council Licensure Exam for Registered Nurses (NCLEX-RN). When you pass this exam, you will be able to practice as a registered nurse. The exam can be taken after completing your degree.
Step #3 – Get Clinical Experience
After becoming a registered nurse, you will need to get clinical experience. For those looking to become NICU nurses, you will likely need to get two years of clinical experience. This experience should focus on neonatal care, pediatrics, labor and delivery, and mother/baby.
It is possible to work at some hospitals in the NICU without any experience. Some hospitals will hire new graduates. Usually, you will be hired through a fellowship.
Step #4 – Get Your Certification
You will need to gain clinical experience after becoming a registered nurse and you will likely need to earn certifications. While you may not need certifications to work as a NICU nurse, it can certainly help advance your career.
One of the main certifications for NICU nurses is the Neonatal Resuscitation Program (NRP). The NRP may be required before you will be hired to work in the NICU. Some employers will expect you to get it during the first few months.
The NRP will provide you with the training you need to help newborn babies when they are struggling. It will cover CPR, life-saving medications, and mechanical ventilation.
Along with the NRP, you can get the Low-Risk Neonatal Nursing or the Neonatal Intensive Care Nursing certifications from the National Certification Corporation (NCC).
Another certificate option is the Critical Care Registered Nurse-Neonatal (CCRN-Neonatal) certification. This certification will allow nurses to work in the NICU, Cardiac care units, Trauma units, and other areas.
If you want to advance your career and make it easier to get a job as a NICU nurse, these certificates can help. It's common for employers to require some type of certification for NICU nurses.
Step #5 – Consider an Advanced Degree
While you don't need an advanced degree to become a neonatal nurse, it can help. A Master of Science in Nursing Degree can help you become a NICU Nurse Practitioner. This can advance your career and your salary. It can also allow you to get a better job in the NICU.
As a NICU NP, you will be given more flexibility with the care and treatment you can provide for newborns. This advanced degree will take about two years to complete.
Frequently Asked Questions About Becoming a Neonatal Nurse
How much can I make as a NICU nurse?
According to Indeed.com, you can earn an average salary per year of about $27,600 as a neonatal nurse. These nurses also earn an average of $13,000 in overtime pay per year. While this may seem low, there are many employers that pay a much higher wage for neonatal nurses.
Several of the top employers actually pay above $100K per year for NICU nurses. Some of the highest-paying cities include San Jose, Brooklyn, Albuquerque, Chicago, and Dallas.
While Indeed shows the salary at a very low amount, ZipRecruiter.com shows the average salary at $101K per year. They put the range at $60K to about $142K per year.
Nurse.org also lists the position of Neonatal Intensive Care Nurse as the sixth highest-paying on their list of highest-paying nursing careers. They put the average salary at about $102K per year.
What type of benefits will I get as a NICU nurse?
If you work as a neonatal nurse, you will likely get access to health insurance and a 401(k). Along with these basic benefits, you may also enjoy paid housing, loan forgiveness, license reimbursement, employee stock purchase plans, and other benefits.
Are NICU nurses in high demand?
All nurses are pretty much in high demand right now. Due to the aging population, nursing has become one of the most in-demand jobs available in the medical field. Advanced practice nurses are expected to increase by about 45% over the next ten years.
As an APN nurse, you can work in the NICU. Neonatal nurses are very much in demand right now and this is a career that is expected to grow rapidly over the next few years.
How long will it take to become a neonatal nurse?
It will take at least two years to become a NICU nurse. If you get a bachelor's degree, you will need four years to finish your education. Some employers will hire new graduates, while others will require you to gain clinical experience.
Most NICU nurses will need around four years to enter this career, whether it's all education or a combination of education and experience.
Will I deliver babies as a Neonatal Nurse?
You may assist in the delivery of a baby, but you will not be alone in delivering babies. Instead, if you're assigned to the birth of a newborn, you will provide support, monitor the health of the newborn, help educate the new parents, weigh and measure the baby, and provide the first bath for the baby.
What type of hours will I work as a NICU nurse?
As a neonatal nurse, you will work similar shifts as a registered nurse works. Usually, you will work 12-hour shifts and most of the time, you will work 13 shifts per month, if you're employed in a hospital.
The shifts you work will depend on the level of care you provide. Some may work eight-hour shifts. Others may work nights, weekends, and holidays.
Where will I work as a neonatal nurse?
If you become a neonatal nurse Practioner, you will open up more places you can work. As a neonatal nurse, you will likely work in a NICU. However, you may work as a NICU NP or a NICU nurse in a clinic, public or private hospital, in-home health services, and even in research intuitions. Some NICU nurses will also work in medical evacuation and transport services.
If you want to work with newborns, becoming a NICU nurse is a great idea. This type of nursing will put you on the care team for newborn babies. It can be a very rewarding career with a high salary.