Becoming a physical therapist is a rather rewarding career. You get to help people gain back their range of motion and manage their pain. If you want to help create a better quality of life for people, this is a great career option to consider.
As a physical therapist, you will work directly with patients. This is a hands-on career. You will need the right education, training, and skills to become a physical therapist.
Before considering this career path, make sure you understand the job. It's important to look at the job duties of a physical therapist first. Then, if you still want to become a physical therapist, you can follow the steps outlined below.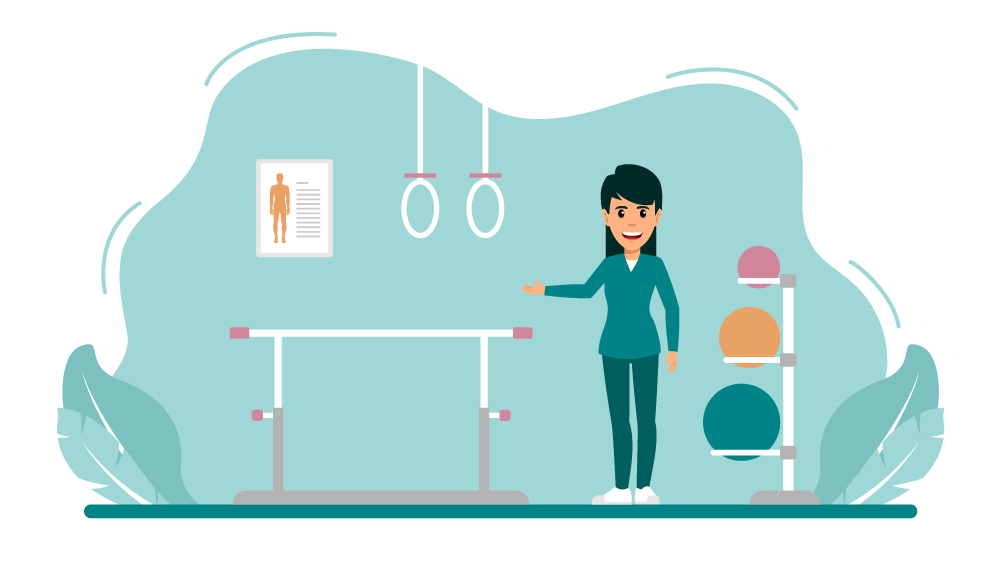 Job Duties of a Physical Therapist
When you become a physical therapist, you become an expert in human movement. You will be put in charge of helping patients gain back mobility and deal with ambulatory issues. The main job duty of a physical therapist is to help patients manage their pain through hands-on therapy.
Some of the common job duties include:
Evaluating patients to assess their movement and dexterity abilities
Identifying issues with range of motion
Referring patients to other healthcare professionals when necessary
Providing movement exercises for patients to use to help gain back range of motion
Creating a treatment and therapy plan to restore functions, reduce pain, and prevent disabilities
Creating fitness and wellness plans to help patients live a healthier lifestyle
Following the standards of physical therapy practices
Discharging patients with the right therapy plan to allow them to continue working towards their goals
Physical therapists are very important for patients recovering from an injury. Often, they can help speed up the recovery process, manage the pain, and give patients their lifestyle back.
How To Become a Physical Therapist in 6 Steps
Step #1 – Do Well in High School
This is a rather competitive field and will require a high level of education. You want to make sure you start off by doing well in high school.
A high GPA and high scores on the SAT or ACT can go a very long way. With the right scores, you can get into a better program for physical therapy. Make sure you score well by using the right prep course for your SAT or ACT studying.
Step #2 – Get Your Bachelor's Degree
You will need to complete a bachelor's degree before you can move on to a graduate doctoral degree program. It's common to complete a bachelor's degree in pre-physical therapy, health sciences, exercise science, or athletic training. You will need to take many courses including anatomy, biology, physics, physiology, and chemistry.
It's also common to double major if you want to become a physical therapist. This allows you to study more subjects and take on an internship to gain some experience.
Step #3 – Complete the Doctor of Physical Therapy Program
After getting your bachelor's degree, you will need to get accepted into a Doctor of Physical Therapy program. You cannot work as a physical therapist without becoming a Doctor of Physical Therapy. This program will take you three years to complete.
After getting your bachelor's degree, you will need to apply for the doctoral program. This will require you to go through the Physical Therapist Centralized Application Service.
Once you've been accepted into a DPT program, you will study the following subjects:
Behavioral sciences
Disease pathology
Exercise physiology
Applied physical therapy
Complex conditions
Pharmacotherapy
Anatomy
Physiology
Cellular histology
Embryology
Medical diagnostic techniques
Ethics, patient advocacy, and law
It's required to complete a full-time clinical internship before you can graduate from a DPT program. This will help you gain the hands-on experience you need to work as a physical therapist.
Step #4 – Get Your State License
All states will require you to get a license to work as a physical therapist. This will include passing the National Physical Therapy Examination.
The exam will include multiple-choice questions and you can take it up to three times in one year. The right prep course can help to ensure you pass the exam the first time.
You may also need to pass a criminal background check and an exam on ethics and law. Some states require this additional exam. Every state will also require continuing education to renew your license.
Step #5 – Complete Your Residency
After you become a licensed Doctor of Physical Therapy, you will likely need to complete a fellowship or clinical residency. This is a one-year program that will help you gain more specialized training in a specific area.
Step #6 – Become Board Certified
While it's an optional step, you can become a board-certified clinical specialist. This can make it easier to gain employment and earn a higher salary. The areas of physical therapy where you can become a certified specialist include:
Geriatrics
Pediatrics
Women's Health
Cardiovascular and pulmonary
Orthopedics
Neurology
Clinical electrophysiology
Sports physical therapy
Neurology
Becoming board-certified will allow you to work in leadership and management positions. It can also make it much easier to find a job as a physical therapist.
Common Skills Needed to Become a Physical Therapist
You will need specific skills to become a physical therapist including:
Physical strength– Since you will need to perform therapy and treatments, you need to be in good physical shape. Expect to spend hours on your feet and you might need to help clients turn or lift.
Compassion– You will be dealing with people that suffered an injury. They may be in pain or they may have lost freedoms they are used to having in life. Compassion is a necessary trait of a physical therapist.
Active listening– A big part of the job is listening to your patients. They will let you know the level of the pain and how they are feeling. Become an active listener, if you want to enjoy this type of career.
Service skills– You will be working with people day in and day out. You need to have good service skills for this career.
These are just some of the necessary skills of a physical therapist. If this is the career you want to pursue, make sure you start working on these skills.
Frequently Asked Questions About Becoming a Physical Therapist
How much can I earn as a physical therapist?
The average yearly salary for a physical therapist is about $82K. Some of the top physical therapists can earn quite a bit more. There are several employers that pay experienced physical therapists more than $100K per year.
Your location will also help to determine your salary. New York tends to be the highest-paying state, while California and Texas are not far behind. Many locations in all three states pay an above-average salary.
Certain skills can help you earn a higher salary, too. If you have experience working with developmental disabilities or you have autism experience, you may earn a higher salary. Providing home care can also help you earn more. Early intervention experience is another high-paying skill to add to your resume.
You can also earn a higher salary by becoming board-certified. Choosing the right specialty may lead to a higher salary compared to a general physical therapist.
What type of benefits do physical therapists usually receive?
It's common for this career to include many benefits. You will likely get health insurance, a 401(k), paid time off, tuition reimbursement, life insurance, and other benefits.
Is this career growing?
Physical therapy is growing at a very fast rate. It's expected to grow by about 22% over the next ten years. This is much faster than the average of all occupations.
With the elderly population growing, it's expected more people will have mobility issues in the future. This makes a career as a physical therapist one that's in high demand.
Where do physical therapists work?
If you become a physical therapist, you will likely work for a rehabilitation facility, school, hospital, clinic, sports training facility, or hospice. These types of employers all hire physical therapists to treat patients.
What is a normal physical therapy session like?
When you become a physical therapist, each session will be a bit different. You will likely start by working with your patient to educate them on their injury. Then, you will use practical methods to help with the pain and range of motion for your patient.
It's common to use massaging techniques and manual manipulation to increase joint movement. Every session will likely include going through prescribed exercises with your patient.
Becoming a physical therapist can be a very rewarding career. You will get to help people directly. When someone is trying to recover from an injury, you will play an integral part in that process.
If you want to work with people, pursuing this career is a great choice. It will require many years of education, but it pays an above-average salary, too. Use the steps above if you want to become a physical therapist and get yourself on the right career path today.