In this Arizona real estate license how to, you will discover the steps needed to get your Arizona real estate license. The process can be difficult to understand, but with the right steps, it becomes easier. If you want to become a real estate agent, you must follow these steps to get your license.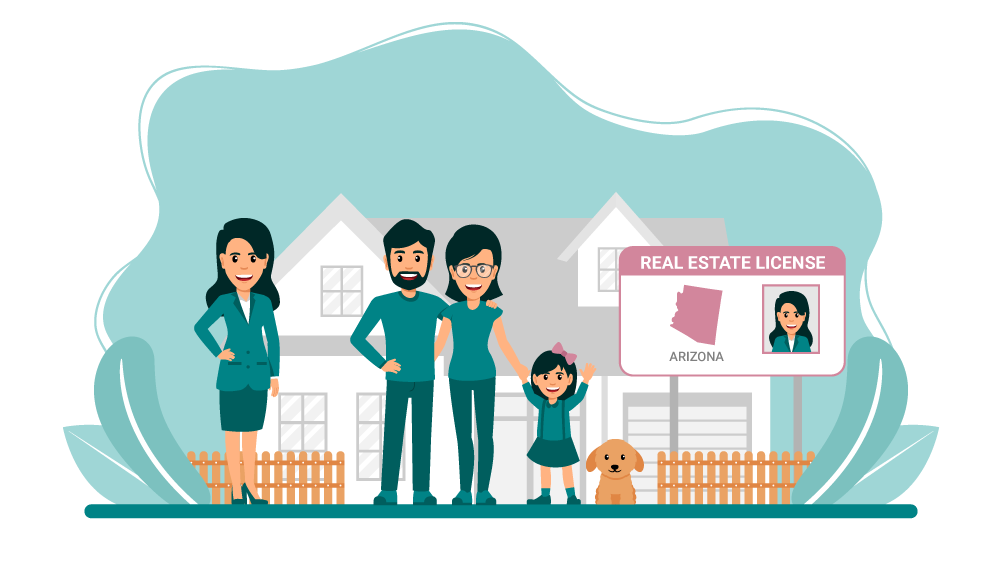 Before you can go through the necessary steps, you will need to meet the basic requirements. These include:
You must be at least 18 years of age.
You will need to get an Arizona Department of Public Safety fingerprint card.
Proof of legal presence will need to be provided to the ADRE (Arizona Department of Real Estate)
You will also need to complete the Disciplinary Actions Disclosure and potentially the Disclosure Document Checklist.
While these are the basic requirements, you won't need to do all of them ahead of time. Instead, you can learn more about them in the courses and complete them throughout your coursework.
Steps to Getting Your Arizona Real Estate License
Step #1 – Complete 90 Hours of Instruction
You will need to complete 90 total hours of online instruction to become a licensed real estate agent in Arizona. An accredited real estate school is necessary.
All approved online real estate schools will provide the state-required 90 hours of instruction. You can also take the courses in person if you prefer.
The courses you will need to take include:
Liens & Encumbrances
Title Transfer
Real Estate Appraisal
Property Rights
Investment & Taxation
Property Management
Residential Financing
Estates & Tenancies
Foreclosures
Math & Equal Opportunity
Listing & Purchase Contracts
Law of Real Estate
Agency and Public Protection
Real Estate Contracts
Escrow & Closing
Disclosures-Warranties, Construction & Development
Broker Practices & Legal Procedures
Legal Land Description
All of these courses are required and can be completed online or in the classroom.
Step #2 – Complete the 6 Hour Contract Writing Course
Along with the 90 hours of instruction, you have to complete a six-hour contract writing course. This course can be done online or in a classroom. It's a requirement if you want to get your Arizona real estate license.
Step #3 – Pass the Necessary Exam
The final exam will need to be proctored at an approved real estate school, university, or college. You will need to pass this exam before you can get your real estate license in Arizona.
This exam will include 180 total questions. You will have 300 minutes to complete the exam. It's necessary to score a 135 out of 180 to pass the Arizona Real Estate Salesperson Exam.
After you complete the exam, you will get a scoring document. This will tell you if you failed or passed. If you fail, you can look at your score in different areas to prepare to retake the exam.
About 75% of those taking the exam will pass on the first try. With a good prep course, you can ensure you can pass on your first attempt. Each attempt costs $75, so it can add up pretty quickly if you don't pass.
Step #4 – Apply for Your Real Estate License
After passing the exam, you must apply for your real estate license and pay the $50 fee. There's also a $10 fee to the Arizona Real Estate Recovery Fund, which you need to pay. The application can be done online through the Arizona Department of Real Estate Licensing System.
Along with the application, you need to submit the following documents:
90-hour Pre-Licensure Education Certificate
Original Arizona Exam Score Report
Disciplinary Actions Disclosure Form
Disclosure Document Checklist Form & Documentation
DPS issued AZ Fingerprint Card
6-hour Contract Writing Course Certificate
Make sure you submit everything necessary with your application and the necessary fees.
Step #5 – Wait
It will take about 5 to 10 business days for the entire application to be reviewed. At this point, all you can do is wait. You will receive an email with your license documentation once the review process is completed.
Step #6 – Gain Sponsorship
After getting your initial Real Estate License in Arizona, you will need to find a sponsor. Without sponsorship, your license remains inactive. Once you have a sponsoring broker in Arizona, your license will move into active status.
Step #7 – Renew Your Arizona Real Estate License
Every two years, you will need to complete the necessary continuing education courses and renew your license. You can do this right online with an online real estate school.
You will need to complete 24 hours of ADRE-approved continuing education to renew your license. This is necessary every two years to keep your license current. These continuing education credit hours will include:
3 hours of agency law
3 hours of commissioner's standards
3 hours of fair housing
3 hours of contract law
3 hours of disclosure education
3 hours of real estate legal issues
6 hours of general real estate education
You can choose any courses you want for general education, as long as they are approved.
Step #8 – Earn the REALTOR Designation (Optional)
While this step is optional, it makes a big difference for a real estate license career. You want to join the National Association of REALTORS and the Arizona Association of REALTORS. This is highly recommended and will help open doors. REALTORS hold themselves to a higher code of ethics.
Frequently Asked Questions About Getting an Arizona Real Estate License
How much will I need to pay to get my real estate license in Arizona?
You will need to pay all the necessary Arizona state fees, which add up to $202. Along with these fees, you will also need to pay for pre-licensing education. This will range from $465 to $629, on average. Therefore, the total amount you will pay will range from $670 to $835.
The breakdown of state fees includes $75 for your examination, $50 for the license fee, $10 for the real estate recovery fee, $67 for the Arizona Department of Public Safety Fingerprint Clearance Card.
How long will it take me to get my Arizona real estate license?
It will likely take you about three to six months to complete the 96 hours of coursework you need to do to get your license. The application process will take another 5 to 10 business days. Finding a broker sponsorship can take a few weeks or months. Sometimes, you will already have a sponsoring broker when you work towards getting your license.
How much can I earn as a real estate agent in Arizona?
You can earn between $20K and $107K, on average, as an Arizona real estate agent. Some agents earn more, and others don't earn as much. This range also factors in some agents working part-time. It's also possible to gain the necessary experience to become a team leader or a broker. This can lead to a higher salary.
Do I need to go through the pre-licensing if I have a real estate license in another state?
Arizona may provide reciprocity for out-of-state licenses, depending on your state. However, you will need to be an Arizona resident, have a current license in another state for at least a year, and complete all the requirements of that state. It's also important not to have any discipline imposed on you from another state.
Who offers online real estate programs in Arizona?
There are several different options for real estate schools in Arizona. If you want to complete your schooling online, you can start with the following options:
Mbition
American Realty Academy
Hogan School of Real Estate
Arizona School of Real Estate & Business
Each school has advantages and may fit your needs better than another. Some offer higher-priced options with continuing education courses and other helpful courses included. Do your research and choose the real estate school in Arizona best suited to your specific needs and learning style.
Some real estate schools include exam prep courses, too. These can be worth every penny you spend as they can help you pass the exam the first time. If you don't pass the first time, you will pay another exam fee and delay getting your license.
What if I fail the real estate exam in Arizona?
If you fail, you will get the opportunity to take the exam again, usually within a few days. You will need to pay another exam fee and reschedule your exam.
Related Learning Opportunities