As a driver in Arizona, you might end up with a traffic violation. Maybe you want it removed from your driving record to keep your insurance rates from increasing or avoid having your license suspended. With Arizona traffic school, you can have one traffic violation dismissed every year.
As long as your violation is eligible, you can use traffic school to remove one ticket per year from your record. It's also important to understand that you will not be eligible to use Arizona traffic school if you have paid the fine for your traffic violation. Those planning to use traffic school need to ensure they don't pay the fine as your traffic school will collect the fees.
Even non-residents of Arizona may use an online Arizona Courts approved traffic school if they receive a traffic violation within the state. It's also possible to return to the state for an in-person course, but an online traffic school course in Arizona will likely be more convenient.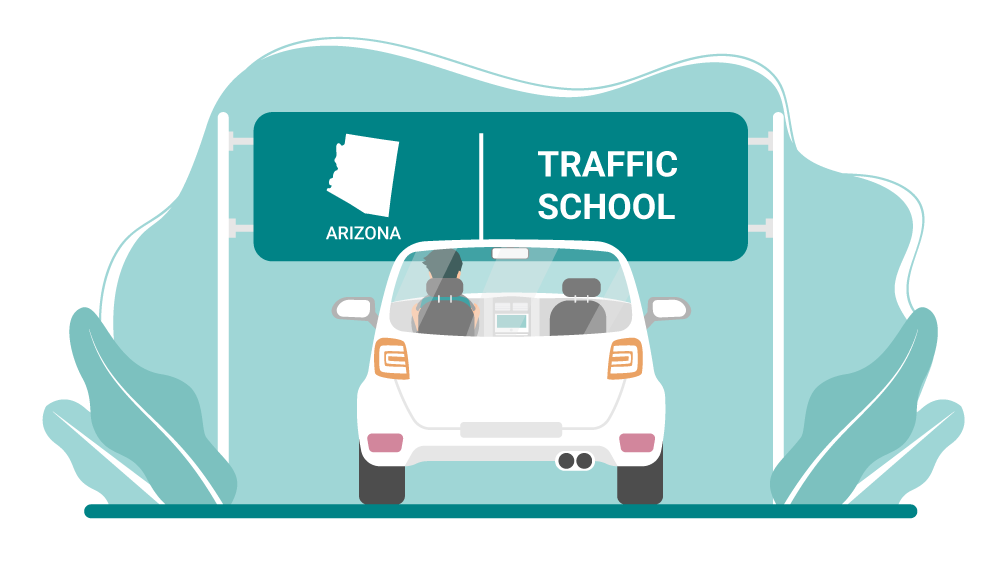 Ticket Dismissal vs. Court Penalty Enrollment
You can use two types of Arizona traffic school options: ticket dismissal and court penalty enrollment. These two options are a bit different and can be used for different reasons.
Ticket Dismissal Enrollment
When you've received a traffic violation in Arizona, you can use the ticket dismissal traffic school to get your ticket violation dismissed. You can enroll in an online course and use this type, of course, to have the court dismiss your ticket once every 12 months. It's known as Diversion Attendance.
Court Penalty Enrollment
If you're not given a choice, you will likely be enrolling in Arizona traffic school under court penalty. You won't receive ticket dismissal with this option as you won't be given a choice. However, a court-ordered enrollment in an online traffic school may help you to avoid license suspension.
3 Benefits of Using Arizona Traffic School
1. No Points Assessed to your Motor Vehicle Record
The main benefit of using Arizona traffic school is avoiding points on your motor vehicle record. This can help to ensure your record remains clean, or you don't end up with enough points to garner a suspension of your driver's license.
You can keep points off your driving record when you use Arizona traffic school, and you can eliminate one traffic ticket per 12-month period.
2. Avoid Hikes in Insurance Rates
Since the traffic school course will help you avoid points on your license, you can also keep your insurance rates from going up. When you get a traffic ticket, your insurance rates will likely go up. However, by going to traffic school, you can avoid the points and the insurance rates going up.
3. Learn Driving Techniques and Laws
While it may not be the most immediate benefit you take advantage of, Arizona traffic school will teach you good driving techniques and the current traffic laws. This will ensure you can drive safer on the Arizona roads and you'll be better equipped to avoid accidents.
In-Person vs. Online Arizona Traffic School
You can choose to sit in a classroom and take the course, or you can take it online. With the in-person option, you will likely have to give up a Saturday afternoon or a few nights during the week to complete the course. This might work for you, but for most drivers in Arizona, the online traffic school option will be a better choice.
With an online course, you will have access to it 24 hours a day, seven days a week. You can log in and complete a lesson or two, and the course will hold your spot until you're ready to return and complete the rest. This type, of course, can be completed anywhere you can gain access to the internet from a computer or even a mobile device.
Once you complete all course requirements, the school will report your completion to the courts, in most cases. You will receive a completion certificate in some cases, and you will need to submit it to the court of jurisdiction.
The online version is far more convenient for most drivers. It's also more affordable, with in-person courses costing more in comparison. However, if you need in-person instruction, you might want to choose a classroom course.
Topics Covered in the Defensive Driving Course in Arizona
When you enroll in an online Arizona traffic school course, you will be attending the defensive driving class. This class will cover many topics, including:
Passing and turning
Safe driving practices
Your responsibility as a driver
Strategies for defensive driving
Traffic signals, signs, and markings
Driving in the city and driving on the freeway
Driving in different environments
Challenging driving
Driving under the influence of alcohol or drugs
sharing the road
Vehicle maintenance and safety
With this type of course in Arizona, you can learn how to be a safer driver.
Frequently Asked Questions About Arizona Traffic School
Am I eligible for traffic school?
You cannot use Arizona traffic school if you have enrolled in the last 12 months. You are eligible to use traffic school to eliminate a ticket from your driving record if you have not done so in the past year. Your traffic violation must also be found on the list of eligible violations for defensive driving here.
If you were involved in an accident that resulted in serious injury or death, you would not be eligible. CDL holders and any driver cited while driving a vehicle requiring a CDL are not be eligible either.
How long is an Arizona traffic school course?
The state requires all courses that can dismiss a ticket from your driving record be at least four hours long. Most traffic schools online will be exactly four hours long or very close to four hours long. Courses are not allowed to be more than 4.5 hours long, either.
How much does traffic school cost in Arizona?
The cost varies but you can expect to pay around $40 for an online traffic school course, while in-person courses will cost more. Along with the cost of the course, you may also need to pay notary fees, collection fees, and other fees when attending Arizona traffic school.
How do I pay my fines to the court?
Traffic schools are required to collect the fees paid to the state and the course.
When do I have to complete my course?
When you get a traffic violation, it will come along with a court date. You must complete the Arizona traffic school course at least seven days before your court date or the extension date if you were given an extension. This includes completing the final exam.
Can I use Arizona traffic school for a ticket I received in another state?
No. If you received a traffic ticket in another state, contact the court of jurisdiction in that state to find out what type of options they offer.
What will I need to start traffic school?
When you're ready to start, you will need the traffic citation and your government-issued ID card. It's also necessary to have the payment for the course, and you will need to sign an affirmation of eligibility.
How does taking a defensive driving course save money?
Many insurance companies offer incentive discounts for people who have completed a state-approved defensive driving course.
If I have been ordered to attend Traffic Survival School, is this the same thing as a defensive driving class or Arizona traffic school?
No. If you have been ordered by the court to attend Traffic Survival School, it's a completely different type of thing. This type, of course, is used when you have received a serious traffic violation or you have too many points on your driving record.
There are two main reasons drivers attend Arizona traffic school online: to dismiss a traffic ticket or gain an auto insurance discount. You can complete the four-hour course online and receive all the same benefits as an in-person course.
By completing your course online, you can work at your pace and do the coursework when it fits your schedule. You won't need to ask off for time at work or even worry about a scheduled time for the course. If you've received a ticket recently, you can use an online Arizona traffic school to keep points off your driving record and keep your insurance rates from going up.
Related Learning Opportunities
Tennessee Traffic School

Can Tennessee Traffic School dismiss tickets or save on car insurance? Learn about state requirements on our Tennessee Driving Safety page.