It's never wise to make assumptions, both on and off the road.
Driving as if you always have the right of way can be incredibly risky, and could put you, your passengers, and others at risk.
This is the sole purpose behind those bright red Yield signs that dot highways and backroads alike. There are certain rules of the road that mandate when it's your time to drive, and when you're supposed to wait your turn.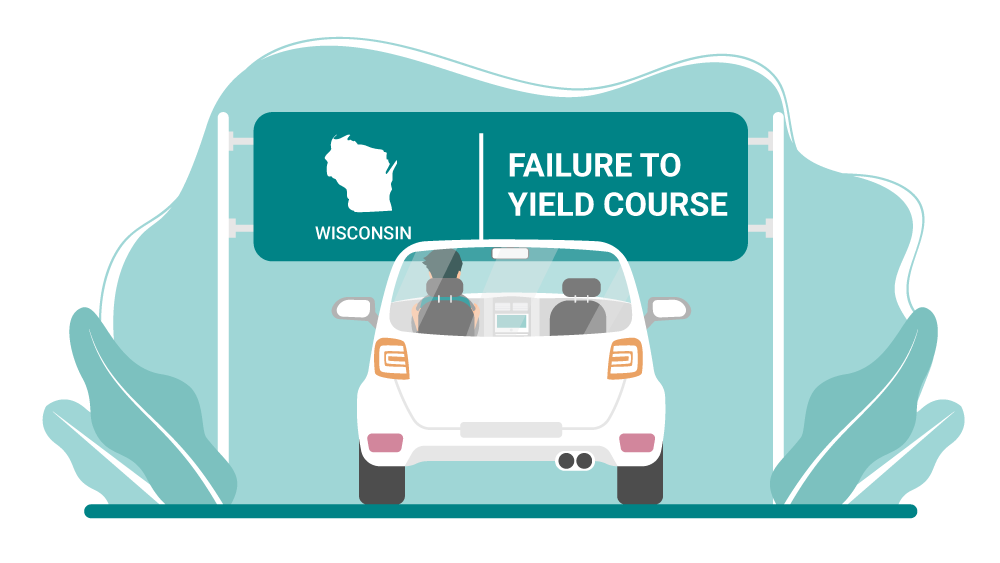 Have you been found guilty of a Failure to Yield offense in Wisconsin?
If so, there are resources available that could help you get back on the road sooner than you expected. One of those is a Wisconsin Failure to Yield Course. Today, we're sharing what this course entails and why it's an important investment.
What Does "Failure to Yield" Mean?
As the term implies, Failure to Yield simply refers to any instance in which a driver does not yield the road in an appropriate manner. As a result, a crash occurs.
While you're not always required to yield the right of way, there are certain times when the law requires you to do so. This is where you'll see the trademark Yield sign, in the shape of an inverted triangle.
What differentiates this type of accident from many others? It isn't caused by two vehicles driving into one another. Rather, the injury victim will drive into the car failing to yield. While there are many situations that could cause this impact, some are more prevalent than others.
Failure to Yield accidents most commonly occur when:
A driver fails to heed a flashing red or yellow light
A driver merges onto the highway too aggressively
A driver fails to yield to oncoming traffic when making a left turn
A driver exits a private driveway onto the street
A driver fails to yield to a pedestrian who has already entered a crosswalk
As you can see, these incidents can occur in a variety of ways, in many different places. It's always important to keep an eye out for traffic signs, especially if you're driving in an area that you isn't familiar to you.
Consequences of Failing to Yield in Wisconsin
According to the State of Wisconsin Department of Transportation (DOT), any driver who is found guilty of a Failure to Yield violation or a similar Right-of-Way violation must complete an approved Right-of-Way course within six months of the conviction. This includes completing all of the required coursework, as well as passing a final exam at the end.
There are two different categories of consequences, based on the timeline of your accident and the severity of the aftermath. Let's take a look at what each one entails.
Violations Occurring On or After December 2, 2017
Did your Failure to Yield conviction result from a violation that occurred on or after December 2, 2017? If so, you'll face a unique set of consequences that differ from convictions that happened prior to that date.
The primary point of concern is the level of harm caused by the collision.
If it did not result in any harm or caused minor bodily harm, you must complete the Right-of-Way course by the required timeline. Failing to do so could result in the suspension of your driving privileges.
If the collision caused great bodily harm but did not lead to death, then your driving privileges could be suspended for three months. It jumps to nine months if your negligence causes the death of another person.
Violations Occurring Before December 2, 2017
If your Failure to Yield conviction resulted from a violation that occurred before December 2017, you'll still need to take the required Right-of-Way course within six months of the conviction.
However, you're limited to a two-month suspension if the accident caused no harm or minor bodily harm.
Why You Need a Wisconsin Failure to Yield Course
If you're convicted of a Failing to Yield offense in Wisconsin, you will lose your operating privileges for a set period of time.
When that time is up, you'll be ready to get back behind the wheel. However, before you can do so, you'll be required to submit evidence that you completed a Right-of-Way or Failure to Yield course.
What Will You Learn?
In your studies, you'll get the opportunity to re-learn all of the important vehicular right-of-way rules. Whether you're a new driver or a seasoned one, these are key points that are critical to remember. Some of the top insights you'll learn include:
Right-of-way statutes in Wisconsin
Steps to safely and legally navigate school crossings
General road rules about yielding
At the same time, you'll also learn about actions that you can take to keep drivers, motorcyclists, pedestrians, and bicyclists safe on the road.
Available Course Options
There are two different entities that the Wisconsin DOT has deemed acceptable for your Right-of-Way course.
While all of these courses will cover the same material, they may have some differences in cost and duration. Once you've found the one that works in your schedule, go ahead and contact the provider to understand those important details.
The approved entities include:
Private driver training schools
Traffic safety point reduction schools
In addition to these two primary options, the DOT also mentions that some local technical colleges may offer the course, too. Regardless of which one you select, always make sure to confirm with the representative that the course is part of a Wisconsin state-approved school.
Let's review each one in greater detail.
Private Driver Training Schools
Today, you can find private driver training schools and safety programs that offer both online and in-person instruction. Ours is one of them!
In most cases, online options are preferred, as they give you the ability to take the course on your own time and pace. Usually, you can complete the entire course in just a few hours over the internet.
Some people even choose to complete all the work in just one day! Many providers offer unlimited retakes on tests and assignments, so as long as you show up (or log on!) and do the work, you cannot fail.
For a list of all of the ones that are approved by the state, you can visit the DOT website. This list is organized by county and city and is easily searchable. If the class has a website, you'll also find the URL linked here for reference
Traffic Safety Point Reduction Schools
Are you considering taking your Right-of-Way course at a designated Traffic Safety Point Reduction School? If so, keep in mind that you must complete the entire Traffic Safety Course to satisfy this requirement.
This course might be more comprehensive in nature, but you can't skim over any sections.
Technical Colleges
The Wisconsin Technical College System is vast and varied. As such, the DOT explains that there may be some institutions that offer an approved Right-of-Way course.
Your best solution is to research the ones in your county or general region and reach out to the admissions office to inquire.
Next Steps After the Course
Once you've successfully completed your Right-of-Way course, it's important to make sure there's a record of your work. As long as you study with a reputable source, your instructor should provide the Wisconsin Division of Motor Vehicles (DMV) some type of certificate of completion. They can transmit this document via mail, email, fax, or in-person delivery.
However, remember that even if the document reaches the right hands, you still can't resume driving as normal.
Rather, you'll need to reference the DMV website periodically to see if your operating privileges have been reinstated.
The state makes it easy to check your status at any time using this helpful tool. As long as you follow all of the classroom requirements and successfully complete the course, this process should help you avoid incurring any extra points on your license.
Learn From Your Failure to Yield Conviction
A Failure to Yield conviction can be a major setback, but it doesn't have to be the end of the road. If you've been convicted of violating this essential road rule, then there are people and places ready to help.
The most important step is finding a reputable, well-reviewed Right-of-Way or Failure to Yield course. As long as you select one that's approved and endorsed by the Wisconsin DMV, you're all set!
From there, remember to be prompt, listen well, and be diligent with your coursework. After all, it's your ticket to getting back in the driver's seat!
Related Learning Opportunities
Arizona Traffic School

With Arizona traffic school, you can have one ticket dismissed every year. Keep it off your driving record and keep your insurance rates low!