If you're considering going into the finance industry, becoming a bank teller is a great choice. Of course, before you start with this entry-level job, you should understand it. Maybe you're wondering what a bank teller does.
As a bank teller, you will have specific job duties. This type of career requires the right type of person, as well. Let's look at what a bank teller does and how you can become one.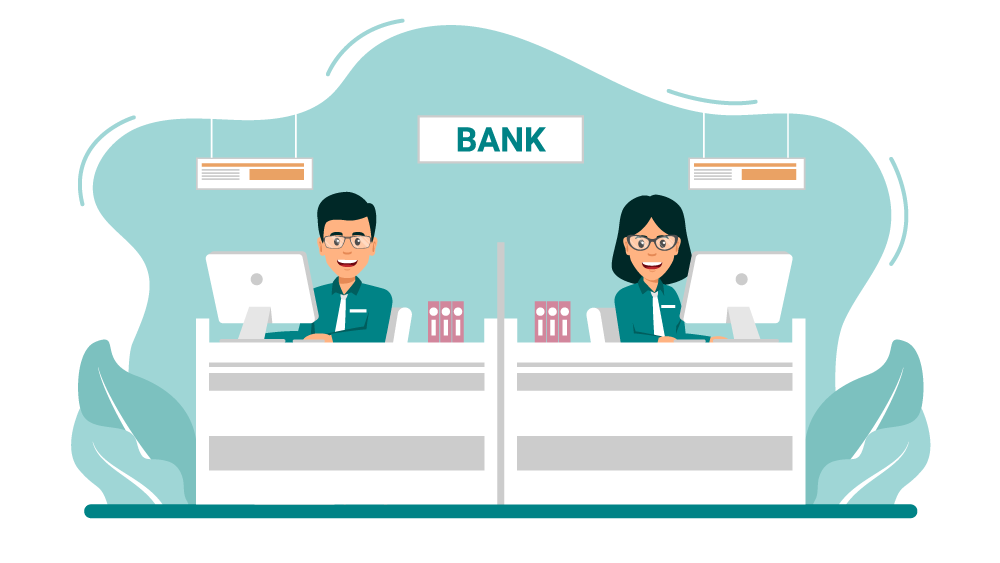 Job Duties of a Bank Teller
As a bank teller, you will be a part of the financial industry. This type of position requires you to become a customer service professional. Your main duty will be to assist bank patrons with their transactions. You will also need to greet customers, help answer questions, and help with account transactions and management. As a bank teller, your job duties will likely include:
You will be the first point of contact for customers
Provide a professional and friendly person for patrons to work with
Perform different administrative duties including managing emails, answering the phones, keeping the lobby and workplace clean, and more.
Keeping a balanced cash drawer from the beginning to the end of your shift
Process payments, transfers, withdrawals, and other transactions
Helping to exchange foreign currencies
Providing customers with loans and other banking products
Helping customers get checks, debit cards, and credit cards
There are many different things you will do as a bank teller. These are the most common job duties. However, they may vary, depending on where you work.
How to Become a Bank Teller in 4 Steps
Step #1 – Finish High School
You won't need a college degree to work as a bank teller. However, you will need to finish high school or get your GED. This is required to secure a job as a bank teller.
Step #2 – Get a College Degree (Optional)
While it's not a requirement, it can be very helpful to get an associate's degree or a bachelor's degree in finance, accounting, economics, or business. This can help you gain employment as a bank teller much easier.
Banks may see you as someone they can promote and move up the ladder if you have a degree. This may be required at some banks if the bank teller positions are competitive or higher-paying.
Step #3 – Complete On-The-Job Training
Most banks will provide the necessary training when you're hired. You will likely need to learn how to use the banking software, the website for the bank, the strategies for record-keeping, and the cash handling procedures. You may need to complete some coursework in accounting or business, as well.
Some banks will also provide you with training on loans, credit, and bank products.
Step #4 – Gain Certifications
While a college degree can certainly help you land a bank teller position, so can the right certification. There are several good certification options to consider. The top two options include:
Teller Specialist Certificate – This certification allows you to gain a credential that shows you understand teller basics, customer service, compliance, and checks. It's offered by the Independent Community Bankers of America (ICBA). You will need to pass the exam to gain this certification.
Bank Teller Certificate – This certification comes from the American Bankers Association (ABA). You will need to complete courses in teller basics, banking ethics, communication, and workplace conduct. It takes about 13 hours to complete. It's also necessary to pass the exam to get this certification.
Necessary Skills to Become a Bank Teller
As a bank teller, you will need specific skills to be successful with your job duties. These skills include:
Math – You will need to be able to count cash and coins. It's also necessary to be able to add and subtract large numbers often.
Sales – Bank tellers often make a little extra money by selling bank products. This could be credit cards, loans, savings accounts, and more.
Customer service – You have to be good at customer service to be successful as a bank teller. This is a vital skill for this career.
Computer literacy – As a bank teller, you will spend the majority of your time on a computer system. This is where you will handle most transactions for your customers.
Organization – You will need to be well-organized as a bank teller.
In some cases, you will also need to multitask. If you're covering the lobby and the drive-up window, you may be working with more than one customer at the same time.
Frequently Asked Questions About Becoming a Bank Teller
How much can I make as a bank teller?
The average per hour rate for a bank teller, according to Indeed.com is $13.79. This isn't a high-paying career, but it is an entry-level position to help you gain experience in the financial industry.
With more experience, you can earn more. It's also possible to earn more working for a top employer. Some top employers will pay more than $17 per hour for bank tellers. Your location will also help to determine how much you earn. Los Angeles is the highest-paying location for bank tellers.
The right skills will also help you gain a higher rate of pay. Those with upselling skills and retail sales skills can earn a higher salary. Sometimes, you may get paid commissions or bonuses for selling specific financial products.
What type of benefits will I get as a bank teller?
As a bank teller, you will gain access to many benefits. It's common for bank tellers to get health insurance including dental and vision insurance. You will likely gain access to paid time off and a 401(k), as well. Some employers will provide 401(k) matching, tuition reimbursement, employee assistance programs, a gym membership, or a health savings account.
Are bank teller positions on the rise?
No, this position is actually on the decline due to online banking. However, it's also an entry-level position so many bank tellers don't remain bank tellers forever. Most will move on to a higher-paying position after gaining some experience.
This is still a very important position for banks. As a customer service position, banks still need bank tellers for their branches and locations.
What type of work environment is common for bank tellers?
Most commonly, you will work at a bank branch. This could be a commercial bank or credit union location. The type of environment will be a behind-the-counter type of area with a few offices throughout the building.
You will likely work facing the lobby or the drive-up windows. In some cases, you will work both at the same time. This also means you will use a microphone or intercom system to communicate with patrons through the drive-up window.
It's common for bank tellers to stand for long periods. You will also share a workspace with coworkers, as well.
What type of hours do bank tellers work?
Most bank tellers will work a regular 40-hour workweek. It's common to work regular businesses hours from 9 to 5 or something pretty similar. Some banks will hire part-time bank teller positions.
You may need to work on Saturdays, but it's usually a very short shift in the morning. Most banks are only open until noon or a little longer on Saturdays. You won't work at all on Sundays, as banks are usually closed on Sundays.
Most bank tellers will work Monday through Friday and the occasional Saturday. Usually, you will work an eight-hour shift each day for a total of 40 hours per week. It's common to have weekends off as a bank teller.
Will I need to have good credit to become a bank teller?
Yes. Most banks will run a credit check on you before hiring you. Since you will have access to large sums of money, customer loans, investment accounts, and spending, you must have good credit. Your FICO score helps to show the financial integrity you have. Most banks will look for an average or better score for bank tellers.
How long will it take me to become a bank teller?
It doesn't take very long to enter this position. You will need to go through an interview process, which may take a week or two. Once you're hired, the training will likely last about a month. You may need to learn the bank's policies, their software, and the monetary products they offer. If you have to go through a certificate program, it may take a few weeks to complete.
Those planning to work at a higher level will likely want to get a degree first. However, you can get a degree online while working as a bank teller, too.
If you want to enter into the financial world and enjoy a career in banking, becoming a bank teller is a good start. This type of entry-level position is pretty easy to land if you meet the qualifications. It can be a great way to gain experience if you want to move up in the banking industry or the financial world.