Before you choose between a credit card and a debit card, you should know what each one is, exactly. The Federal Reserve Bank of San Francisco's Diary of Consumer Payment Choice showed that in 2020, credit cards were chosen as the form of payment 27% of the time, while 28% of the time it was debit cards. Cash was only used 19% of the time.
This shows that credit cards and debit cards are used about the same amount of time by consumers. However, both are used more often than cash. Both offer an easier way to track your purchases and many protections compared to cash, as well.
Before you choose between a credit card and a debit card, you should understand the pros and the cons of both. It's also important to know the differences. Let's look at both.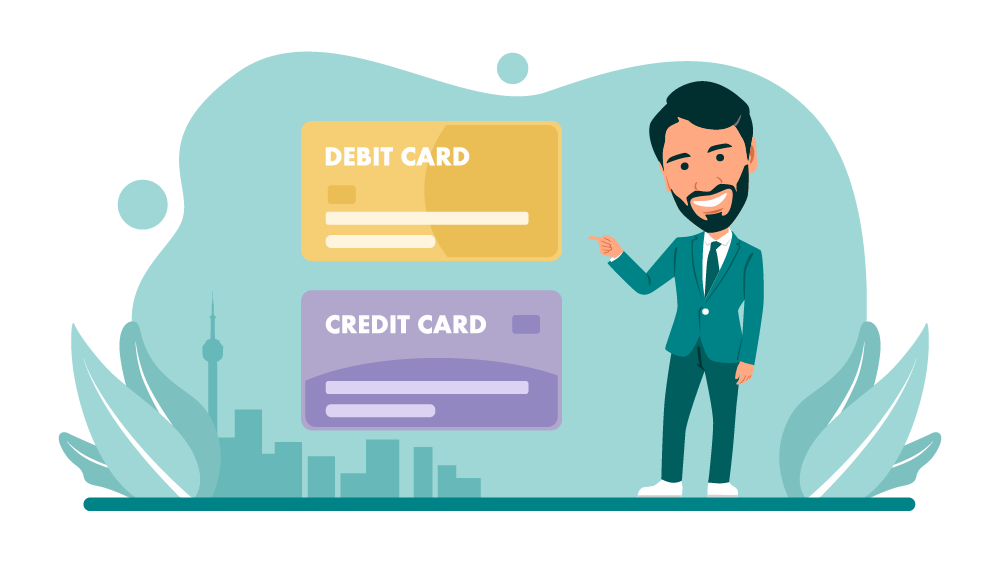 Credit Card vs Debit Card: The Differences
You can purchase goods and make cash withdrawals with both credit and debit cards. However, they are done a little bit differently. With a debit card, you will likely be asked to enter a PIN number. This is not necessary with a credit card.
Withdrawing cash is done differently, too. Both a credit card and a debit card will work to take money out of the ATM. However, a credit card allows you to borrow money, while a debit card takes money out of your checking account.
Debit cards also allow you to get cashback (often for free) when making a purchase at a store. If the store allows cashback and you have the money in your account, you can make your purchase and get cash.
Credit cards also give you a monthly bill you will need to pay. Since you're borrowing money to buy things or withdraw cash, you'll have to pay it back. This is done through a monthly payment with interest. Of course, you can pay the entire credit card balance off every month to avoid interest.
A debit card will come with a monthly statement. This statement will be the same statement for your checking account.
Credit Card Pros and Cons
Pros
Short-term financing in your pocket – A credit card is like having a short-term loan to make purchases in your pocket. They can help in emergencies or just when you need something before you get paid.
Helps build your credit score – When you make your credit card payments on time, you will see your credit score improve.
You may get rewards or cashback – Depending on the credit card you get; you may get specific rewards or a percentage cashback.
Good fraud protection – With a credit card, if it's stolen, the cap you will be responsible for is $50. This is better fraud protection than debit cards.
Cons
You might overspend – You will have a credit limit, which you can spend up to that amount, but it's not money you already have.
You will pay interest – If you don't pay off your credit card balance every month, you will pay interest on the balance you carry.
You can hurt your credit score – While a credit card can help your credit, if you carry a balance above 25% of your credit limit or you don't pay on time, it can hurt your credit.
Late payments can get expensive – If you're late with your payments, it can get expensive, quickly.
Debit Card Pros and Cons
Pros
No interest to be paid ever – You won't accumulate a balance, which means you won't have to pay any interest when using a debit card.
No annual fees – Most banks don't charge an annual fee for having a debit card.
Helps make budgeting much easier – You won't be able to spend more than you have and it will be easier to track your spending.
Very convenient – You don't have to go through the process of writing a check to use your checking account balance, plus you can get cash from the ATM.
Accepted all over the world – Just about any retailer and any ATM will accept your debit card.
Cons
Doesn't do anything to build your credit – You won't get any type of help with your credit score from a debit card.
Could end up with overdraft fees – In some cases, you could end up with overdraft fees. However, many banks offer overdraft protection and it's harder to overdraft today than it used to be.
Your spending is limited by the balance in your checking account – You won't be able to go over the balance in your checking account. This can be an issue with larger purchases.
Comes with some, but limited fraud protection – You will get some fraud protection, but it won't be compared to that of a credit card. If your debit card is stolen, you could be responsible for some of the charges, according to the Federal Trade Commission.
When to Use a Credit Card
A credit card should be used for building credit, gaining rewards, or for emergencies. Some people will use a credit card for an expense, such as gasoline, every month and pay it off as soon as they get the bill. This can help you build your credit over time.
You can also gain cashback and rewards by using your credit card. Just be sure you are disciplined with your spending or you can get into bad habits with a credit card.
When to Use a Debit Card
A debit card is better for everyday and regular purchases. It can be used to pay your bills and make smaller purchases. You will be spending money in your account, so it can be used to help manage your regular budget.
Choosing between a credit card and a debit card isn't a one-size-fits-all decision. Many people will have both a debit card and a credit card. They both have uses and can be helpful. Of course, it's also smart to always have some cash on hand, just in case a merchant won't accept your card.