Are you curious to know the differences between a financial advisor and a fiduciary? Maybe you have heard these two terms tossed around and thought they were the same thing. While they may offer similar services, there is a pretty distinct difference found in the client relationship.
Before we look at what makes a financial advisor and a fiduciary different, let's look at each one individually.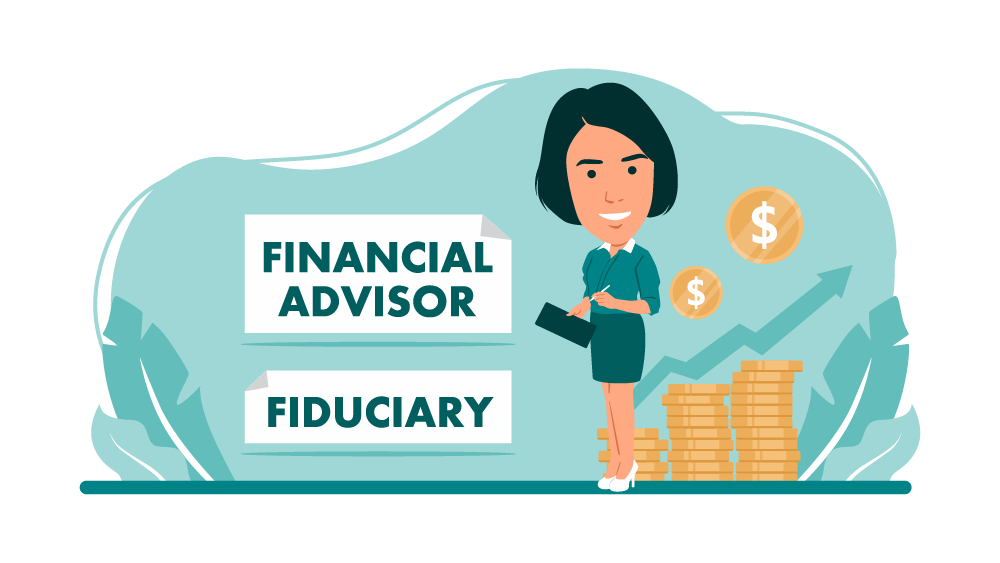 What is a Financial Advisor?
According to Forbes.com, "a financial advisor is a professional who is paid to offer financial advice to clients." This is a pretty basic definition, but it's also rather accurate. When you become a financial advisor, you are paid to provide financial advice to your clients.
Some of the many ways financial advisors help their clients include providing advice about:
Investments
Estate Planning
Budgets
Retirement Accounts
Life Insurance
Other Forms of Insurance
Risk Management
If something requires money, a financial advisor can help with the decision-making process.
Types of Financial Advisors
There are several different types of financial advisors. In fact, more than 100 financial designations are given within financial advising. Some of the most common types include:
Financial Consultant
Brokers
Investment Advisors
Certified Financial Planners
Robo-Advisor
Wealth Advisor
Financial Coach
Portfolio Manager
Each of these roles can be quite different, but they will all provide financial advice. It is important to note that a robo-advisor is actually a technology-based solution. This is an automated investment service using algorithms to help you make investments. It's not a human giving you advice.
What is a Fiduciary?
The Consumer Financial Protection Bureau states, "a fiduciary is someone who manages money or property for someone else. When you are named a fiduciary, you are required by law to manage the person's money and property for their benefit, not yours."
A fiduciary is someone that will act on behalf of someone else and in that person's best interest. They can manage money and property for that person and must keep very good records.
A fiduciary will do many things for the person they represent including:
Make decisions in the best interest of that person
Help to maximize the financial benefit for that person
Avoid conflicts of interest
They are legally bound and have to adhere to the terms of the contract in place.
Types of Fiduciary Advisors
Fiduciary advisors come in many different forms. Some of the most common include:
Conservators
Attorneys
Trustees
Financial Advisors
Guardians
Controlling Stockholders
Principle of a Company
The duties of all of these roles are to carry out specific tasks on behalf of the client. They must work in the best interest of their client.
Financial Advisor vs Fiduciary: The Key Differences
There are several key differences between a financial advisor and a fiduciary. However, the main key difference is the one that really separates these two types of professionals.
Ethical Standards
A fiduciary and a financial advisor have different ethical standard levels they are held to when working with clients. While a financial advisor does have to adhere to specific ethics, they make a living by earning a commission.
When a commission is paid for selling a product, the person selling it doesn't always have the best interest of the client in mind. This is where the key difference is between a financial advisor and a fiduciary.
A fiduciary has to have the best interest of the client and their financial success as their main goal. Therefore, a fiduciary cannot earn a commission. Instead, they are paid a flat hourly rate or a percentage fee. They also tend to be more affordable than a financial advisor.
Classification
The classifications of a fiduciary and a financial advisor are also rather different. You will see five main classifications between these two:
Registration
Series 7 License
Series 65 or 66 Licenses
Membership in Trade Associations
A Certified Financial Planner is someone that has gone through additional financial training and examination. They have to have a bachelor's degree, as well. In some cases, this type of person can be a fiduciary if they are fee-based and registered as an investment advisor.
When it comes to registration, if a financial advisor is registered with the U.S. Securities and Exchange Commission or a state regulator, they have to act as a fiduciary in some ways.
When a financial advisor has a FINRA Series 7 license, they will not be required to ack as a fiduciary. However, if they have a Series 65 or 66 license, they may be more likely to be held to fiduciary standards.
Another way you can tell the difference between a financial advisor and a fiduciary is the trade associations they are a part of. Some of these associations are more likely to have members that act as a fiduciary, at least some of the time. Others may cater specifically to just financial advisors.
Financial Advisor vs Fiduciary: Which is Right for You?
When you're trying to hire a financial advisor or a fiduciary, it's important to make the right decision. Working with a fiduciary can give you peace of mind you might not get from a financial advisor.
There is no right or wrong answer about when you should use a financial advisor or a fiduciary. Often, fiduciaries are preferred for estate planning, but you can also choose a financial advisor.
When you choose a financial advisor, they will earn a commission. While this might seem like it's not as good as a flat hourly rate of a fiduciary, if they are very good at advising, it might be a better choice. A financial advisor has an incentive to make sure you gain on the advice they provide you.
Regardless of whether you choose a financial advisor or a fiduciary, you want someone you can trust. If you cannot trust the person you work with, it might be hard to sleep at night.
Trusted financial advisors have a good reputation and provide an excellent service. The same goes for fiduciaries. However, a fiduciary is held to a much stricter ethical standard.