Taking the enrolled agent exam is necessary if you want to become an enrolled agent to represent taxpayers in the United States. It's the highest credential you can get from the IRS. If you're interested in becoming an enrolled agent, you have multiple options.
Using an Enrolled Agent Exam Prep Course
With the right EA exam prep course, you can make sure you're ready for the exam. There are several options online you can use to get fully prepared for the exam. When you want to become an enrolled agent, you don't want to delay the process.
Passing the exam on the first try requires the right study habits. Combining good study habits with the right prep materials makes a big difference. You want an enrolled agent exam prep course that includes:
A user-friendly design
Plenty of practice questions
Ability to work at your own pace
Several tutorials to study
Access for several months
There are many great options to choose from when you want to study for the enrolled agent exam. In addition, many providers offer online study courses you can use to prepare you for the upcoming exam.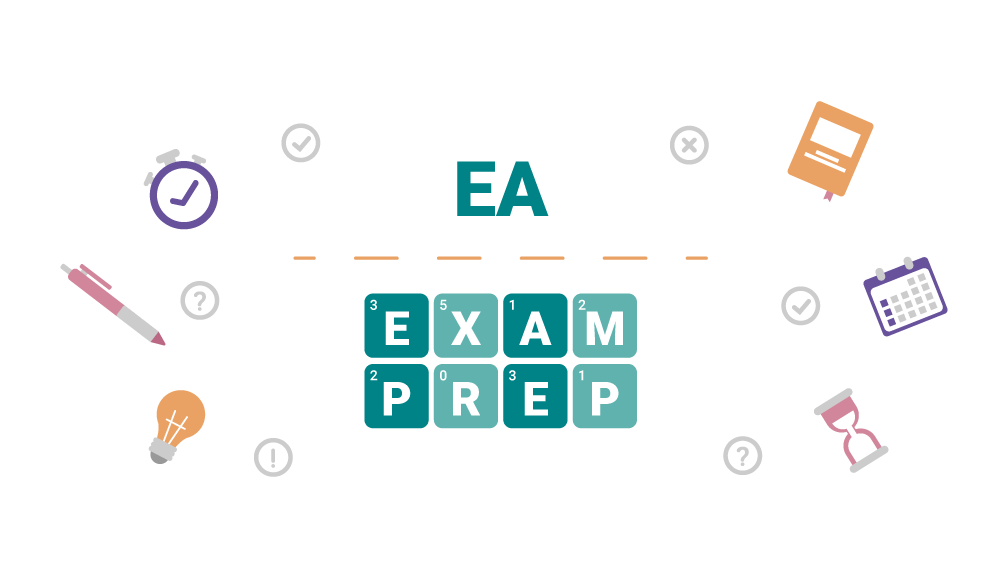 Top 5 Enrolled Agent Exam Prep Courses
1. Surgent EA Review
One of the top EA exam prep courses found online comes from Surgent EA Review. They offer several levels ranging in price from about $229 to $999. If you choose this enrolled agent exam prep course, you'll gain access to more than 1,800 practice questions with 18 months of unlimited access.
Surgent EA Review also offers more than 85 video lectures and excellent customer service. They do provide financing and a pass or your money-back guarantee, too.
2. Wise Guides
Another good option for your EA exam prep course comes from Wise Guides. If you're looking for a less expensive option, they offer a 90-day access package for $124.95. They also have other packages going all the way up to $999.95.
Choosing Wise Guides will give you access to more than 3,000 practice questions. They also offer monthly payment options with unlimited access. Plenty of instructor-led video lectures are available with this prep course, and they offer good support.
3. Fast Forward Academy EA
If you want a good enrolled agent exam prep course with more than 3,500 practice questions, this is the right option for you. Fast Forward Academy EA offers unlimited course access with pricing from $549 to $699. These bundles give you more than 10 hours of expert video instruction and financing if you need it. They also offer a study guide for $199 as well as flashcards for $120.
4. Gleim EA Review
A higher-priced option, Gleim EA Review offers packages from $379.85 to $629.95. They give you 120 practice questions with unlimited access. With expert-led instruction videos and audio lectures, you can fully prepare for your EA exam.
5. Lambers
With more than 100 practice questions, Lambers offers an EA exam prep course you can use. They have pricing ranging from $199.95 to $499.95 with 12 months of access. There's a three-part video series to use and plenty of support from this option. They also have flashcards available for $149.95, which can be a great resource.
Which Course is Right for You?
While any of these top five EA exam prep courses offer good study materials, the right one may not be the same for everybody. Make sure you consider your budget and what you need for studying. Some students need more practice questions, while others need good video tutorials.
Make sure you choose an EA exam prep course with up-to-date content and the right materials for you. If the course is outdated, you may not get the information you need to pass the EA exam.
What Will the Enrolled Agent Exam Cover?
When you start preparing for the EA exam, you should be preparing properly. There are plenty of things to study, but the exam is pretty straightforward. The exam will include three sections with 100 multiple-choice questions per section:
Individuals
Businesses
Representation, Practice, and Procedures
You will be given 3.5 hours to complete each section, and another 30 minutes for the required computer tutorial. While the test is full of multiple-choice questions, there are a few formats you might find. Some will be direct questions, others will be incomplete sentences, and some will also be "all of the following except" type of questions.
Each section breaks down in the following way:
Individuals
17 questions – Preliminary work with taxpayer data
21 questions – Income and assets
21 questions – Deductions and credits
14 questions – Taxation and advice
12 questions – Specialized returns for individuals
Businesses
28 questions – Business entities
39 questions – Business financial information
18 questions – Specialized returns and taxpayers
Representation, Practices, and Procedures
25 questions – Practices and procedures
24 questions – Representation before the IRS
19 questions – Specific types of representation
17 questions – Completion of the filing process
Understanding what you'll be getting into with the enrolled agent exam can help you properly prepare for the exam. When you're ready to take the EA exam, you want to make sure you can pass it on the first try.
What is an Enrolled Agent?
According to the IRS website, an enrolled agent is someone who has earned the privilege of representing the United States taxpayers. As an enrolled agent, you will have unlimited practice rights, much like a certified public accountant and an attorney. This means, as an enrolled agent, you can represent any taxpayer you prefer in any tax matter.
How to Become an Enrolled Agent
When you want to become an enrolled agent, there are two paths to consider. The first path requires working for the IRS for five years and passing a background check. This path will take many years, and you will have to gain employment at the IRS.
The faster and more common way to become an enrolled agent is to take the enrolled agent exam or EA exam. This path is much faster and gives you an easier way to become an enrolled agent without all the years of working at the IRS.
Final Step to Become an Enrolled Agent
After passing the enrolled agent exam, you will still need to apply for enrollment within a year. It's also necessary to pay the $67 fee when you apply. Your application will take up to 60 days to process. The IRS will conduct a background check and look at your criminal history and tax compliance during this time.
Frequently Asked Questions About the EA Exam
Is the EA exam difficult?
Most people will find the EA exam to be difficult. It has different levels of difficulty with each section. For example, many test-takers will find the business section the hardest portion of the EA exam.
What's the cost to take the enrolled agent exam?
You will need to pay $182 per section for the EA exam. If you need to reschedule the exam, you can do so with no additional fee if you do it 30 days before your exam date. However, if you have to reschedule within 30 days of the exam, you will pay an additional $35 to reschedule.
When can I take the EA exam?
You won't be able to take the enrolled agent exam during March or April. This is because, during these months, the exam creators update the content to reflect any new tax laws about to go into place. The test window will run from May 1st to February 28th each year.
What type of score do I need to pass the EA exam?
You will receive a pass or fail designation from the computer you took the test on after completion. The score will be emailed to you, and you will also have access to previous test attempts.
A passing score is 105, and exam results are scaled. The scale ranges from 40 to 130, and if you score 104, you will not pass the enrolled agent exam. If you've taken the exam and scored low, you may need an EA exam prep course.
How many times can I take the exam during the testing window?
From May through February, you can take the exam up to four times. Each time you take the exam, you will pay the $182 fee.
Is a degree necessary to become an enrolled agent?
No, you don't need a degree to become an enrolled agent.
How long do I need to prepare for the enrolled agent exam?
You will likely need to study from 40 to 70 hours per exam section. In total, you will need to study for more than 200 hours to prepare for the EA exam fully. With the right enrolled agent exam prep course, you can fully prepare and pass the exam the first time.
What type of salary do enrolled agents earn?
The average salary of an enrolled agent, according to Payscale, is about $66K per year. Of course, if you've passed the right prep course and gained the right credentials, you can make even more per year.
Related Learning Opportunities
How To Become an Online Tutor

Have you considered becoming an online tutor? Find out what it takes to start teaching remotely and earn extra money or begin a new career!