Want to become a real estate agent in Indiana? Consider it a worthwhile investment. All you need for your next step is to get a real estate license. But first, understand that this is not a finger-snap process. There are requirements attached to the process.
Generally, the essential requirement is to have attained 18 years of age and have a transparent criminal background. This is because, in Indiana, the real estate industry has trust as it's core pillar. You also need to possess a high school diploma or equivalent.
Like any other investment, you will have to spend some dime and time. Be prepared to take a 90-hour pre-licensing course that will cost you around $60. Since this is a journey, read on to get equipped with everything you need to know in the process.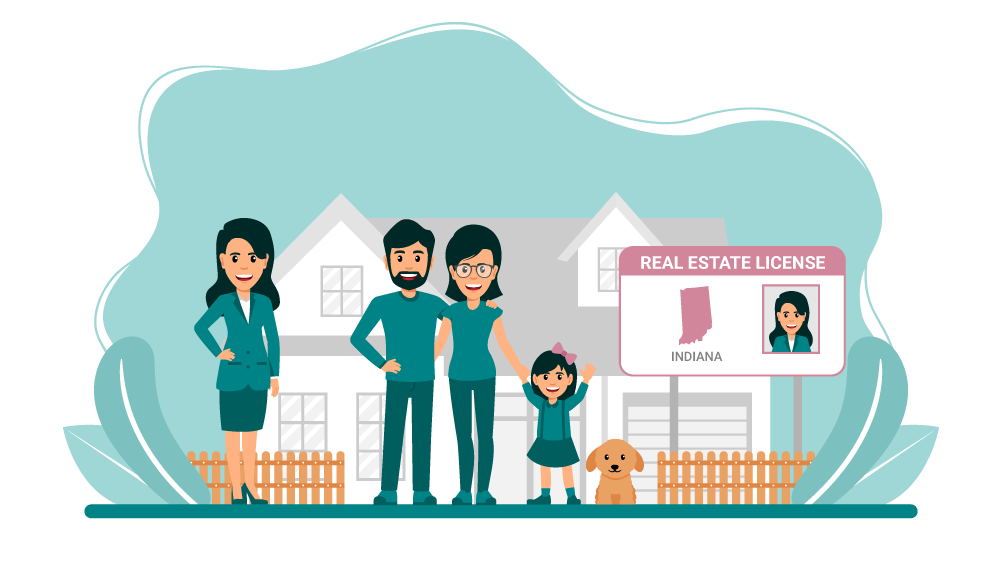 Requirements for Real Estate Licensing
The state of Indiana does this in an overall step by step procedure. Below is to guide you and help you understand the requirements within every step:
1. Undertake Pre-Licensing Course
Your first consideration is to determine whether you want to operate as a broker or a salesperson. Either way, a success tip is to be familiar with the Indiana Real Estate law, as we will talk about later.
To do this, you need to maximize your pre-licensing course. The Indiana Real Estate Commission requires you to complete a 90-hour approved real estate course.
The courses are available for live and online platforms. Choosing the right course gives you a good start. For suggestions, here are a few recommendations for pre-licensing course providers.
Real Estate Express – online courses
IBREA – Offers both live and online classes
Real Estate Certification Program REPC
Ph.D. Academy Indiana
Tucker School of Real Estate
McColly Schools
On average, courses go for six months. Due to COVID-19, in April 2020, the IREC permitted all currently approved pre-licensing curriculum to transition to online for full credit, improving remote learning.
What to Expect in The Course
The Pre-Licensing broker courses are highly technical with significant real estate math content. It would be best if you were prepared to spend a chunk of time engaged in the course content for the whole period. Some online course providers will help you manage this. For live courses, you will need to keep track of your sitting hours.
Most pre-licensing courses expire within a year. Meaning you will have to complete your course within this period. Also, note that course providers are not obliged to report completion of your course with the state; therefore, any follow-up is entirely up to you.
2. Register and Pass the Pre-Licensing Exam
Each course will have three exams, including a final one, each having 100 questions and a minimum expected score of 75%. Failure to attain one can be allowed a retake but at a separate fee.
It is essential to understand that the primary basis of the exams and the course is to prepare you for a real-world experience. Because of this, real estate exams require extra preparation and understanding. Over 50% of students fail to pass with the first attempt. With the costly retakes, this becomes a filter for many.
With enough preparation, however, this should not scare you. A few tips to be on the right track are:
Select the right course – Choose curriculum providers who specialize in Indiana rather than a global service.
Plan your time well – do not be distracted by the freedom, especially for online courses.
Pay attention to every detail – Yes, the smallest detail matter
Ask for help from a Real estate friend
The course content includes the Law of Agency, Interest Estate, and Ownership, Fair Housing Laws, Public Land use Laws, Environmental deeds, Contract deeds, Leasing, Mortgages, Taxes, Closings, and Review of Real Estate Math.
The real estate examinations are given electronically by ASI, an approved testing facility, and the examination fees are paid directly to ASI
3. Affiliate with a Managing Broker
This is a requirement by the Indiana state government. "What if I don't find a managing broker?" You may ask. Then your license will be placed in an "Unassigned" status. You may not proceed until you have found a broker to be affiliated with. After this, you may submit a reassignment form or transfer your license to a company or managing broker using the Professional Licensing Agency (PLA) online platform.
When choosing a managing broker, it is essential to go for someone with eligibility in the industry. You might want to consider the following:
Their overall reputation in the industry
How familiar they are with technological advancements in the industry
The level of support they offer their agents
If you see prospects of growth in their brokerage
The kind of commission structure they offer
If they offer benefits
If they provide their agents with good marketing material
This helps meet your compliance standards and helps advocate for your new position in the real estate niche.
4. Apply for Broker License
Applying for a broker license is done online. You will be required to include the original certificate of completion for your pre-licensing course and the original score report from your real estate exam. You will pay the application fee. The real estate license application must be submitted within a year of passing both the real estate exam portions.
Once your application is received, you will receive an email discussing steps for completing the background check. Indiana's chosen company, Identogo, will then take your fingerprints. For this, go to any fingerprinting center nearby for the prints to be valid. Make sure to bring the government-issued identification with you.
5. Join an Association of Realtors
Here is your final step. Representation is key. It will also help boost your consumer confidence and can bring overall sustainability to the industry. It also helps secure transactions in both ends between any deal.
Other benefits come with this—for instance, the ability to monitor general industry performance and make accurate decisions, long-term or short-term.
But how do you identify a top realtor agent? You will have to build a strong network in your real estate career. Also, do thorough research online to come up with the best, trusted agencies in Indiana.
Now that you have obtained your real estate license and are ready to nail your real estate career in Indiana, there are a few things you should be aware of to stay afloat.
Understand What Drives The Real Estate Market in Indiana
Knowing this will help you through your journey, from obtaining a real estate license and beyond. For you to be a valuable real estate agent, master the drives of the industry. These mainly include the interest rates, consumer confidence, and unemployment levels.
Indiana's real estate business is impacted mainly by the Federal Government, which determines interest rates. For instance, this year, the federal government stated that it would maintain the rates as long as inflation rates remain below 2%.
The state of Indiana has maintained stable levels of inflation of 3%, meaning no fluctuating interests and hence good business for real estate brokers.
When unemployment is significantly high, the fed may decide to increase interest rates to curb inflation. This will, in turn, affect the real estate business. As a broker, keep up with this information and maintain value for your clients.
Understand the Competencies Needed For a Real Estate Broker
Aside from attending Indiana real estate training, you'll need some major skills to become a competent real estate broker in the state. Some skills will be acquired in school, while others need to be your character as a professional. Here are a few values you'll need:
Organization and planning skills – With the many details in the industry, this skill isn't negotiable.
Emotional intelligence – Manage your expectations and remember, a positive attitude wins.
Communication skills – Understand and meet a client's needs.
Confidence – Be confident about every showcase and believe that it is worth the sale.
Good physical state – There can be a lot of handy work involved in the process.
Financial diligence – Learn to manage your working capital and bargains.
Team player – Establish a solid network.
Manage change – Expect anything, anytime, and be ready to adapt to change fast.
Customer service skills – Clients value service. Up your game and earn your way up the ladder.
Familiarize with Real Estate Law
As we mentioned earlier, it is vital to understand Real Estate Law on your journey to success in your journey to acquire an Indiana real estate license. Administered by the federal and state governments, these laws are necessary to ensure industry quality and protect the consumer from discrimination, fraud, and other unlawful practices.
Fair Housing Act prohibits discrimination in housing transactions, disclosing and reporting earnest money deposits under the Patriot Act, and collecting taxes through the capital gains tax.
The Indiana Legislature is the government branch responsible for passing laws. Real estate law is the statute that addresses real estate licensees. Also note, it is illegal to practice real estate in Indiana without a license.
To help them take care of specific areas of law, state legislatures have administrative or executive agencies to oversee and guide specific areas. For example, the Indiana Real Estate Commission (IREC)
The Commission
The Indiana Real Estate Commission (IREC) has the legal authority to license and regulate real estate licensees. The rules and regulations created by IREC carry the force of law. The real estate laws are published in the Indiana Code (IC).
The 12-member commission consists of a representative from each of the nine congressional districts, one real estate broker, and two public members. The governor, on a four-year term, appoints commission members.
Monthly meetings are held on policy decisions, licensing matters, complaints, and disciplinary action against real estate brokers and salespersons. The meetings and general schedules are posted online and are public.
By establishing and enforcing high standards of competence and professionalism, The Indiana Real Estate Commission protects the public's interests. The powers and duties of the IREC are as follows:
Duties
Enforcing compliance through public hearings and courts
Provide for the filing and approval of surety bonds
Maintain records of property in the city of Indianapolis
Investigate complaints related to transactions in the real estate practice
Powers
Impose disciplinary actions against licensees as needed.
Authorization of contracts and payments to administer and enforce commission rules.
Enforce compliance with all federal and state laws.
Control licenses by issuing, suspending, denying, and revoking licenses.
What to Expect Ahead
Attending an Indiana Real Estate School should be the first step to achieving your career goals in this industry. Remember to manage your expectations. From commission rates to different agents and generational changes, understand that the industry will not always be in your grip to control.
As you progress, consider sharpening your skills more. You might want to further your studies by taking further real estate training courses in Indiana to keep your head high in the industry.
Related Learning Opportunities