If you wish to work as a real estate agent in Kentucky, you first have to acquire a real estate license. Obtaining a real estate license in Kentucky is not a difficult process if you put in the work. The process starts with you taking a Kentucky real estate course after paying the required fees and then working hard to pass the exams. Let us look at all that is expected from you to get the Kentucky real estate license and the benefits of having a real estate license.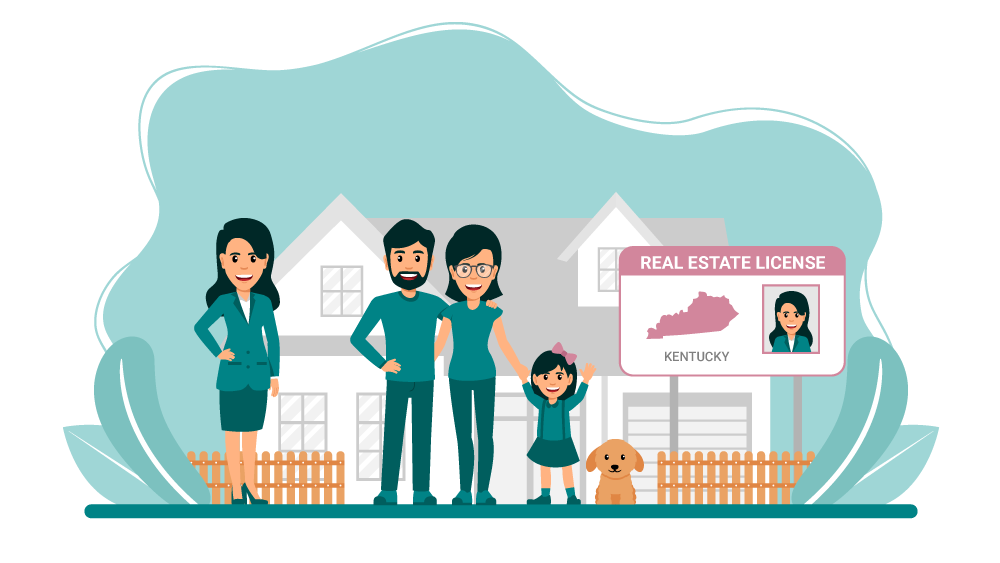 The Kentucky Real Estate Commission licenses you as a real estate agent once you meet the following requirements:
Have a GED or a high school diploma and be 18 years old or above
Complete 96 hours of Kentucky real estate course from an approved Kentucky real estate school. This can be done by:

Completion of 6 credit hours from a recognized college, or
Complete 96 hours from a recognized proprietary school

After completing the Kentucky real estate course, obtain your transcripts or proof of completion for use when applying for the license.
Pass a criminal background check, which is administered by the FBI
Find a testing center. Most states use a third party as a testing center. The providers of the test are recruited by the state to oversee and score the tests. Sometimes the state adjusts its budget, which may result in a change in the testing provider. Therefore, you should make a point of knowing your testing provider and contact them for extra information.

Find out about how the exam will be administered and scored and if there are simulation exams at the center
Register at the testing center and plan an exam date
You may be required to sign an affidavit indicating exam eligibility
You have to pass both the state and national sections of the exam
Find out if you need an identification document on the exam day

Sit for the Kentucky real estate license exam and pass the exam's state and general sections and score 75% or higher. If you pass one section of the Kentucky broker or Kentucky salesperson exam (state or national law) and not pass the other section, you can retake the failed section within four months after passing the first section. Four months after the initial exam, you must retake both sections. After passing both sections, you will receive the application form at the exam center within four months, where you will have 60 days to submit your licensure application. If you do not present your application within the 60-day window, the entire exam will become null and void.
If you manage to score 75% and above, you can now apply for your real estate license. This must be done within 60 days after passing the real estate exam.
How long will it take for me to get a real estate license in Kentucky?
Two factors determine the time it will take you to obtain the license. The first one is the FBI criminal background check, which takes 12-16 weeks. The second factor is the learning option you choose. To quicken the process, choose the 96-hour plan and use the services of an online tutor. This will allow you to finish the 96hours quickly as you will learn at your tempo and pace.
What is the cost of obtaining a real estate license in Kentucky?
There are fixed costs
FBI background check at $32
Kentucky Sales Associate Exam at $100
Sales associate license application $60
Variable costs
E&OE insurance depending on whether independent or group insurance, can be at least $126 per year for group insurance.
Note that the state can change the costs at any time.
What are the benefits of a real estate license in Kentucky?
The benefits of acquiring a real estate license are undisputed. These benefits are worth the time, money, and effort it entails in the acquisition process. It is a common thing for investors to debate if they really need a real estate license. Although it is not a requirement to succeed in real estate, the benefits will take you to greater heights. Let us look at five benefits that an investor gets after being a licensed real estate agent.
Additional Income
If you are a new investor, you probably need any additional income. You may not want to take a real estate agency as a career, but it can offer you supplemental income. Brokers can work with you to sell a property, which will give you an extra income. You also get to know the intricacies of real estate agents while still gaining new contacts and learning more about the business.
Access to Deals
This is the primary reason for obtaining a real estate license. Acquiring a license opens doors to contracts you would have never thought of. You do not have to wait for your realtor to notify you of deals. You will actually know about the deals before they do. Any new listing in the Kentucky real estate market will first pass through you; hence, you can quickly offer an offer.
New Contacts
It is a delicate venture to balance being a realtor and an investor. Some people are cautious when working with a realtor who is also an investor in real estate. As an investor, becoming a licensed real estate agent will give you access to many new contacts, both on open houses and networking functions.
Another benefit of a real estate agent is building relationships with internal contacts at banks that provide you with information on properties owned by the banks. You also get to work with agents and brokers within the office, where you get to learn through them and gain some useful tips. A broker can educate you on legal matters and also show you how to negotiate contracts. Other agents can connect you with reliable professionals in the industry, such as appraisers, surveyors, and lenders.
Regardless of how you look at it, getting an opportunity to enlarge your network is a major benefit of obtaining a real estate license. Meeting many people will eventually lead to closing more deals, which means more money in your account. Therefore, working in the right office or connecting with the right agents can significantly transform your investment.
Education
The lessons you learn in a Kentucky Real Estate School to get the license do not go to waste; they are not just a means to an end. In the coursework, you get to learn about:
Contracts
Financing
General Principles of Agency
Land Use Controls and Regulations
Leasing and Property Management
Property Disclosures
Property Ownership
Real Estate Calculations
The Practice of Real Estate
Transfer of Title Transfer of Title
Valuation and Market Analysis
All this information is useful in your success as a real estate agent. The information will help you perform your duty according to state and national real estate laws and regulations.
Commission
Another benefit of a real estate agent is that you save commissions on deals you make on your own. As a realtor who doubles up as an agent, you gain more when you close a deal. If you receive a property as an agent, you can flip it and list it as the realtor to earn a 2.5% commission. After paying taxes and your broker's share, you will still make money that would have gone to someone else.
In conclusion, when preparing for the licensing exam, know that you need to study hard for the exam ahead. You should be aware that the real estate license exam is not easy, but give it your all, and you may be surprised by the results. Choose good and relevant prep materials when studying, including credible practice exams. There are online resources that can provide you with the materials at a small fee; they help people ace the PSI exam on their first try. Be in the right frame of mind when you get to the exam room and have a positive attitude that you will succeed.
Related Learning Opportunities