Do you love to hit the gym? Would you like it if the gym was your place of work? Then, becoming a personal trainer might be the right career option for you. This field is a great path for former athletes and those looking to help people get healthy.
If you want to work in a gym, learning to become a personal trainer is a great choice. However, you will likely need to become a certified personal trainer. Let's look at the steps you will need to take.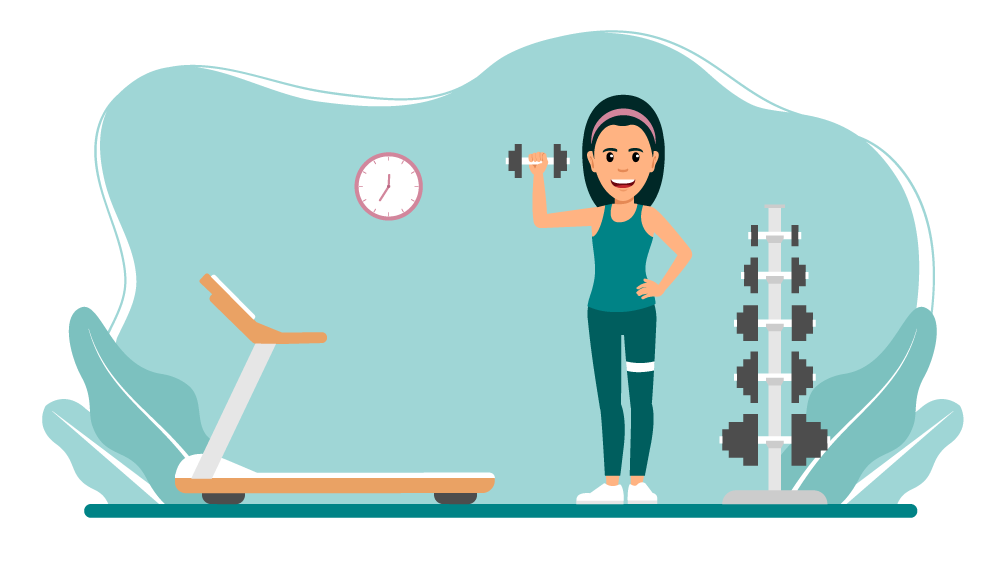 Steps to Certification
Step #1 – Meet the Basic Requirements
You will need to meet a few basic requirements if you want to become a personal trainer. First, you have to be at least 18 years of age and have a high school diploma or GED. Most reputable personal trainer programs won't allow you in without meeting these two requirements.
Some certified personal training programs will require you to take a CPR (Cardiopulmonary Resuscitation) class and even an AED (Automated External Defibrillator) class before you can start. This is a pretty easy class to find and is usually offered through the Red Cross.
Once you have met these basic requirements, you can enter into a certified personal trainer program.
Step #2 – Complete a Personal Trainer Program
You want to choose an accredited personal trainer program, such as NASM (National Academy of Sports Medicine). There are a few good choices you can look into. Make sure they offer a certification recognized by the employers in your area.
After you've entered into your program, you will need to complete the training. Some programs will offer different types of training depending on what you want to specialize in. For example, maybe you want to teach Pilates or specialize in weight lifting. If so, choose a training program offering this type of training.
After you've gone through the training, you will need to pass the exam for certification. There are good practice tests and prep courses you can find online to ensure you will pass the final certification test.
Once you've passed the exam, you can add CPT (Certified Personal Trainer) to your title. This gives you credibility, and the training will give you the knowledge you need to help your clients.
Accredited organizations for personal trainer certification include:
American Council on Exercise
American College of Sports Medicine
American Fitness Professionals and Associates
International Sports & Sciences Association
National academy of Sports Medicine
International Fitness Professionals Association
National Federation of Professional Trainers
National Strength and Conditioning Association
National Council on Strength and Fitness
Many of these organizations are accredited by the NCAA (National Collegiate Athletic Association).
Step #3 – Build your Knowledge and Skills
If you choose a specialty, you want to continue to gain knowledge and skills in your area of expertise. Even if you don't choose a specialty, it's necessary to continue your education. You can also earn new certifications in other areas, such as nutrition, diet, weight loss, and other areas.
Personal trainers should continue to learn and keep up-to-date with the industry. Study the technology used and different types of workout programs available.
Continuing your education can be done in many different ways. For example, you can attend workshops through the American Council on Exercise or another organization. There are also other fitness events you can attend.
Many organizations, such as the IDEA Health & Fitness Association, offer courses you can take in-person or online. Whether you decide to attend a convention or take a course, continuing your education can help advance your career.
Step #4 – Choose a Specialty
It's usually a good idea to specialize in a specific area of training. You may want to do this before entering a training program, but you can also go back and specialize after gaining some experience.
Some of the areas you can specialize in as a personal trainer include:
Athletics and Sports – If you want to work with athletes, you can help them compete at a higher level. This specialty allows you to work at multiple levels, including high school, college, or professional.
Medical – Another specialty to consider is the medical specialty. As a Medical Exercise Specialist, you will be certified to help post-rehabilitation clients recovering from injuries or health issues.
Special Population – Maybe you want to work with older adults to help them with their quality of life. This specialty includes options of working with older adults or even with younger kids.
Nutrition – Another specialty you can add to your personal training certificate is nutrition. This is another certificate but can help you open up more job opportunities.
Weight Management – If you want to help people lose weight and manage a healthy lifestyle, consider this a good specialty.
Orthopedists – Working with clients who have arthritis or other types of pain means you will specialize in orthopedics.
Step #5 – Apply for jobs, gain experience, and start your career as a personal trainer.
Some specialties will require more training, while others will require experience in a specific area.
Duties of a Personal Trainer
When you become a personal trainer, your duties will vary depending on the job you take on. But, commonly, you will take care of the following duties:
Assess the needs of your clients when it comes to exercise and fitness
Demonstrate workout techniques for clients
Help clients safely and effectively workout
Monitor the progress of clients as they work towards their goals
Provide advice about nutrition and diet
Offer first aid services if an emergency happens
These duties, along with regular gym duties, will likely be a part of your job.
Necessary Skills for Personal Trainers
Certain skills will help you become a better personal trainer. Some of the skills you should develop include:
Communication Skills – You will constantly be communicating with clients. Make sure you can communicate very well.
Fitness – Of course, you need to be in great shape and capable of demonstrating the proper way to do an exercise.
Stamina – As a personal trainer, you might work with multiple clients in a day. This means you will be on your feet, demonstrating exercises all day long.
Customer Service – Working with people requires great customer service skills. You want to create long-term clients, and good customer service can go a long way.
Problem Solving – As a personal trainer, you will listen to your clients and help resolve their problems. They might be struggling with something and needing your help to solve the issue.
Frequently Asked Questions About Becoming a Personal Trainer
How much does a certified personal trainer make each year?
If you become a certified personal trainer, you will enjoy an average annual salary of around $40,500. The salary range is rather vast, however. For example, you might start at $21K and, after gaining experience, make as much as $77K per year.
Your actual salary as a personal trainer will depend on your location and experience. But, of course, if you work for yourself, you can earn even more as a personal trainer, too.
Do I need a personal trainer certification?
If you plan to work for an employer, you will likely need a personal trainer certification. Most employers won't hire trainers without a certification. Earning a certification in personal training shows you have the necessary skills and knowledge to help clients reach their goals.
When you earn a certification in personal training, you're less likely to injure a client. This means your employer is protected from potential legal fees due to the injury.
It's not difficult to become a certified personal trainer. You can choose one of many accredited options, such as ACE (American Council on Exercise), AFAA (Athletics and Fitness Association of America), NASM (National Academy of Sports Medicine), or ACSM (American College of Sports Medicine).
Who hires certified personal trainers?
Most personal trainers work at a gym or fitness facility. However, you may also find job opportunities at a community center, hospital, or government facility. Some personal trainers work with clients in their homes, as well.
It's also common for sports teams to hire personal trainers with the right experience. Working as an independent contractor can allow you to work in multiple settings. However, you will also need to run your own business if you choose to work for yourself.
You can go into corporate fitness, too. Some companies offer corporate wellness packages for their employees. Cruise ships also hire personal trainers for their guests, along with resorts and spas.
Do I need a degree to become a personal trainer?
No. However, you can get an associate degree or a bachelor's degree to increase your job opportunities. For example, many personal trainers get a degree in exercise science, physical education, or kinesiology. With a degree, you will do more than work with clients as a personal trainer.
---
Many people will fit well into the career of a personal trainer. Entering this field is an excellent option for prior athletes and those looking to help others stay healthy. With the right skills and training, you can become a personal trainer.
If this career path seems like the right one for you, use the steps to become a personal trainer above. Then, you can become certified and start working in this field pretty quickly.
Related Learning Opportunities
What is a Health Coach?

If you're interested in helping people live happier and healthier lives, becoming a health coach is a good career path to consider.