With over 1 billion people suffering from acute or chronic respiratory conditions, the demand for respiratory therapists has never been greater.
Becoming a respiratory therapist lets you make a valuable contribution to the healthcare industry without the need for rigorous coursework, a residency, and mounting student loans.
If you're wondering, "What does a respiratory therapist do, exactly?" and, "What training do I need?" you've come to the right place.
Keep reading to learn more about respiratory therapist jobs and if this career path is right for you.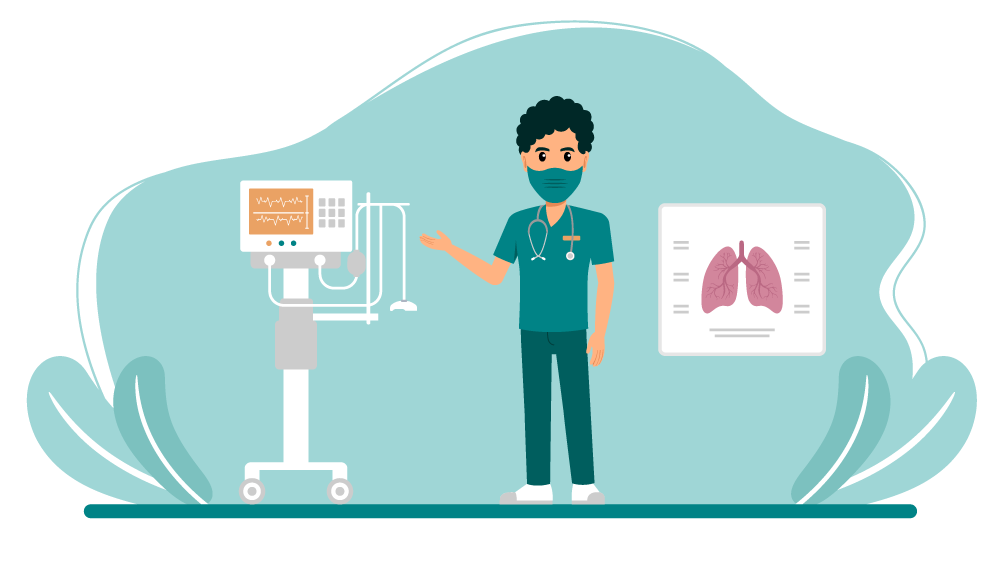 What is a Respiratory Therapist?
Let's start with the basics.
An RT (Respiratory Therapist) is a medical professional who treats problems associated with the lungs or breathing. These therapists work closely with doctors and specialists to diagnose, treat, and monitor respiratory conditions and cardio-pulmonary diseases and disorders.
As an RT, you'll have the opportunity to work with patients of all ages, from infants and teens to the elderly, to restore as much natural breathing function as possible. Respiratory therapists treat conditions that include but are not limited to pneumonia, COPD (Chronic Obstructive Pulmonary Disease), and lung cancer.
Different job settings also require different skills and requirements.
What Does a Respiratory Therapist Do?
Now that you know what a respiratory therapist is, you're probably wondering exactly what the job entails. No two days on the job are the same. Every patient requires individual care and attention.
As an RT, you'll meet and assess new patients and also follow up with existing ones.
When meeting new patients, respiratory therapists conduct and analyze diagnostic tests to determine lung capability and capacity. These tests help uncover any pulmonary disorders, diseases, or complications.
The next step is to bring in a doctor or nurse with extensive training and medical expertise. Then, respiratory therapists work with these medical professionals to develop a treatment plan.
Treatment looks different for every patient. Common medications and equipment include:
Chest physiotherapy
Aerosol medications
Inhalants
Ventilators
Respiratory therapists can also recommend at-home treatments and equipment. For example, RTs, help train patients in how to use their equipment at home properly.
To assist doctors and nurses, therapists maintain all patient charts and records. This allows everyone on the medical team to monitor the patient's progress and make any necessary adjustments.
Respiratory therapists also discharge patients when the time comes while also ensuring all proper protocol is followed. This protects patient health, safety, and privacy.
Where Do Respiratory Therapists Work?
Another great thing about becoming a respiratory therapist is that you have the opportunity to work in a variety of settings, from hospitals and clinics to intensive care units.
In most cases, you don't get to choose your location, so you must receive proper training and experience in all settings.
Here are some of the most popular places respiratory therapists work and what to expect from each one.
Hospital
One of the most common places you'll find a respiratory therapist is in a hospital. Here, you'll have the opportunity to treat patients who are in the most need.
Most hospital RTs are part of the rapid response teams. This means you'll be responsible for establishing airways, intubation, managing trauma patients, and in extreme cases, perform CPR (CardioPulmonary Resuscitation).
You may also be required to perform pulmonary tests, draw blood, perform chest physiotherapy, and remove mucus from patients' lungs.
In a hospital setting, respiratory therapists also treat asthma patients and those with COPD. You may also monitor patients on life support using mechanical ventilators.
Respiratory therapists can work in several hospital areas, from the ICU (Intensive Care Unit) and neonatal floor to the emergency room and other special care units. Therefore, you may need cross-training depending on which department you're assigned to.
Rehabilitation Centers
The next most popular place to find a respiratory therapist is an outpatient office or treatment facility. Here, therapists monitor and treat current patients who have already been diagnosed with a respiratory condition.
Therapists perform routine check-ups and follow-ups and administer medication and breathing treatments. RTs may also educate and counsel patients to help them breathe more easily.
As a respiratory therapist, you're also trained to adjust to a patient's current treatment plan based on their progress and needs.
In-Home Care Facilities
There's nothing quite as rewarding as working with a patient one-on-one. As a result, some respiratory therapists are hired as in-home caretakers.
This is ideal for respiratory patients who cannot travel to a doctor's office or hospital. Not only do RTs perform breathing treatments and provide at-home care, but they also train family members to use the machines and equipment.
Sleep Centers
Most people don't realize that a wide range of sleep disorders are caused by respiratory issues — namely, sleep apnea.
Sleep apnea is a serious pulmonary disorder that causes a person to start and stop breathing multiple times during the night. A CPAP (Continuous Positive Airway Pressure) machine can help clear obstructed airways and restore healthy breathing patterns.
Respiratory therapists can help diagnose and create treatment plans for those suffering from sleep apnea and other serious sleep disorders.
Skills and Traits for Pursuing a Respiratory Therapist Career
As with any career in the healthcare industry, respiratory therapists must be compassionate with excellent communication skills. Not only will you need to communicate with patients and their families effectively, but other medical professionals as well.
Compassion and patience are a must for handling difficult and emotional situations. Patients and their loved ones need comfort and reassurance during diagnosis, treatment, and beyond.
It would be best if you also worked well in high-stress, fast-paced situations. This is especially true if you land a job in an emergency room or critical care unit.
Being detail-orientated and organized are also must-have job skills when pursuing a respiratory therapist career. In addition, you need to keep impeccable and detailed records to ensure patient safety and proper treatment.
Respiratory Therapist Career Opportunities 
Now that you know exactly what a respiratory therapist does and what's required, the only question that remains is how in-demand are respiratory therapists?
With projected job growth of 23%, graduating RTs should have no problem finding and securing a well-paying job. The average salary for respiratory therapists is around $70,000 annually.
The best part is, a respiratory therapist's work schedule is much more "normal" than many other medical professionals. Most therapists work full-time during normal business hours. However, other, more demanding positions may require you to work holidays and weekends.
Required Training for Respiratory Therapist Jobs
In addition to the skills and personality traits mentioned above, respiratory therapists need extensive training to perform their jobs properly.
At a minimum, all respiratory therapists need an associate degree. Though it's not required, many professionals choose to continue their education and obtain a bachelor's degree in respiratory care.
Doing so puts you in a better position for landing your dream job. It will also help you feel more confident and knowledgeable about providing medical care to patients.
Bachelor's degree programs cover clinical respiratory care, mechanical ventilation, pharmacology, basic procedures, and advanced respiratory theory.
Most programs require applicants to take a competency assessment that demonstrates their acquired skills, knowledge, and characteristics. Therapists must also complete a certain number of clinical hours and practical training.
If you want to become a CRT (Certified Respiratory Therapist), you must also pass the NBRC (The National Board of Respiratory Care) exam. This test is multiple choice and measures your knowledge of the field of respiratory care while offering both entry-level and advanced-level credentials.
After passing this exam, you'll receive your CRT credentials. If you pass at the lower level, you'll still be a certified therapist, but those who pass at a higher level can go on to take the Clinical Simulation Exam.
If you pass this phase, you'll receive your RRT (Registered Respiratory Therapist) credentials, the highest credentials awarded in this field.
Respiratory Therapists Continuing Education
Most states require licensed respiratory therapists, both RRT and CRT, to take continuing education courses. The courses are a requirement for license renewal. Therefore, it's important for licensed therapists to know the requirements for their state and fulfill the requirements before license renewal.
Each state has its own continuing education requirements. To receive the most accurate and updated information, it helps if you contact the local licensing board that regulates respiratory therapists.
For example, the Alabama State Board of Respiratory Therapy can provide information for respiratory therapists in Alabama. California has the Respiratory Care Board, Georgia has the Respiratory Therapy Committee, and Kansas has the Respiratory Care Advisory Committee. Each state has its own similar type of board or committee.
Below is a list of continuing education requirements for respiratory therapists in several states. The examples will show how widely states vary in their requirements.
Alabama – Requires 24 hours of continuing education every 2-years; a maximum of 12 hours can come from online courses
Alaska – No continuing education requirements for respiratory therapists
Arizona – Twenty hours of continuing education is required every 2-years; two hours must come from ethics
Arkansas – Twelve hours of continuing education is required every year
California – Thirty hours of continuing education is required every 2-years; three hours must come from courses in California Law and Professional Ethics every other license renewal period
Colorado – No continuing education requirements for respiratory therapists
Connecticut – Ten continuing education hours are required every year; a maximum of 5 hours can come from online courses
Delaware – Twenty hours of continuing education is required every 2-years; a maximum of 10 hours can come from online courses, and training in recognizing domestic violence and abuse is required as well
District of Columbia – Sixteen hours of continuing education is required every 2-years; three hours must come from courses in ethics; a maximum of 8 hours is allowed for online courses
Florida – Twenty-four continuing education hours are required every 2-years; two hours must come from a course in preventing medical errors; 2 hours must come from a course in Florida laws and rules; a maximum of 12 hours is allowed for online courses
The examples listed above show how states have different rules and requirements for continuing education. In addition to the states mentioned above, most other states have specific requirements as well.
It's important to note that some states limit how many online course hours are allowed, and in some states, live webinars count as live courses – even though they are attended virtually.
Check with the local respiratory therapists governing board in your state for more information.
Finding Accredited Courses
Most states accept courses approved by the American Association for Respiratory Care and/or the National Board for Respiratory Care. In most cases, the course description or course provider will state its approval status.
For example, the Asthma and Allergy Foundation of America offers respiratory therapists some online continuing education courses. Course descriptions clearly state when the American Association for Respiratory Care approves a course.
Getting Credit for Continuing Education
Respiratory therapists should receive a certificate of completion for their continuing education hours. The course provider will either submit proof of completion on behalf of the student. Or the student will submit their own certificate to the state.
Pursue a Career in Respiratory Therapy Today
When it comes to rewarding careers, becoming a respiratory therapist is right near the top! Not only do you work one-on-one with patients in need, but alongside other medical professionals, including doctors and nurses.