Investopedia chose The CE Shop as one of the best online real estate schools of 2020. When you're preparing to earn your real estate license, you must enroll in a real estate program from an accredited provider.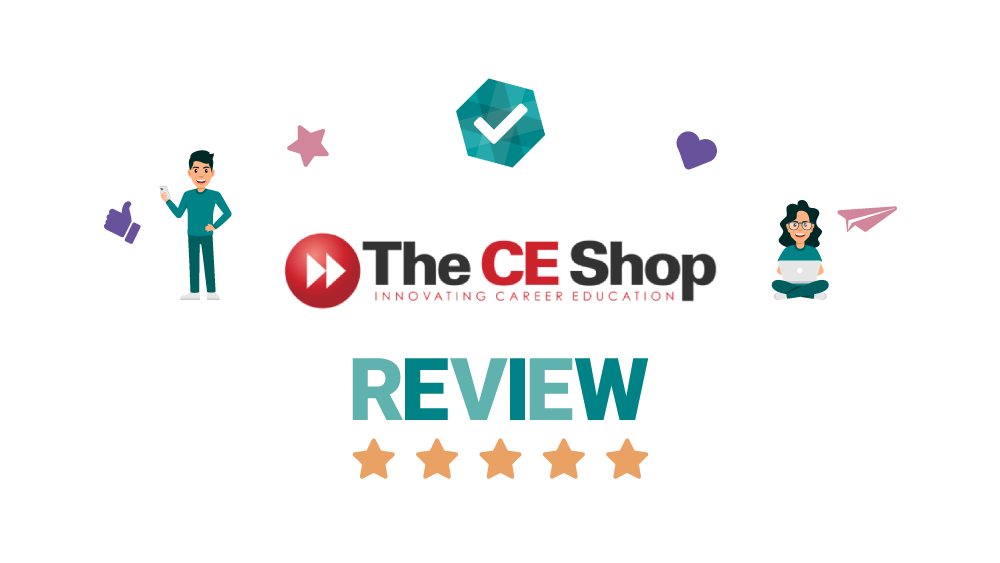 The CE Shop Overview
The CE Shop is an accredited provider of online courses for the real estate industry. The company offers continuing education courses, pre-license courses, and exam prep courses.
The CE Shop currently provides online continuing education courses for all 50 states. Pre-licensing courses are available for several states, including Hawaii, Alabama, and Illinois. And post-licensing courses are available for states such as Delaware, Indiana, and Vermont. Real estate exam prep is an option for some states as well.
The CE Shop Courses
The CE Shop strives to create educational courses that are both engaging and entertaining. The company believes good content plays a major role in the learning process.
According to The CE Shop:
Good content keeps students engaged and eager to learn. And presenting good content paves the way for creating quality education.
Creative videos, images, and text provide the best way to present educational information to an online audience.
You might like The CE Shop courses because:
Courses are available online. You can access courses whenever it's convenient for you.
Courses are optimized for computers, smartphones, and tablets. All you need is a device and an internet connection to access courses.
You can work at your own pace. But the units are sequential, so completing lessons in order is recommended.
The CE Shop uses the proprietary LEAP 2.0 learning platform. The platform delivers short but in-depth lessons that cover the mandatory real estate topics for your state.
Types of Courses
The CE Shop offers several types of courses. Except for continuing education, some courses are only available in certain states. When you visit the website, select your state to see which courses are available.
Pre-licensing courses: Prepares you for your state's real estate licensing exam. This is what you need when you're working to earn your real estate license.
Post-licensing courses: Prepares you for the next step in your real estate career. This is for licensed real estate agents who want to earn a broker's license to start their own real estate agency. An agent who wants to work as an independent real estate agent would need these courses as well.
Continuing education courses: A licensed real estate agent or broker must complete continuing education courses. These courses are a requirement for license renewal. The number of hours needed varies by state.
Exam prep courses: These courses focus on helping you pass your real estate license exam. The CE Shop creates exam prep content by covering topics included in your state's candidate handbook.
Tracking Progress
The CE Shop strives to set itself apart from other online real estate course providers. They avoid using boring text-only courses that aren't engaging with students. Courses are continuously updated to include developments and changes in the real estate market and laws.
Course tracking makes it easy to follow your progress. You'll see which lessons you've completed, and the hours you've spent on each course. There's also a tracker that gauges how you perform in each topic. This allows you to see which topics could use more study.
When you're done with your courses, you'll have the knowledge you need to pass your state real estate exam. You'll also have the foundation for building your real estate career.
What to Expect When You Enroll in Pre-Licensing Courses
The CE Shop makes it easy to start your online learning. After you enroll, you have access to a dashboard that contains information about your account and courses.
You can access your courses from the dashboard. There's also a study plan, study resources, and eBooks. You can also update your personal profile. And if you need to contact your instructor or customer service, you can also do that from the dashboard.
The courses are accessible 24-hours a day, 7 days a week. That means you can work on a course whenever you want. However, you must complete the course in the time specified by your state.
For most states, you have 6 months to 1-year to complete a pre-licensing course. However, Washington, D.C. requires course completion within 3 months.
Courses are listed in a specific order. Each unit in a course builds on the information in the previous unit. There's a small exam for each unit in the course. When you pass the exam, you can go ahead to the next unit. But to progress, you must score at least 75 percent on the unit exam. You can retake the exam until you get the required score.
Taking the Final Course Exam
To officially get state credit for your pre-licensing courses, you must pass the final course exam. You take this course online, but some states require a proctor.
If your state requires a proctor, that means someone has to observe while you take the test. The CE Shop works with PSI Online Proctoring to provide the proctor you need. It's all done remotely, but you'll need a computer with video and screen sharing capabilities.
Some states require an in-person exam. You can't take it online, not even with an online proctor. You will be required to take the exam in-person with a proctor present. South Carolina, Arizona, Minnesota, and New York are a few states with this requirement.
If you can't take the exam online, The CE Shop will give you a location in your state where you can take the final exam.
Final Exam Content
The exam's content, the passing score, and the number of times you can retake the test vary by state. For instance, a score of 70 percent is passing in Alabama. The state also allows you to retake the exam three times. But Florida has a passing score of at least 75 percent. However, you can only retake the exam once.
Completion Certificate
When you pass the final exam, you'll receive a certificate of completion. You can download the certificate via your dashboard. You'll have to submit this certificate with your application for your state's real estate licensing exam.
Real Estate Continuing Education
Most states require continuing education courses for licensed real estate agents. The CE Shop offers several real estate continuing education courses. Their wide variety of courses can help you meet your state's continuing education course requirements.
The CE Shop Guarantees
There is a risk-free trial as well as a money-back guarantee for the pre-licensing courses. This guarantee and refund don't apply to courses in continuing education.
The 5-day, risk-free trial gives you access to all of the content in the pre-licensing course. You can look at the material and decide if it's right for you.
As for the 30-day money-back guarantee, you have 30 days to decide you don't want to complete the course. However, this only applies if you've completed less than 50 percent of the course. If you've completed more than 50 percent of the course, the money-back guarantee is void.
Guarantee for Exam Prep Students
If you enroll in exam prep, The CE Shop guarantees you'll pass your state licensing exam. If you don't pass the exam, The CE Shop will refund the exam fee. However, states such as Tennessee, Missouri, Alabama, and Hawaii don't permit the refund.
Pricing Concerns
Prices vary based on the course. The information below is current as of 2020.
Standard pre-licensing packages cost $189 and up. The final price depends on what's included in the course. Some courses are more extensive than others.
Value pre-licensing packages include everything that's included in the standard package. Plus additional business building courses. This option costs between $229 and up. The premium package starts at $269 and up.
Continuing education courses are available as individually priced. Or you can choose continuing education course packages, including 10-25 hours of pre-selected courses for your state. Price varies by state.
Should You Consider The CE Shop?
Pre-licensing courses are mandatory if you want to become a licensed real estate agent. And if you want an online course provider, The CE Shop is worth considering.
The CE Shop is an accredited provider of real estate courses. Students also have a high exam pass rate, with an average of 91 percent based on a former student survey. And 96 percent of former students would recommend The CE Shop to others.
Considering the risk-free trial and money-back guarantee, you could try the courses and see for yourself how it goes. The courses are engaging, educational, and prepare you for a career in real estate.
The courses are also easy to access. The LEAP 2.0 learning platform makes it very easy to access courses from anyplace and anytime as long as you have an appropriate device and an internet connection.
Customer support is also easy to contact. You can reach them via phone, email, and online chat.
In all, former students highly recommend The Shop and its real estate courses.
The only negative stated is that some students had difficulty working with the online proctor. If your system doesn't meet online proctoring requirements, you'll have to work from another device. However, you're allowed to check your setup before taking the exam.
Real Estate Licensing
If you're preparing for a career in real estate, pre-licensing courses are a requirement. But you must make sure the course provider is accredited. And that your state will accept the courses you complete.
Although The CE Shop is accredited and recommended by many former students, you should still do your homework. Check with your state to make sure it will accept courses from The CE Shop. You can also compare other online course providers to see what works best for you.
You'll likely also need continuing education courses to renew your license. The CE Shop is a highly recommended provider in that area as well. But as always, check with your state to make sure they will give you credit for the courses.
If your state honors the pre-licensing courses and the continuing education courses, then The CE Shop can provide everything you need to prepare for your state's real estate licensing exam.
Related Learning Opportunities