Are you interested in a New York defensive driving course? Perhaps you want to avoid a license suspension. You might even want to receive a discount on your auto insurance. You can do both by completing a New York defensive driving course.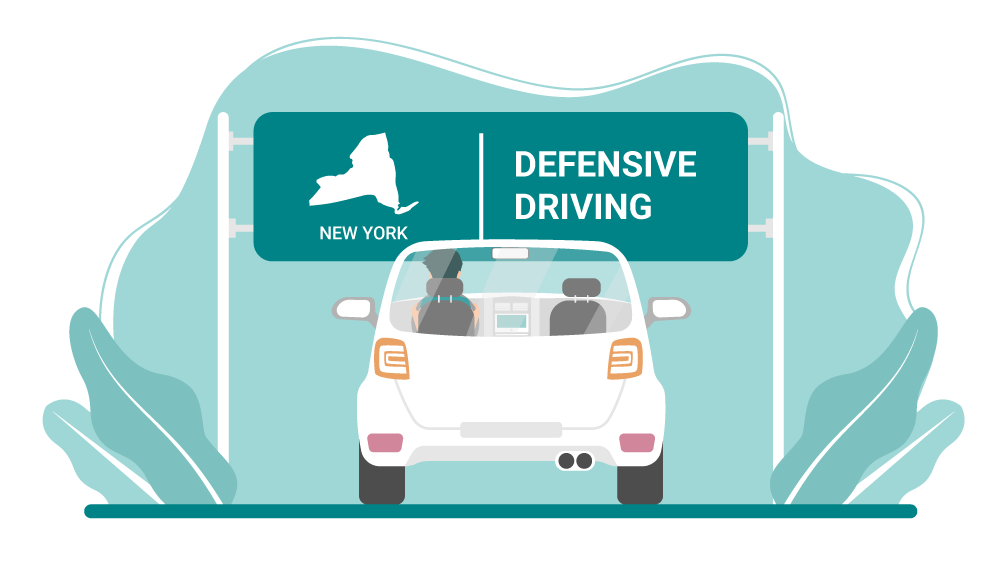 New York State and Your License
For any driver in New York State (NYS), getting points on their driver's license is a big deal. Accumulating a certain number of points will lead to license suspension. The only way to reduce points is by taking a driving course approved by the NYS Department of Motor Vehicles (DMV).
Here's a look at how the NYS driver point system works. And you'll learn how to reduce your points by taking a driving course. There's also information about online driving schools approved by the NYS DMV.
How the New York State Driver Violation Point System Works
The Driver Violation Point System provides a way for the NYS DMV to identify a potentially dangerous driver. Once a driver is identified, the DMV can take action against that driver.
Some traffic violations are worth points. And some traffic violations are worth more points than others.
For example, driving 40 miles over the speed limit gets 11 points added to your driver's license. Failing to stop for a school bus gets 5 points added to your driver's license. But some traffic violations, such as having dark-tinted windows, don't add any points to your license.
As of 2021, the following traffic violations will increase your points.
Speeding – One to 10 miles over the posted speed limit – 3 points.
Speeding – Eleven to 20 miles over the posted speed limit – 4 points.
Speeding – Twenty-One to 30 miles over the posted speed limit – 6 points.
Speeding – Thirty-One to 40 miles over the posted speed limit – 8 points.
Speeding – Forty or more miles over the posted speed limit – 11 points.
Reckless Driving – 5 points.
Failing to Stop for a School Bus – 5 points.
Using a Cell Phone While Driving – 5 points.
Texting While Driving (on any electronic device) – 5 points.
Crossing a Train Track when the Barrier is Down – 5 points.
Not Yielding the Right of Way – 3 points.
Running a Red Light – 3 points.
Ignoring a Stop Sign or Yield Sign – 3 points.
Improper Lane Change or Passing – 3 points.
Driving in the Wrong Direction or Left of Center – 3 points.
Leaving the Scene of an Accident (no injuries involved) – 3 points.
Failing to Restrain a Baby in a Car seat – 3 points.
Most Other Moving Violations Not Specifically Mentioned – 3 points.
How Points Are Calculated
If you earn at least 11 points over an 18-month period, your license will likely get suspended.
The points are added to your license only after it's confirmed you committed the traffic violation. If you successfully fight the ticket, you won't have any points added to your license.
Points remain on your NYS driver's license for 18 months. The points become inactive after those 18 months pass. Although the points become inactive, the points remain on your driving record abstract for at least four years. The points also remain on your permanent driving record.
The Benefit of Taking a Defensive Driving Course
You can't get existing points removed from your NYS driver's license. But enrolling in a defensive driving course can keep you from accruing new points. To receive credit for a course, the course must have the approval of the NYS DMV.
Participating in a defensive driving course can prevent you from losing your NYS driver's license. If you should happen to earn 11 or more points, then four points are deducted from your total number of points.
For example, say you've already earned 5 points for reckless driving. And a month later, you earn another 8 points for speeding. That puts your point total at 13 points. You're officially in danger of having your license suspended. Remember, any amount over 11 points can result in license suspension.
If you've taken an approved defensive driving course, you'll receive a deduction of 4 points. That deduction puts you at 9 points, which is below the 11-point limit for a license suspension.
NYS also allows you to receive a 10 percent deduction on your auto insurance. The discount is mandatory and lasts for 3 years. Contact your auto insurer for more information.
New York Online Defensive Driving Courses
Below is a list of online driving course providers approved by the NYS DMV. All courses must provide at least 320 minutes of coursework. You can complete the coursework at your own pace, but you must complete the course within 30 days of registration.
Note that there are several online defensive driving schools available. The four schools listed here are currently approved by the NYSDMV. Several other schools have their approval pending, so they aren't included here.
IDriveSafely is an established online driving school with more than 15 years in the industry. IDriveSafely provides several course options for New York State residents.
The text-based course offers all the required coursework in several brief chapters. It's also possible to upgrade to an audio version that reads the entire course out loud. Video learning is also an option.
The video version of the course consists of streaming animated movies. The short movies cover the basics of safe driving and traffic laws.
IDriveSafely doesn't require a final exam. But there is a quiz at the end of each chapter or video. You must score at least 75 percent or higher to advance to the next chapter or video.
MyImprov Traffic School uses comedy as a teaching method. If you're looking for a fun way to learn, then MyImprov Traffic School just might meet your needs.
The course content was written by professionals in the field of driver's education. But the course content is presented by standup comedians. The course takes a potentially boring subject and makes it entertaining.
The coursework consists of several short lessons. There isn't a final exam, but a quiz follows each lesson. You must score at least a 75 on each quiz to advance.
You receive a certificate of completion upon completing the course. MyImprov Traffic School also sends a digital copy of your certificate to the NYS DMV.
GoToTrafficSchool was founded in 1999. Based on online reviews, the company has a decent reputation. And GoToTrafficSchool claims more than 4 million students have completed the school's courses.
GoToTrafficSchool offers courses that are a mix of audio, text, animated videos, and 3D driving simulations. You can access the coursework from any computer, tablet, or smartphone with internet access.
You must pass a final exam to receive credit for the course. A passing grade is 80 percent or better.
TrafficSchoolToGo
TrafficSchoolToGo was founded in 1997. Their New York courses meet all the requirements set by the NYS DMV.
You can easily access the coursework online – 24 hours a day, 7 days a week. There's no final exam, and you receive a certificate of completion in the mail. The school also informs the NYS DMV of your participation.
The course material is presented in several short units. This prevents you from feeling overwhelmed with the information. And your progress is automatically saved. That means you can stop and easily start again from where you left off.
How to Receive Credit for a Course
The course provider notifies the NYS DMV when you complete the course. The DMV then reduces the active points on your driver's license by up to 4 points. Request a copy of your driving record to verify you've received course credit.
It can take at least 10 weeks for the course completion to appear on your driving record. If you haven't received credit after 10 weeks, then contact your course provider.
Please note that:
You can only take a defensive driving course once in an 18-month period for the purpose of reducing your points.
Point reduction applies to points you earn within the 18 months prior to completing the course. The point reduction doesn't apply to points you earn in the future.
Point reduction doesn't reinstate a license that's been suspended or revoked.
New York Specific Online Driving Course Information
Different states have different requirements when it comes to defensive driving schools. And unlike the state of New York, some states don't even allow online defensive driving courses.
By law, all NYS driving courses must contain at least 320 minutes of coursework. And you have 30 days to complete the course. In some instances, you may have to take an in-person exam or quiz to ensure the courts that you are the person who completed the course.
The course providers listed in this article are currently approved by the NYS DMV. However, you should contact your local DMV for the most up-to-date information regarding approved course providers.
The driving course provider informs the NYS DMV of your participation in the course. At that point, the NYS DMV notes your participation on your driving record. The DMV computer then reduces your driver's license points by up to four points.
Remember that point reduction doesn't remove, erase, or delete any convictions or violations from your driving record. Point reduction simply means the DMV will not count the four points toward suspension or revocation of your license.
How to Get the Insurance Discount
You'll need your certificate of completion to receive your insurance discount. Present the certificate to your insurer within 90 days of completing the driving course. Your insurer may require you to retake the course once every 3 years to maintain your insurance discount.
Attending Online Defensive Driving School
An online defensive driving course is generally more convenient than an in-person class. And because of the Covid-19 pandemic, most in-person classes are either canceled or have moved online.
As a New York resident, you can conveniently take the course you need in the safety of your own home. In fact, you can take the course from anywhere at any convenient time. All you need is internet access, a device to access the course, and some time.
Related Learning Opportunities