A very important career is the one of a bail bondsman. They serve the safety of the public and provide a financial service for those needing bail money when in jail. When you decide you want to learn how to become a bail bondsman, you should first understand the job duties.
This is a unique career path that can certainly be very rewarding. If you want to become a bail bondsman, check out the job duties below, along with the necessary steps.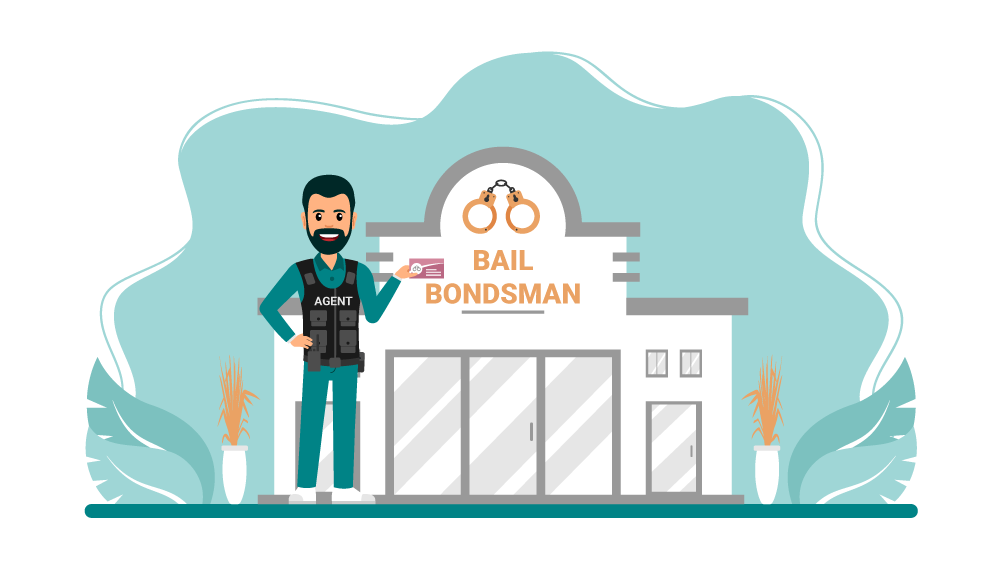 Job Duties of a Bail Bondsman
If you decide to become a bail bondsman, you will have some rather unique job duties. While you will need to handle paperwork in the office, you will also need to work out in the field, too. You will act as a middleman between the court or agency and the defendant.
The job duties of a bail bondsman include:
Assess the qualifications of a defendant for bail
Check the credit score of the defendant
Assess the flight risk of the defendant
Gather information about the defendant to ensure they can pay the bail bond fee
Complete the processing of the bond application and legal paperwork
Serve as a middleman between the defendant and the agency or courts
Make an arrest if a defendant fails to appear in court
There are many job duties a bail bondsman will have to perform. These are the most common.
How To Become a Bail Bondsman in 5 Steps
Step #1 – Meet the Eligibility Requirements
Every state is a bit different. Make sure you check the eligibility requirements in your state. Some of the most common requirements across all states include:
Must be at least 18 years of age
Complete high school or get your GED
Go through the necessary pre-licensing course
Pass your state licensing exam
Get the necessary financial resources to meet the surety obligations
Find a sponsorship from a surety company
The requirements for your state may vary some, depending on where you plan to work as a bail bondsman.
Step #2 – Get the Proper Education and Training
You won't need anything more than a high school education to become a bail bondsman. This is not a career that requires you to complete a college degree of any kind. However, many bail bondsmen have associate's, bachelor's, or even a master's degree in finance, business administration, law, or economics. A degree can certainly be helpful.
In some states, you will need to go through a pre-licensing course. This type, of course, will help to prepare you for the licensing exam and the entire licensing process. It will cover the following areas:
Basic Bail Bonds Principles
Laws and Practices
The first step in your state to become a bail bondsman
If you have to go through this course, it will help you with the entire licensing process. Even if your state doesn't require a pre-licensing course, it's a good idea to take this type of course anyway.
Step #3 – Pass Your State Exam
You will need to pass the state licensing exam. This exam will vary from one state to another. However, it's often 50 to 60 questions long and will take about an hour to complete.
Depending on your state, you will pay a fee of $40 to $100 to take this test. Make sure you find out the exact requirements for your state before paying to take the exam.
Step #4 – Get Your State License
After passing the state exam, you will be able to apply for your state bail bondsman license. This will include a few steps, such as:
Submitting an application to the state
Paying the licensing fee
Submitting your score from the state license exam
Providing documentation showing you have a surety company sponsorship
Submitting a bond of a specific amount mandated by the state
Once you are granted a license, it will likely be good for one to three years. You will have to complete continuing education hours and pay a renewal fee every few hours to keep your license.
Step #5 – Start a Bail Company or Join One
After you've received your state license, you can work as a bail bondsman. Most newly licensed bail bondsmen will work for an established bail company. However, you can also start your own bail company. It's a good idea to get some experience first, before going into business for yourself.
Common Skills You Need at a Bail Bondsman
If you want to be a successful bail bondsman, you will need the right skills. Some of the most common skills you need include:
Good Customer Service – You will be working with people during a difficult time in their life. It's important to provide good customer service. You will need to answer questions and help solve problems.
Patience – You will need to be very patient as a bail bondsman, too. Since your clients will be behind bars, they will likely be aggravated. You need to remain patient while working with them.
Good Attention to Detail – As a bail bondsman, you have to pay close attention to detail. You will fill out quite a bit of paperwork and it needs to be accurate.
An Understanding of Crimes – While it's not your job to be a legal expert, you should know the basics of crimes.
These skills will help you to become a successful bail bondsman.
Frequently Asked Questions About Bail Bondsman
How much can I make as a bail bondsman?
The salary you will earn as a bail bondsman will vary depending on your state and whether or not you own the agency. Indeed.com puts the average hourly pay at about $13.50. However, the range of salary in Virginia, according to Salary.com goes from about $34K to $51K per year.
Other sources have put the average pay for a bail bondsman at $72K per year or $35 per hour. Your location and experience level will likely play a huge role in how much you earn every year.
What is the work schedule of a bail bondsman?
You will likely work very strange hours as a bail bondsman. This type of career requires you to be on call 24/7. Since you cannot predict when a criminal will commit a crime, you will likely need to be on call.
It's common to spend time during regular business hours in the office, as well.
Do I need to be in good shape to be a bail bondsman?
Yes, due to the type of career this is, you should be in good physical condition. Since you will potentially need to chase down people and work in the field, it's helpful to stay in good shape.
Is the career of a bail bondsman growing?
Yes, this career is growing at a rate of about 5% over the next ten years. It's growing at the same rate as about the average of all occupations.
Will I be in danger as a bail bondsman?
You may have seen bail bondsmen in movies and think you will be in danger. Actually, this is a rather safe job with very little danger. Most of the work is done in an office in front of a computer.
In some cases, yes, you will chase defendants, but this is incredibly rare. Often, bail bondsmen will refer to this type of work to bounty hunters, but they may do the work themselves, in very rare cases.
Movies may show bail bondsmen as big men chasing down bad guys through the streets. This is a big myth and simply not true. More than half of bail agents are actually women. This is due to all the work you will do with families and the compassion you must have to be a good bail agent.
Don't bail bondsmen just let the bad guys out of jail?
This is a common question people have and it's one that has to be well explained. As a bail agent, your job isn't to be a judge. Your job is to help someone that has been given a bail amount by a judge to get out of jail while they defend themselves.
The judge providing a bail amount has decided the defendant isn't a flight risk or a danger to the community. The bail allows them to get out of jail, be with their family, and work to defend themselves. Plus, not every person arrested is guilty of the crime they are charged with. Remember, in the United States, a person is innocent until proven guilty.
There are many good reasons to become a bail bondsman. If this is a career you're interested in, you can use the steps above to enter into it. While it's not the highest-paying career out there, you can run your own bail bond company, which can increase your salary.
If you want to learn how to become a bail bondsman, the steps above are a good start. Just make sure you check your state regulations and requirements before you start the process.