Becoming a lawyer is one of the hardest things to do. It's a difficult industry to break into and takes quite a bit of time. There are very specific requirements you will need to meet if you want to be a lawyer.
If you've dreamed of practicing law, you will need to follow these steps and gain the right education. Let's look at the most common steps to becoming a lawyer.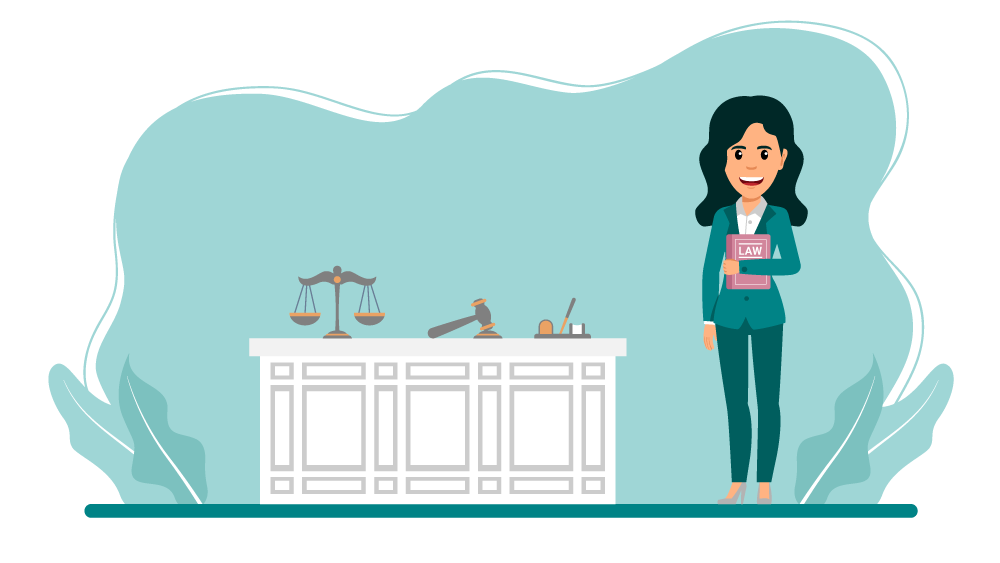 Becoming a Lawyer One Step at a Time
Step #1 – Do Very Well in High School
It's necessary to get into a great college or university. With excellent grades in high school, you will have a better shot at getting into a great college.
Make sure you choose the right courses and do very well in each of them. Better grades in high school will lead to a better bachelor's degree program, leading to a better law school. If you get into one of the top law schools, it can help ensure you get a much better job.
While not all professions require you to go to a top school, law does. If you attend one of the top 15 law schools in the country, it may not guarantee your dream job, but it gives you a much better shot. Lower-ranking schools make it a bit harder to find work.
Any advanced courses you can take in high school, you should take. If you qualify for AP courses, take them and do very well. It's also important to score high on the SAT and ACT. With the right SAT prep course, you can score very high and get into a better college.
You should also gain the right extracurriculars in high school. Show your leadership and participate in things, such as debate teams, Model UN, and other clubs.
During high school, you should also volunteer for a legal aid organization. You can also shadow an attorney to ensure you want to become a lawyer.
Step #2 – Complete Your Bachelor's Degree
You must have a bachelor's degree if you want to become a lawyer. During your undergraduate work, you should maintain a 3.5 GPA or higher. It's also important to keep your criminal record clean. Don't do something stupid in college that will cost you a lucrative career as a lawyer.
You can choose from many different majors if you want to get into law school. The American Bar Association doesn't have a specific recommendation. However, some pre-law programs are helpful but not necessary.
It's best to get a degree in business, political science, journalism, philosophy, psychology, or English. You should also get involved in college.
If you plan to attend law school right after your undergraduate degree, you will need to prepare for the LSAT. This should be done during your senior year. The LSAT is vital to your law school applications and will ensure you get into a top law school.
Getting into law school is very competitive. Make sure you get a very good LSAT prep course to ensure you score very high.
Step #3 – Submit Your Law School Applications
After taking and scoring high on the LSATs, you want to submit your law school applications. If you score 160 or more, you can apply to the top 25 law schools. Of course, you need to have a high GPA from your undergraduate work, too.
The major components impacting your law school applications include:
LSAT Scores
Letters of Recommendation
Transcripts
Personal Statement
Resume
Make sure you do everything you can during your undergraduate studies to make your applications amazing. Students should apply to at least four law schools. Many experts think you should apply to 8 or even 10 law schools.
Make sure you fill out and send in your applications early. Don't wait until the last minute, and make sure you're prepared for the application fees.
Step #4 – Get your JD (Juris Doctor) at Law School
If you want to become a lawyer, you will need to earn your law school degree. This will take you three years, no matter the type of law you want to practice. Your first year will be vital, as it will likely lead to summer associate positions during your second year. Exam performance in law school is the most important part of grading.
You may need to take the Multistate Professional Responsibility Examination during law school. This is required for admission to the bar in most of the states. The minimum score to pass will depend on your jurisdiction. In some states, you will need to pass the MPRE before taking the bar exam.
Law school is also about networking and job experience. Your summer associate and internship positions will be very important. Often, these positions are unpaid but necessary to help you gain access to great positions after law school.
Step #5 – Pass the Bar Exam
You will need to pass the bar exam before you can practice law. This is usually done the summer after graduating from law school. It can be a very difficult test, but you can be prepared with the right Bar exam prep course.
The exam will likely take you two days, while it's given over three days in some states. You will need to pass the MEE (Multistate Essay Examination) essay exam, the MPT (Multistate Performance Test) performance test, and The Bar, which varies depending on the jurisdiction.
You will also need to go through a moral character screening process to become a lawyer. The ABA handles this. They will evaluate your character to see if you're honest and if you have broken any laws in the past.
These steps about becoming a lawyer also have quite a bit of additional steps, depending on the specialty you choose. There are several different paths you can take to become an attorney.
Once you become a lawyer, you will need to complete Continuing Legal Education. This will help you stay up-to-date on the information required by the American Bar Association.
Types of Law You Can Practice
There are many types of law you can specialize in as a lawyer. When you want to become a lawyer, it's a good idea to figure out what type of law you want to practice. Some of the most common types of law include:
Family Law – As a family lawyer, you will work with families dealing with custody issues, divorce, and other issues impacting the family.
Patent Law – You will help inventors get patents and work with the U.S. Patent and Trademark Office. This type of law also includes enforcing patents for companies.
Business Law – If you want to work with businesses on all types of issues, this might be the right type of law for you to practice.
Corporate Law – A very common type of law you can practice, corporate law means working for a corporation or a firm representing many corporations.
Health Law – You will likely work to represent healthcare services or those receiving these services. Health law covers many areas, including fraud, contracts, services, and employment.
Medical Malpractice – You will work to help gain compensation for victims of medical malpractice. This is a type of civil law you can go into if you want to help people.
Criminal Law – Representing criminals is the main duty of a criminal lawyer. Whether innocent or guilty, your job will be to mount a proper defense for your clients.
Tax Law – If you want to become an attorney that works with taxes for individuals or companies, this might be the right choice for you.
These are just a few of the many areas of law you can practice as a lawyer.
Frequently Asked Questions About Becoming a Lawyer
How much can a lawyer earn each year?
The salary range for a lawyer is rather broad. It will depend on the type of law you practice and where you work. However, it's rather common for lawyers to earn a six-figure salary.
Is the job market for lawyers growing?
The job market growth for lawyers is 4%. It's a growing career at about the same rate as the average for all industries.
Which law schools are considered to be the top choices?
The top law schools found in the United States are Yale, Stanford, and Harvard. There are several other great law schools across the country, but these three are considered to be the top three.
How long will it take to become a lawyer?
In most cases, it will take at least 7 years to become a lawyer. You will need to complete at least a bachelor's degree, which will take four years or longer. Law school will also take another three years to complete.
Related Learning Opportunities
How To Become a Mediator

If you want to help individuals work out conflicts, you can become a mediator. There are many benefits to becoming a mediator.