If you want to help individuals work out conflicts, you can become a mediator. There are many benefits to becoming a mediator.
Figuring out how to become a mediator starts with understanding what this type of person does. Here's a closer look at what a mediator does and how you can become one.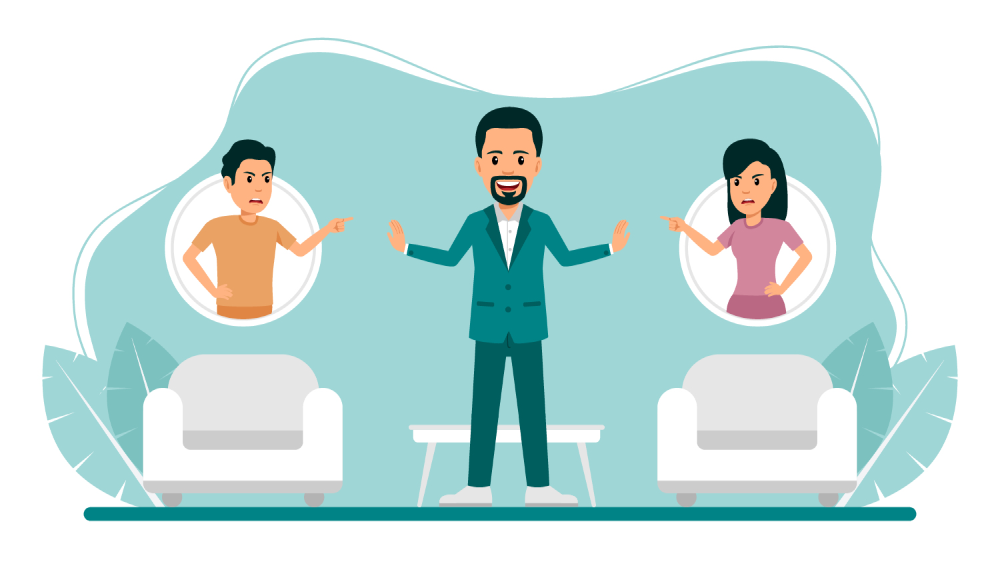 The Duties of a Professional Mediator
A person that facilitates dialogue between two parties is known as a professional mediator. This type of person will help with negotiations between two people or parties in a dispute. Therefore, it's necessary to specialize in conflict resolution and communication.
Typically, a mediator needs to know the regulations and laws when it comes to disputes. These professionals work outside the court system and try to settle things before it escalates to the courts.
Some of the responsibilities of a mediator daily include:
Schedule meetings between two or more parties in the dispute
Interview witnesses when gathering information
Facilitate the conversation between parties towards an agreeable conclusion
Collect data and assess the documentation
Provide advice on regulations and laws
How to Become a Mediator: A Step-by-Step Guide
Step #1 – Choose a Specialty
As a mediator, you can specialize in many different types of conflict management. Several industries use professional mediators. You can specialize in several different areas, including:
Media and communications
Intellectual property
Sports, both amateur and professional
Financial services
Financial services
Any of these areas offer job opportunities you can enjoy. But, of course, you will need the right knowledge within the industry you'll be working in as a mediator.
Step #2 – Get your Bachelor's Degree
You will need a bachelor's degree for most mediator positions. It's best to get a degree in a relevant area that matches your specialty. Some of the types of bachelor's degrees that fit best for professional mediators include:
Communications
Mediators have to be great communicators. With a degree in communications, you'll have the foundation necessary to work as a professional mediator. This type of degree will train you in the basics of commutation theories and practical techniques. You will be better educated to solve conflicts with this undergraduate degree.
Business
A degree in business gives you a good foundation for your career as a mediator. Therefore, it's an excellent choice if you plan to go into the corporate sector.
Finance
You can't go wrong with a bachelor's degree in finance if you want to become a mediator. Financial services use mediators often, and this also works well for real estate and other industries.
It's also possible to double major with two of these three areas or a few other areas. For example, if you want to become a mediator, consider one of these bachelor's degrees.
Step #3 – Gain Some Work Experience
After earning your bachelor's degree, it won't lead directly to becoming a mediator. This position isn't an entry-level position. It's common for a professional mediator to have several years of experience in their chosen field.
It's important to become an expert in your field if you want to focus on conflict resolution. Whether this becomes a career change later or it's your ultimate goal, make sure you gain plenty of experience first.
Start with an entry-level career in your chosen field. Once you gain employment, you can work your way up and gain more responsibility. However, it will likely be necessary to gain a position with some responsibility before you can become a mediator.
Step #4 – Gain the Correct Skills
As you're working in your profession of choice, you'll want to gain the right skills. Mediation requires incredible communication skills, active listening, negotiating, decision-making, and critical thinking. These skills are necessary if you want to become a professional mediator.
Negotiating Skills
You can take a course or a few courses in negotiating. But, of course, you can also practice these skills at your job and in real life.
Communications Skills
Practicing your written and verbal communication skills is vital if you want to become a mediator. It's necessary to be able to write professional emails and to prepare written agreements. You can practice these skills with most professional jobs.
Decision-making Skills
This skill will help guide the mediation and reach an agreement between two or more parties. Practice researching issues and coming up with conclusions from a proper cost-benefit analysis.
Active Listening Skills
This is necessary to the negotiating process. Practice repeating back the key points from someone you're speaking with and ask follow-up questions. If you become good at active listening, you'll likely make a good mediator.
Critical Thinking Skills
You'll need to work with both sides of the dispute, ask questions, and guide the parties to a resolution. Practice showing empathy with specific perspectives and work on anticipating outcomes.
Step #5 – Complete Mediation Training
With the right skills and experience, you'll be ready to complete mediation training. First, you will learn the process of mediation and assist with cases in disputes. Next, you will likely gain access to training through the Mediation Training Institution or the National Conflict Resolution Center. Both associations offer the training you can complete to become a mediator.
Step #6 – Become a Certified Mediator
After the right training, you'll be ready to become a certified mediator. But, first, you'll need to meet your state's requirements, which can vary from one state to another.
Some states require a bachelor's degree and specialized certification. For example, it could be required that you get a master's degree or have equivalent work experience. A few states require a Ph.D. or Juris Doctor degree.
It might be necessary to complete a state-approved training program, depending on your state. You might also need to participate in mediations to get your certification. In some states, you earn points for your education level, training, or work experience. After getting enough points, you can work as an independent mediator.
Average Salary of a Professional Mediator
The salary you will earn will depend on the industry you enter into and your experience. As a mediator, you can earn an average salary of about $70K per year. It can be more if you're very experienced or in the right industry.
According to Payscale.com, a mediator can make between $42K and $110K per year. Along with the base salary, mediators can earn bonuses. Therefore, the total pay can be rather high with the right type of position.
Is Becoming a Mediator Right For You?
Whether you're trying to reach the level of a professional mediator or this becomes a career you want to enjoy later on, these are the steps to become a mediator. Many industries use professional mediators to settle disputes. It's a common practice and can be a good position for those with the right skills.
Related Learning Opportunities
How To Become a Lawyer

If you've dreamed of practicing law, you will need to complete several steps and get the right education. Learn how to become a lawyer.

How To Become a Real Estate Agent

While getting your real estate license might take some time, it can be worth it. A successful real estate agent can make a very nice living.

How To Become an Electrician

If you want to know how to become an electrician, it starts by understanding what an electrician is and does.