Getting a Georgia real estate license gives you access to sell in one of the most populous states in the U.S., with large urban real estate markets like Atlanta and traditional communities like Savannah.
Georgia has some rules for those who want to become real estate sales agents and connect buyers and sellers with the diversity of properties available within the state.
Those who want to sign up to become Georgia real estate agents should understand these requirements and processes for successfully getting your real estate license.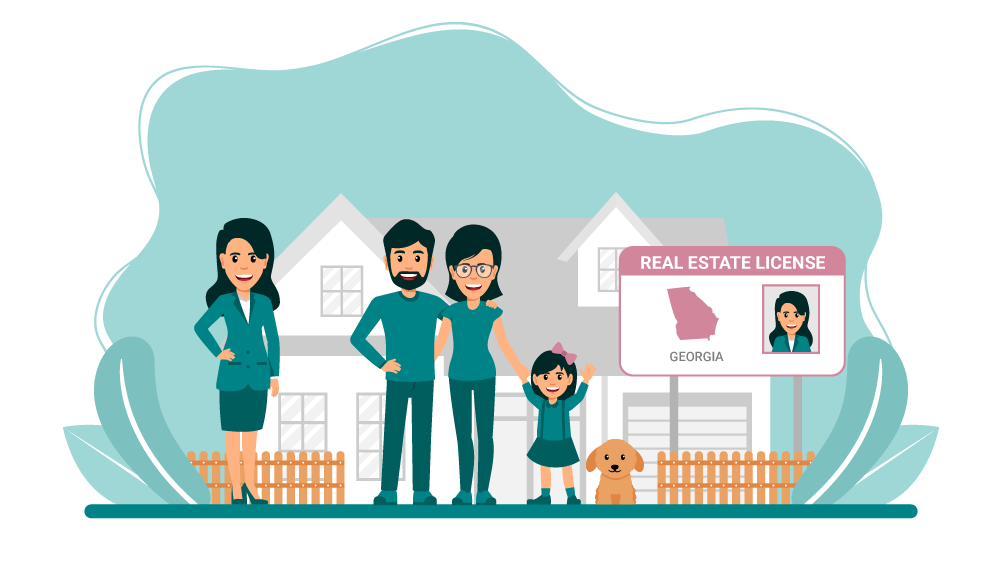 Examine Eligibility Requirements
In the state of Georgia, the Georgia Real Estate Commission has created specific pre-licensing education requirements that apply to all salesperson applicants.
Applicants must successfully complete 75 hours of pre-licensing courses approved by the GREC.
The state also accepts two alternatives noted in a guidebook from PSI, the company responsible for administering the test.
One alternative is successfully completing 24 or six semester hours of coursework related to real estate from an accredited U.S. or Canadian college or university or some other equivalent coursework.
Certifying officials will need to look at your school transcript if you are utilizing this option.
Another option provides that salesperson applicants can show 75 hours of pre-licensure coursework done in another state or any Canadian province.
Applicants also need to be 18 years of age or older and have graduated from high school.
Finding a Real Estate School
One critical step is to find the right online real estate school or other real estate training option for pre-licensing coursework.
Beyond that, it's important to evaluate schools according to how they help students to prepare for a specific state exam.
In the state of Georgia, the salesperson exam will consist of 152 multiple-choice questions governing the general areas of recall, application, and analysis.
Topics to be covered include agency relationships and contracts, real property ownership and interests, finance, real property, marketing regulations, property management, and real estate calculations.
Like other state exams, Georgia's will touch fundamentally on two areas of real estate knowledge – real estate principles, or the guiding laws and regulations involved, and real estate practice, practical hands-on issues that salespersons will encounter in the field.
It's important to understand some of the basic topics covered in the Georgia salesperson exam.
These include fair housing laws, the organization of the state commission, substantial regulations, and unfair practices.
In terms of real estate practice in Georgia, there's attention paid to sales contracts, listings and agency work, property management, and community association management.
It's important to note that in the state of Georgia, Community Association Managers take their own exam with 25 hours of pre-licensing coursework required or some college or university equivalent.
Evaluating State Exams by Looking at Practice Answers
As with other state real estate exams, it's helpful to drill down and look at the kind of content you'll encounter on the test before going in to complete the exam.
For example, questions may include terms like eminent domain, power of attorney, or homestead.
Applicants may answer questions about property value in terms of lot area or existing building footprints.
More details can be found in the guidebook or at the website of the GREC.
Another way to evaluate real estate training schools online is to understand how they approach blended learning as a means of preparing students for a test effectively.
As experts point out, busy professionals often have limited time to sit and study for a real estate exam.
However, more hours of study tend to correlate to higher levels of success in the exam itself.
With that in mind, schools that can offer targeted, searchable versions of training content will generally enable students to get better scores on the exam, since they can study on the go and isolate the areas that they need to work on the most.
For instance, a school that only offers a static PDF of all pre-licensing course information is going to be difficult for students to use to prepare for the exam in an agile way.
When the school does have searchable formats and engaging video content, however, it engages the student and helps them to be proactive about study.
For students who are worried about successful scores on the state exam, this is a tremendous value.
It's also advisable to analyze a school in terms of the experience of instructors and their track record in the real estate field itself.
Some of this training is essentially hands-on in nature – it's meant to prepare people for real-world situations.
For example, it's always a good idea for a real estate professional to understand how to deal with deteriorating building conditions in general, and to be able to evaluate these conditions as a component of property value.
This might involve:
Assessing any plumbing, electrical, or HVAC issues
Noting any appliances that are not in working order
Considering structural damage or problems with exterior lot safety
Completing the Background Check
In order to take the test to become a real estate sales agent in Georgia, you need to complete a background check.
The GREC requires applicants to get a Georgia Crime Information Center (GCIC) report that would detail any criminal history on their record.
This report is available from any Sheriff's office or other local law enforcement department.
It is good for 60 days from the date that you get it, and you should bring this document to the PSI testing center in order to get it on record.
Pay All Applicable Fees
The background check may cost up to $25.
In addition, there is a typical charge of $121 to take the salesperson exam.
What to Do About Unforeseen Problems
PSI has protocols in place for inclement weather, power failure, or emergency.
Here's how the company describes the policy in its handbook:
"In the event of inclement weather or unforeseen emergencies on the day of an examination, PSI will determine whether circumstances warrant the cancellation, and subsequent rescheduling, of an examination. The examination will usually not be rescheduled if the Test Center personnel are able to open the Test Center. You may visit www.goAMP.com prior to the examination to determine if PSI has been advised that any Test Centers are closed. Every attempt is made to administer the examination as scheduled; however, should an examination be canceled at a Test Center, all scheduled candidates will receive notification following the examination regarding rescheduling or reapplication procedures. If power to a Test Center is temporarily interrupted during an administration, your examination will be restarted where you left off and you may continue the examination."
On the other hand, failing to show up means that there will not be a refund of the exam fee.
Complete Lawful Presence Verification
Another key verifying step is to take your lawful presence verification notarized affidavit with you to the exam as further proof that you have met licensing requirements.
Recommended – Study Georgia Real Estate Markets
As the time of the exam gets closer, it's a good idea to blend your completed pre-licensing study with a more thorough analysis of the markets that you want to work in. Compare various Georgia markets, for instance, Atlanta and the Metro area to areas like Kingsland, Richmond Hill or Savannah or Brunswick on the coast. You might also analyze Georgia markets relevant to other local markets like Jacksonville and St. Augustine to the south in Florida, or Charleston and Hilton Head Island to the north in South Carolina.
Other population centers like Rome, Athens, and Macon have their own distinct metro areas which also represent their own individual markets. Knowing the details is a big value to a new Georgia real estate salesperson, and in some cases, can help to transition into a more experienced role.
By understanding more about the terrain and build of Georgia markets, you'll start to get more of a hands-on idea of how to use this knowledge you've collected in studying for the Georgia real estate exam.
Fill Out the Georgia Real Estate Exam Registration Form
Here's another key step to completing your Georgia exam and getting your Georgia real estate salesperson's license.
The Georgia real estate exam has a number of Scantron fields that must be properly filled out by applicants.
Applicants have to first put in their Social Security number.
They have to provide their full name and full residential address.
They have to enter their date of birth, gender, and applicable telephone contact numbers.
You also have to check the box of the exam type that you plan to take, including:
Salesperson
Broker
Community association manager
Exam payment can be in the form of an attached cashier's check or money order.
You also have to answer questions about your history, including whether you've held a real estate license in another state, whether you have graduated high school, and whether you have any criminal record.
Taking the Test for your Georgia Real Estate License
Here's where it becomes critical to draw on all the knowledge you have learned about real estate markets; particularly in the state of Georgia.
You'll likely be tested by multiple-choice questions that go over some of the fair housing laws and what constitutes discrimination.
You may be asked about some ethical guidelines that are common in the industry.
At the same time, some of these questions may involve basic mathematics as well as knowledge of assessment conventions like figuring out what a particular type of building is worth.
On the other hand, some questions might delineate discriminatory and unethical practices by showing what is allowed.
In some cases, it's required to prove an intent to discriminate where there is a limit to the kinds of accusations that could be brought against an agent.
Other parts of the exam will deal with contractual law and standards.
There's the idea that the agent has a fiduciary duty to a buyer or seller with whom he or she is working.
Often, questions will come up in the field about loyalty and fiduciary duty.
Suppose, for example, a buyer is not happy with how an agent has presented his or her offer.
The counterparties often dig in and do their research to determine whether the process was done fairly and by the book.
Sellers are likely to do the same thing if they feel their offers have been misrepresented.
Because there is often a lot of negotiation between buyer and seller, and the real estate agents are in the middle, a lot of that negative energy can be directed to a real estate agent.
The state exam is going to be your first guiding roadmap for dealing with these situations and more.
It's going to lay out the specific responsibilities of the job and how it's done in the real world with the hope of orienting students toward successful careers.
Many agents rely on the knowledge that they've obtained through the study for the state exam in the years following as they practiced real estate in Georgia.
Reviewing Georgia Real Estate Law
Here's another critical step that helps Georgia real estate exam takers to get more familiar with what they may encounter later in the field.
Georgia legal codes show the context in which real estate agents work.
For example, here's some of the language of Georgia code Title 10-6a-2 titled "legislative findings chapter as basis for private rights of actions and defenses."
"The General Assembly finds, determines, and declares that application of the common law of agency to the relationships between real estate brokers and persons who are sellers, buyers, landlords and tenants of rights and interests in real property has resulted in misunderstandings and consequences that have been contrary to the best interests of the public; the General Assembly further finds, determines, and declares that the real estate brokerage industry has a significant impact upon the economy of the State of Georgia and that it is in the best interests of the public to provide codification of the relationships between real estate brokers and consumers of brokerage services in order to prevent detrimental misunderstandings and misinterpretations of such relationships by both consumers and real estate brokers and thus promote and provide stability in the real estate market."
In this excerpt, we can see that the state is taking significant consideration for the real estate industry because of past problems. All of this language is really just to say that the state is "keeping an eye on" what happens in real estate markets, and officials go further throughout the statute to lay out how that works.
Here's text from Title 10-6a-5 which is called "duties and responsibilities of broker engaged by seller:"
Here we see language that the broker should "promote the interests of the seller" – which makes sense!
This is how the law describes this in terms of general financial interest:
"Seeking a sale at the price and terms stated in the brokerage engagement or at a price and terms acceptable to the seller; provided, however, the broker shall not be obligated to seek additional offers to purchase the property while the property is subject to a contract of sale, unless the brokerage engagement so provides;"
The exceedingly wordy code also mentions timely presenting, disclosure, advice, and accounting for money and property received, including earnest money.
That's a big part of the real estate process because earnest money is so often used to solidify a deal prior to settlement. However, sellers and buyers often have misunderstandings about earnest money, so it is sometimes a sore point in negotiations. Reading the law carefully helps a new real estate salesperson to become a thoughtful authority and help clients out.
That's just the beginning of a number of points that help real estate professionals understand where they may be headed later in their career.
Here's some text from Title 10-6a-10 which covers the duties of brokers prior to entering into brokerage engagement relationships.
Again, there's a lot of focus on disclosure.
Real estate professionals have to tell the client about agency relationships.
They have to present any conflict of interest to the client.
Hiding these things is failing to disclose them, which gets the real estate agent or broker into hot water later.
The code also provides this guidance.
"All brokerage engagements must:… Advise such prospective client as to the broker's compensation and whether the broker will share such compensation with other brokers who may represent other parties to the transaction in an agency capacity (and) … advise the prospective client of the broker's obligations to keep information confidential under this chapter."
You can see how Georgia law covers the collaboration of various professionals on one deal – there's the idea that some real estate processes suffer from "too many cooks" and not enough consistent communication, rules like the above work to enforce consistency as well as transparency.
Georgia law also covers exclusive representation.
The law says a broker can pursue this kind of contract according to specific rules.
Here's part of what the state says:
"When designated agents are appointed in accordance with subsection (a) of this Code section, the broker, the clients, and the designated agents shall be considered to possess only actual knowledge and information; there shall be no imputation of knowledge or information between and among the broker, the designated agents, and the clients. Designated agents shall not disclose, except to the designated agent's broker, information made confidential by request or instruction of the client whom the designated agent is representing, except information allowed to be disclosed by this Code section or required to be disclosed by this chapter."
Looking in-depth at these applicable Georgia laws is another way to fine-tune your knowledge of Georgia real estate.
Prior to the exam is a good time to do this, but directly after the exam is also a fine time to get more acquainted with these rules and regulations.
Finding a Mentor
It's a good idea for a Georgia real estate salesperson to look for a mentoring opportunity from a broker, especially if they want to become a broker later.
Look for qualified broker offices that will work with you as a new salesperson in order to get this critical experience.
Learn more at some of these Georgia real estate meetup groups – or ask your school to provide you with some additional information to better understand the mentoring process and how it works in the industry.
Applicants who successfully complete the state exam can apply to get their license, and when it is in hand, they will be newly minted real estate licensees within the state.
This is a good time to start building connections.
Get to know the lay of the land and major parties such as wholesalers, appraisers, inspectors, and other parts of your real estate network.
Advertising is key to reaching buyers and sellers.
Real estate agents choose many different techniques for advertising including:
Email or Internet outreach
Public events tabling
Yard signs
Direct mailers
Radio or television
Print literature
All of these methods put your name out in front of the target audience.
Sometimes word-of-mouth plays a major role.
In cultivating the network, real estate agents want to pay particular care to their first clients as that's going to set the stage for their success later on.
It often means putting in extra work at the beginning but that pays off when the positive reputation starts to attract business.
Related Learning Opportunities