A neurosurgeon is a medical doctor that will diagnose and treat any condition that has to do with the brain, spine, or nervous system, according to WebMD.com. As a neurosurgeon, you will be an expert when it comes to the human nervous system. It's also common for this type of surgeon to perform surgery.
There are many job duties to understand if you want to become a neurosurgeon. This is a unique medical career that can be rather rewarding. Let's look at the job duties of a neurosurgeon and the career path to become one.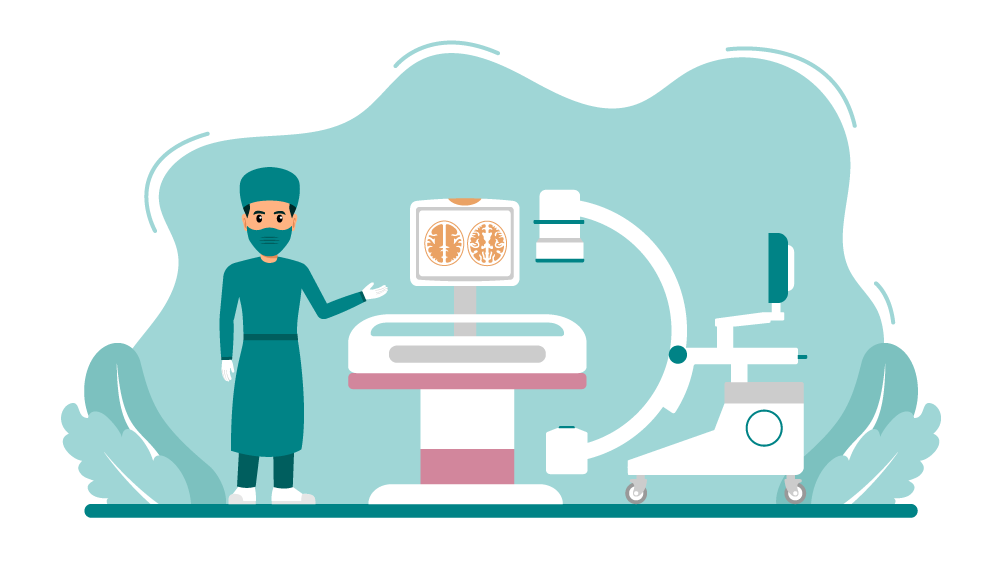 Job Duties of a Neurosurgeon
If you become a neurosurgeon, you will spend most of your day in a hospital or clinic. you will work longer hours and take care of very important job duties. The most common job duties of a neurosurgeon include:
Working with other health care professionals including mental health nurses, therapists, psychiatrists, and neurologists
Diagnosing patients suffering from neurological issues by using lab tests, imaging, and other diagnostic tools
Prescribing treatments and medications for patients
Monitoring the progress of patients
Performing microsurgeries on delicate tissues with microscopes
Providing updates for the families of patients throughout a surgery
Conducting emergency surgeries
Adhering to state and national regulations and laws
helping to educate medical students undertaking internships and clinical rotations
Keeping accurate patient records and notes
Writing prescriptions and completing other paperwork
Studying new pharmaceuticals and technologies
There are many job duties when you become a neurosurgeon. This is a very important position in the medical field. If you want to enter into a very exciting career in medicine, becoming a neurosurgeon is a great option.
Steps to Become a Neurosurgeon
Step #1 – Complete High School
You need to finish high school with a very high GPA, good SAT or ACT scores, and plenty of AP or honors courses. Getting into an excellent bachelor's degree program will help your applications for medical school. Make sure you use an SAT prep course or ACT practice test.
Step #2 – Get Your Bachelor's Degree
A bachelor's degree will be the next step in the process to become a neurosurgeon. This degree should be in chemistry, mathematics, human anatomy, pre-medicine, or microbiology. You will also want to take courses in statistics and English.
Make sure you do very well in college. A GPA of 3.5 or higher will be necessary to get into medical school. It's a very competitive thing to get into medical school and you need a high GPA to set yourself apart from others.
As you get your degree, you can also gain experience in the medical field. This may be done through volunteering, shadowing, or taking on research work. This shows ambition and dedication.
Step #3 – Pass the MCAT
The Medical College Admission Test (MCAT) is one of the most important exams you will take to become a neurosurgeon. This test is administered by the Association of American Medical Colleges (AAMC). It will consist of multiple-choice questions and you need to do very well on this exam.
If you pass, that is a good start, but scoring high is more important. A good MCAT prep course will help to ensure you score higher. Those looking to attend the top medical schools will need to score very high on the MCAT.
Step #4 – Complete Medical School
Of course, if you want to become a neurosurgeon, you have to complete medical school. Getting your Doctor of Medicine degree will take bout four years. This degree will include full-time study. Your first two years will include taking courses in natural sciences, physiology, medical ethics and law, chemistry, natural sciences, and the practice of medicine.
The second two years, you will spend time completing clinical hours in hospitals. This time during medical school, you will gain clinical training. Later in your clinical rotations, you may start to specialize in a specific area.
Step #5 – Pass the USMLE
The United States Medical Licensing Examination (USMLE) is necessary if you want to become a neurosurgeon. there are three parts to this exam. You will need to pass the first two parts during medical school. The final part will be taken during your residency.
Step #6 – Complete a Neurosurgery Internship
If you want to become a neurosurgeon, you will need to complete a neurosurgery internship at a hospital. This is done after completing medical school. Usually, this internship will last one year. You will gain experience in the field through this internship.
Step #7 – Complete your Residency
After your internship, you will need to complete a residency in neurological surgery. This residency will take six to eight years to complete. You will become trained in neuroradiology and imaging throughout this residency. You will also gain training in neuropathology and neurosurgical techniques.
If you want to specialize, you can do so towards the end of your residency. This may include specializing in laboratory research, clinical research, or a subspecialty of neurosurgery.
Step #8 – Complete Your Certification
The American Board of Neurological Surgery (ABNS) offers the certification, which is optional. However, becoming certified can help lead to higher pay and better job opportunities. You need to pass the certification exam to become certified.
Step #9 – Complete a Fellowship
Most neurosurgeons will enter a fellowship to specialize in their field. This will take one or two years to complete. The training will include seminars, classes, and practical experience.
Necessary Skills for Neurosurgeons
As a neurosurgeon, you will gain most of the skills you need through your training. Some of the other skills you should develop include:
Communication Skills – You will work with other physicians, nurses, and medical professionals. Good communication will be necessary for this career.
Stamina – You will spend several hours on your feet. Some surgeries will last many hours and you will need to have the stamina to keep going.
Dexterity – You have to have the dexterity to work as a neurosurgeon. It's necessary to perform complicated procedures, and dexterity is a skill you must have.
Time Management – Many facilities will be very fast-paced. You will need to manage your time very well as a neurosurgeon.
Critical Thinking – When an emergency happens, you will have to make quick decisions. Critical thinking skills are vital for neurosurgeons.
These skills are necessary for a career as a neurosurgeon. If you want to be successful, work on these skills as you gain the education and training necessary.
Frequently Asked Questions About Neurosurgeon
How much can I make as a neurosurgeon?
Indeed.com states the average salary is about $133K per year. This salary can be much higher if you work for a top employer. Some employers pay more than double this amount.
According to Salary.com, the average salary is around $625K per year. This site puts the range at $330K to about $942K for neurosurgeons. Another source, PayScale.com, puts the average salary at about $415K per year for neurosurgeons.
What type of benefits will I gain as a neurosurgeon?
Most neurosurgeons will get health insurance with vision and dental. It's also common to get malpractice insurance and a 403(b)-retirement fund. Depending on your employer, you may also get loan repayment or assistance, paid housing, relocation assistance, and even military leave.
What is the work environment like for a neurosurgeon?
You will likely work in a hospital or in a surgery center. Neurosurgeons spend quite a bit of time on their feet and work directly with patients. You will perform surgeries and wear special protective gear in the process.
What type of hours will I work as a neurosurgeon?
As a neurosurgeon, long hours are common. You may work shifts up to 12 hours at a time. Most neurosurgeons will work nights, weekends, and holidays. You will likely be on-call or work on-call shifts, as well.
How long will it take to become a neurosurgeon?
You will spend around 12 years gaining the education necessary to become a neurosurgeon. It may take longer than 12 years, depending on your specialty and fellowship. It may take you 12 years or as long as 16 years to become a neurosurgeon. Most are in their 30s before they become neurosurgeons.
What are the common specialties for neurosurgeons?
There are several specialties you can go into as a neurosurgeon. You can go into neuro-oncology, neuro-trauma, neurological critical care, pediatric neurology, cerebrovascular surgery, or interventional neuro-radiology.
These are just some of the many specialties to consider. When you reach the point where specializing is necessary, consider which route you prefer.
Becoming a neurosurgeon can be a very rewarding career. It's one of the top-paying options in the medical field. You will get to help patients suffering from neurological issues, as well.
When you decide this is the career path you would like to take, it's important to be very dedicated. You will spend many years in school and gain the necessary training. Make sure you want to become a neurosurgeon before you head down this career path.