Information Last Verified:
October 2, 2021 by
Jordan Fabel
The right OAT Prep Course can make all the difference. When you're preparing for the Optometry Admissions Test, the right prep course can ensure you score higher and get admitted into the Optometry program you prefer.
Taking the OAT for the first time isn't easy. Many students don't score well the first time and have to retake the test. With the right OAT prep course, you won't have to retake the test and you'll achieve the results you desire.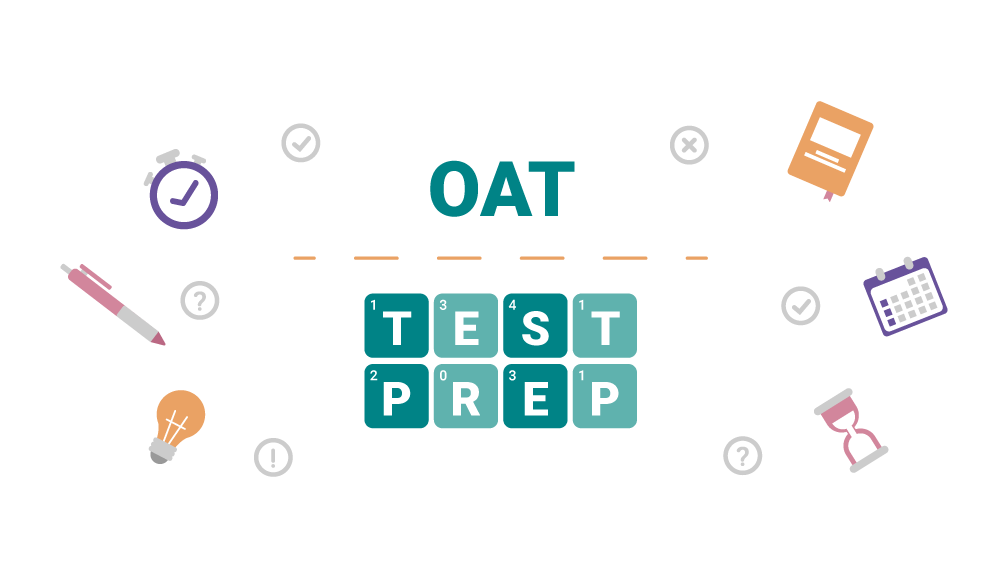 How to Find the Right OAT Prep Course for You
when it's time to find the right OAT prep course for your needs. It's best to figure out how you learn best. Do you prefer to study on your own or with a tutor or instructor? Figuring out the answer to this question will help you to choose the right OAT prep course for your specific needs.
If you prefer to study on your own, getting the right materials including practice tests will help. However, if you want to work with a tutor or instructor, you will want to make sure you choose an option including this type of help. Some OAT prep courses will even offer small group studying where you can work with a small class as you study for the OAT.
Of course, you will want to consider your budget in the decision, too. There are OAT prep courses in many different price ranges and the right one for you might be the one you can afford.
Top 6 OAT Prep Courses Found Online
1. The Princeton Review
The OAT prep course from The Princeton Review is one of the top options you can choose for your specific study needs. This online OAT prep course provides excellent preparation materials, quality content, and engaging materials. They even guarantee you'll get a higher score if you complete the prep course.
The OAT test prep course from The Princeton Review has two options with one-on-one instruction with expert tutors. One option offers 10 hours of tutoring for $1,800 and the other offers 30 hours for $5,000.
Both programs offer expert tutors with a dedicated tutoring manager and a custom-built app for easy management and scheduling.
2. Kaplan
A well-known name in test prep, Kaplan offers a great OAT prep course with several options for your specific needs. For more than a decade, Kaplan has offered students a great option to improve their scores. They offer flexibility with some of the best OAT teachers you will find.
The OAT prep course from Kaplan starts at $899 and provides several benefits including:
120+ hours of instruction and practice online
A personalized study plan
Seven computer-based practice tests
Topic-specific quizzes for practice and assessment
Interactive workshops
More than 1,500 OAT practice questions from the Qbank
An up-to-date OAT lesson book
And more!
This course provides everything you need to completely prepare for the OAT and score higher. They also offer one-on-one help from a personal tutor with packages starting at $1,999.
Kaplan does offer some free practice tests in smaller segments you can try out, too. These are great for those without much time to prepare or to test out Kaplan before committing to one of the OAT prep courses they offer.
3. Varsity Tutors
If you want a tutor to help you prepare for the OAT, Varsity Tutors offers several certified OAT prep instructors you can use to help you prepare for the OAT. With the right tutor, you can get prepared for this huge exam with one-on-one help from someone that has gone through the test recently.
Varsity Tutors offers the option to work with a tutor online one-on-one or you can work with a small group OAT class. With a class environment, you will still be taught by an expert, but you might feel a bit more comfortable with this type of option.
Tutoring can be very helpful, but it's not the same as a full OAT prep course. However, you can pay for as little or as much tutoring as you need making it a good option for those on a tighter budget.
4. Gold Standard OAT Test Prep
These test prep materials are actually sets of books put into kits for the self-study student. There are several options with plenty of materials to choose from and a range of prices, as well. Gold Standard OAT Test Prep options cover everything you need and you can choose which books you prefer or get a kit with everything you need.
There are three categories of Gold Standard materials:
Oat Prep Kit – $149 to $399 with two options for your OAT prep course materials.
OAT Books – Choose from four different books covering different subjects all for $29.95 per book.
OAT Practice Tests – You can get the Top Score Pro or the Gold Standard Practice Tests for $65 and $60 respectively
Whether you just want a few books to help with studying or an entire kit, Gold Standard offers a great option with plenty of affordable choices.
5. OAT Bootcamp
From Bootcamp.com, this all-in-one study tool makes it easier to score high on the OAT. You will receive all of the following with OAT Bootcamp:
10 practice tests
More than 3,800 practice questions
More than 400 videos
Bootcamp Biology Notes
Oat Pro-Tips
Bio Bites
And more!
They offer practice tests and videos for each section of the test with everything you need to prepare for the OAT. OAT Bootcamp gives you a full-length simulation and they even have a mobile app to help you study on the go.
6. OAT Destroyer
Another good OAT prep course is the Oat Destroyer option. This option offers many problems with solutions that you can use as a teaching ad. You can study the questions and the answers in each section to help you better prepare for the OAT.
There are several options to choose from with multiple packages. Oat Destroyer offers:
Oat Destroyer – includes Organic Chemistry, General Chemistry, Biology, Quantitative Reasons, and comes with Physics for $159.95
Math Destroy with QC Problems
Organic Chemistry Odyssey
General Chemistry Destroyer
All of these programs can be packaged together or purchased separately to suit your specific needs.
Frequently Asked Questions About OAT Prep Courses
Is the OAT a difficult exam?
For many students, especially those not fully prepared, the OAT is a very difficult exam. However, with proper preparation, the OAT can become an easier test to take with the right prep course. When you're fully prepared you will not only know the materials better, but you will also eliminate your test anxiety.
How should you prepare for the OAT?
Students may prepare for the OAT in multiple ways. Some will prefer a self-study option, while others will prefer an instructor-led option. When you have a good plan and study schedule, you can use it as a way to keep yourself on track as you study.
Getting an OAT prep course with study materials, full-length practice tests, and the right instruction for your learning style is one of the best ways to prepare for the OAT.
It's recommended that students preparing for the OAT study for three to six hours a day for three to six months before taking the exam. With the right OAT prep course, this study time can be reduced and can become more productive. Some programs even provide a study schedule tool to help you prepare even better.
How will the OAT be on test day?
The OAT provides optometry schools with a tool to assess the abilities of a student. The test will be taken on a computer at a Prometric testing location and it's a multiple-choice test. You will take four total tests including:
Survey of the Natural Sciences
Physics
Reading Comprehension
Quantitative Reasoning
Taking the OAT is a long experience and will take around five total hours with breaks included in that timeframe.
When is it time to start studying for the OAT?
You should start studying for the OAT as soon as you possibly can. Most recommend starting your prep work when most of your optometry school prerequisites have been completed including:
General Chemistry
Biology Classes
Physics
Organic Chemistry
When you have completed these classes, it will be easier to start preparing for the OAT as you will have a foundation of knowledge to work with. When you're not taking college courses, it's also a bit easier to study for the OAT.
How much does the OAT cost?
The OAT costs $435. That's a large amount to pay for a test, which makes it even more important to score high the first time. With a high score the first time, you won't need to retake the test and pay an additional fee for retakes.
How is the OAT Scored?
The OAT is scored on a scale from 200 to 400 with an average score of 300. If you score 350 or higher when taking the OAT, you will be in the 90th percentile.
Why is a high score on the OAT so important?
There are only 20 Optometry Schools, which means there aren't that many slots available for students. Schools cannot take everybody, so a strong OAT score is important when you want to become accepted into Optometry School.
An example of how a school might use the score you get comes from Southern California College of Optometry. SCCO looks at your score and states they may accept students with a 300 score in each section, but getting a 320 or higher gives you a competitive edge during the admission cycle.
What are the sections of the OAT?
The oat has four sections: Survey of Natural Sciences, Reading Comprehension, Physics, and Quantitative Reasoning.
The Survey of Natural Sciences is a 100-question section and you will have 90 minutes to complete this section. All three of the other sections include 40 questions each and you will have 50 minutes to complete them, except the Quantitative Reasoning section has to be completed in 45 minutes.
How many times can you take the OAT?
You can retake the oat if you don't score very high the first time. Students are allowed to take the test up to three times. If you don't score high after three times, you will need special permission from an optometry school to retake the test a fourth time.
While you do have the option to retake the OAT, optometry schools may not have the same way of looking at multiple scores. Some will only look at our highest score, while others will look at all your scores. It's important to score high the first time and the right OAT prep course will help.
Am I ready to take the OAT?
You may not know for sure you're ready to take the OAT. However, as you work through your prep course, you will get to take practice tests along the way. Some even offer free practice tests before you sign up for a complete program.
Use the practice tests to see how you are doing and to assess whether or not you're ready to take the OAT. If you score low on a practice test, it's a good idea to keep studying until you have more confidence and can score higher on practice tests.
Final Word on OAT Prep Courses
When you're trying to gain admittance into Optometry School, you need the right help when studying for the OAT. This is a very competitive field and there are only so many spots. A high score can tip the scales in your favor and the right online OAT prep course can help get you where you need to go.
It's best to check with the schools you're most interested in and see what they require. Some schools place more weight on your OAT score than anything else, while others use it as one of the many factors for admission. Speak with your chosen schools before taking the OAT and you will know what type of score you might need and how intense of an OAT prep course you should get.