Working with children can be very rewarding. When you learn how to become a pediatric nurse, you can work with children presenting acute or debilitating conditions, illnesses, or injuries. If a child is in need of pediatric care regularly, a pediatric nurse will likely be the one providing treatment and monitoring.
Pediatric nurses provide plenty of medical services for children. They work in healthcare settings. Let's look at the job duties and the steps to becoming a pediatric nurse.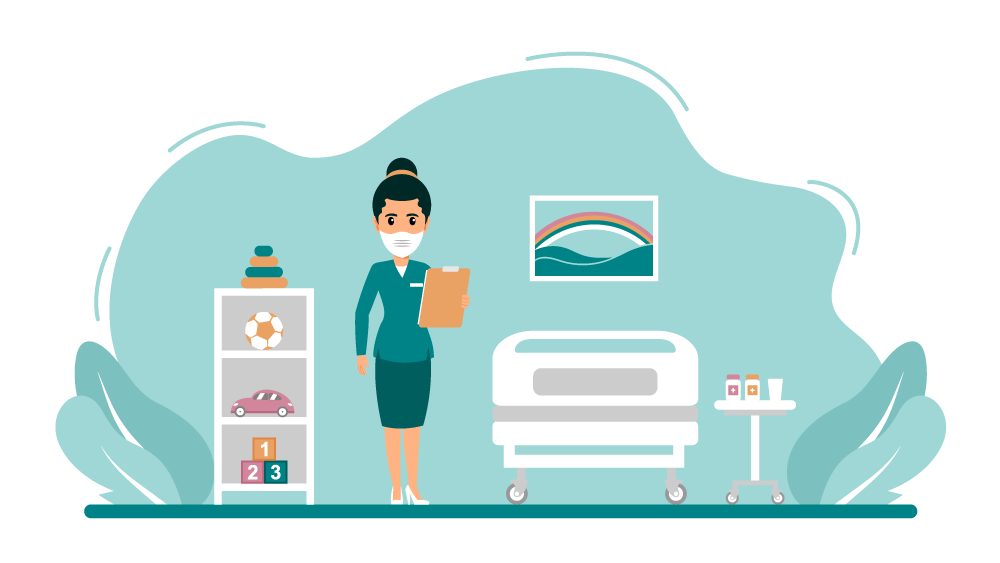 Job Duties for a Pediatric Nurse
As a pediatric nurse, you will work in a pediatric unit. The majority of your job will include assisting injured and sick children needing medical help daily. You will also assist pediatric surgeons, pediatricians, and other doctors.
Some pediatric nurses may work in triage and provide minor services for children. You can also work in a pediatric intensive care unit. This type of pediatric nurse will work with children that have suffered a more serious disability, injury, or illness.
The main goal of any pediatric nurse will be to help the ill or injured child gain full independence. If a child will be disabled, a pediatric nurse will work with the parents and the child to educate them on how to deal with the disability on a day-to-day basis.
Regardless of where you work, as a pediatric nurse, you will likely handle the following duties:
Perform day-to-day duties including well-visits for children and development screening
Treat and diagnose common illnesses in children
Provide guidance for parents when it comes to caring for a child with a disability
Provide blood draws and immunizations for children
Complete physical examinations for school or other reasons
If you gain specialized training in acute care, you may also care for chronically ill children, those with serious injuries, read and interpret lad results, and perform therapy or order medication for children.
How To Become a Pediatric Nurse in 6 Steps
Step #1 – Complete High School
Since you will need at least an associate's degree to become a pediatric nurse, you will need a high school education. During high school, you should take AP or honors courses in science and math, if possible. A high GPA and SAT scores can help you get into a better nursing program, too.
Step #2 – Get Your Degree
You have several degree options. Starting off, most pediatric nurses will get either an associate's degree or a bachelor's degree. You will need to complete a nursing program at one of these levels to become a pediatric nurse. Make sure you choose an accredited program and the right program for your career path.
Step #3 – Pass the NCLEX-RN Exam
The National Council Licensure Exam is necessary if you want to become a nurse of any type. You will need to pass this exam to become a registered nurse. Make sure you're well prepared for the NCLEX exam and you pass it on the first try.
Step #4 – Gain Experience
You will likely need to work as a registered nurse before you can become a pediatric nurse. Many employers will want to see experience on your resume. Getting experience in pediatrics can certainly help. Any type of nursing experience can help, however.
Step #5 – Get Your Master's Degree and Become Certified
When you get a master's degree, you become an advanced practice registered nurse or APRN. This type of nurse can specialize in many areas including pediatrics. You will need to get clinical areas for your specialty when you get your Master's degree. When you reach this stage, you can choose to specialize in pediatrics.
Once you complete your clinical hours, you will become eligible for the certified pediatric nurse exam. you will need to pass the exam to become a pediatric nurse. As an RN, you will need to complete an M.S. or D.N.P. degree to sit for the acute care or primary care certifications.
Necessary Skills for Pediatric Nurses
If you want to become a pediatric nurse, you will need to have the right skills. As you go through your training, work on these four basic skills, too:
Stamina – Many nursing jobs will have you on your feet for long shifts. You will need to have good physical stamina. With the right level of stamina, you can remain alert as you complete your duties.
Communication – You will need to communicate well with other healthcare professionals and with patients. As you work closely with children, you will need to communicate with them and their families. Good communication skills will make a big difference.
Critical Thinking – You will also need to be able to think critically as a pediatric nurse. Since you will work in a fast-paced setting, it's necessary to make fast decisions. Critical thinking skills are vital to this type of nursing position.
Leadership – Another type of skill to develop for this career is leadership. Pediatric nurses can work their way into leadership positions throughout their career.
These four skills are very important for pediatric nurses. If you want to become a pediatric nurse, develop these skills as you get your education.
Along with these skills, it's good to be an emotionally stable person. You will likely deal with children suffering and it can take a toll on a person emotionally.
Strong organization skills, close attention to detail, and empathy can also benefit you in this type of career.
Frequently Asked Questions About Becoming a Pediatric Nurse
How much can I make as a pediatric nurse?
Salary.com puts the salary range for pediatric nurses at $60K to about $93K, depending on experience. The average salary is about $73,300.
NurseJournal.org breaks down the average salary based on your level of education. For pediatric nurses, the following average salaries:
Associates Degree – $63K
Bachelor of Science in Nursing – $67K
Master of Science in Nursing – $90K
Doctor of Nursing Practice – $100K
Salaries have even gone up to higher levels due to the pandemic.
If you take your education further and you become a pediatric nurse practitioner, your average salary will be even higher. Indeed.com puts the average salary for a Pediatric NP at about $109K.
Do I need a master's degree to work as a pediatric nurse?
You don't need a master's degree to become a pediatric nurse. However, with a master's degree, you can work in a higher-level position and earn a higher salary. A master's degree makes it much easier to specialize in pediatrics.
Is this career in demand?
Yes, the demand for pediatric nurses is expected to grow by about 12% over the next ten years. This is an in-demand career, just like most nursing careers. The growth rate is higher than the average of all occupations.
If you get a master's degree, you become even more marketable in this industry. You can fit into other medical areas, too and APRNs with clinical hours in pediatrics are in very high demand.
What type of hours will I work as a pediatric nurse?
Most pediatric nurses work full-time. It's common to work eight- or twelve-hour shifts. As a pediatric nurse, you may need to work nights and weekends. Some overnight shifts and early morning shifts may also be necessary.
Care often has to be provided 24/7, so pediatric nurses have to work shifts at different times of the day. It's common for hospitals to use a three-shift model with overlapping work shifts for nurses.
Where do pediatric nurses work?
There are many places where a pediatric nurse can work. Nurse.org lists many options including the following:
Free-standing children's hospitals
Major medical centers
Outpatient centers
Community hospitals
Outpatient primary care facilities
Major medical center
Schools
Home health care
Surgery Centers
And more!
More than 60% of pediatric nurses will work in some type of hospital.
Which organizations and professional associations are good for pediatric nurses?
There are many different organizations and professional associations you can join as a pediatric nurse. Some of the top options include:
These options offer plenty of support and resource for finding jobs, certifications, continuing education, and more. With the right memberships, you can gain access to all the resources you need to gain success as a pediatric nurse.
Going into nursing isn't as straightforward as just becoming a nurse. Yes, you can become a nurse, but there are many specialties in nursing. Pediatrics is one of those specialties and now you know how to become a pediatric nurse.
There are many jobs available in nursing and this is a growing field. If you want to work with children and help them heal, becoming a pediatric nurse might be the right career for you. Follow the steps above to enter this career and enjoy a higher-than-average salary as you help children heal.