It's rather common for people to mix up psychologists and psychiatrists. However, these are not the same thing. When you look at psychologists vs. psychiatrists, you will find plenty of differences.
Both are client-facing professions that practice psychotherapy. Both require a doctoral degree and work to help others. While these two professions are similar, they do have differences. The differences might be harder to see without comparing a psychologist and a psychiatrist. Let's look at both professions to understand better how they are different.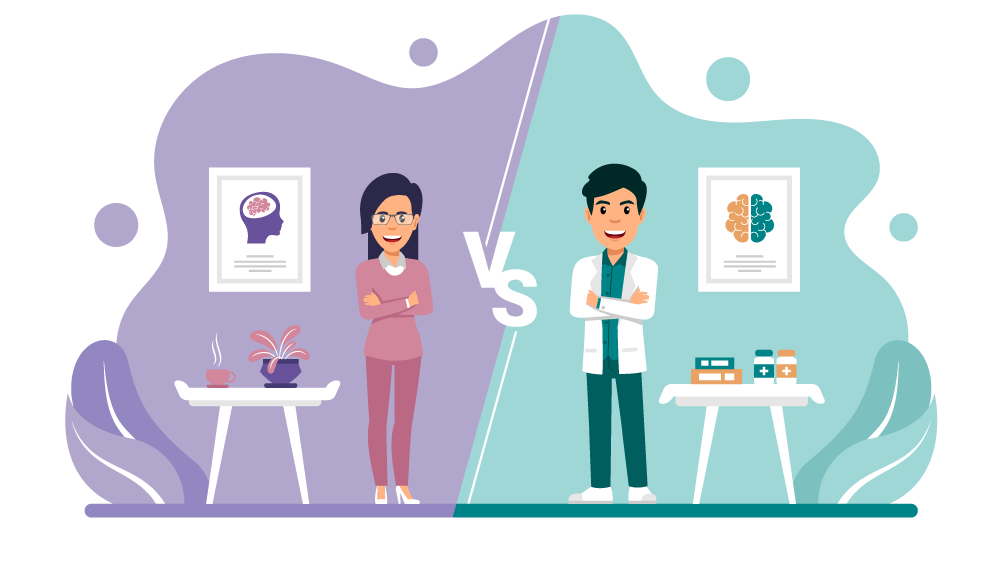 What is a Psychologist?
Someone well-versed in the cognitive behaviors of people works in the field of psychology. This professional will study the inner workings of the brain. They will look at how people process emotions, as well.
Talk therapy or psychotherapy and cognitive behavioral therapy are the most common tools a psychologist uses.
Psychologists work in consulting and will likely work with physicians and psychiatrists. When it comes to diagnosing and recommending medicine, they will work with a team. It's also common to get heavily involved in research in this profession.
What is a Psychiatrist?
A psychiatrist is a practicing doctor with a medical degree. This profession allows you to prescribe medications to patients, such as antidepressants. As a psychiatrist, you will focus on the causes, prevention, diagnosis, and treatment of multiple mental health conditions.
You will study genetics, biochemistry, psychology, neurology, psychopharmacology, and social science as you become a psychiatrist. You will need either a Doctor of Medicine or a Doctor of Osteopathic Medicine degree to become a psychiatrist.
After getting the proper degree, you must pass a written exam to become licensed. A four-year residency is also necessary for a psychiatrist. Some of the common specialties for psychiatrists include:
Child and adolescent psychiatry
Forensic psychiatry
Sleep medicine
Pain medicine
Addiction medicine
Geriatric psychiatry
You can specialize in any of these areas as a psychiatrist.
Psychologist vs. Psychiatrist: The Differences
Before you choose the path you want to go down, it's important to look at key differences between psychologists and psychiatrists. There are several differences in the job and the path you will take to enter this career.
Psychologists focus on the cultural, environmental, and social factors, while psychiatrists focus on the biological factors more. As a psychologist, you will spend more time looking at negative thought patterns and other brain functions with behavior. You will also work more on the emotional health side of things.
On the other hand, psychiatrists will spend more time looking at biological factors. They will use medical tests, such as EKGs and blood tests, to identify different mental health conditions.
Practice Differences
Both psychologists and psychiatrists tend to work in similar settings, including rehabilitation programs, private practices, clinics, schools, and more. However, the types of treatments they use are quite different.
Psychologists will use talk therapy to treat mental health symptoms and emotional distress. This type of therapy is completed over multiple sessions and may be called couples therapy, group therapy, family therapy, or one-on-one therapy.
Some of the common types of therapy used by psychologists include:
Humanistic psychology
Emotion-focused therapy
Schema therapy
Art therapy
Mentalization-based therapy
Psychodynamic therapy
Mindfulness-based therapy
Play therapy may also be used with children when necessary.
On the other hand, psychiatrists tend to prescribe medications, such as antidepressants, mood stabilizers, sedatives, antipsychotics, and stimulants, as treatment. They may also use light therapy, electroconvulsive therapy, and brain stimulation therapies.
Prescribing Medications
Psychologists cannot prescribe medications in any state without additional qualifications. However, in five states, they can prescribe medication with additional qualifications. Idaho, Iowa, Illinois, Louisiana, and New Mexico. They can also prescribe medication if they work in the military, Guam, or the Indian Health Service.
Psychiatrists can prescribe medication, no matter the state they work in.
Education Requirements
One of the biggest differences between psychologists and psychiatrists is the education and training necessary. Psychologists will need to complete graduate school and Doctoral-level training, getting either a Doctor of Philosophy or a Doctor of Psychology degree.
If you become a psychologist, it will take four to six years to earn one of these degrees. You will also need to complete another or two years working in a clinical setting. After completing the education and clinical work, you must pass the exam to get your state license.
Those deciding to become a psychiatrist will need to earn a Doctor of Medicine or a Doctor of Osteopathic Medicine degree. Along with one of these degrees, you will need to complete four years of residency. It's also necessary to pass the correct written exam in your state.
Annual Salary
There is quite a big difference between psychologists and psychiatrists regarding salary. According to Salary.com, a psychologist will earn between $67K and $88K per year. However, a psychiatrist earns a median salary of about $235K per year.
Payscale.com also puts the average psychologist salary in a similar range at about $81K per year. The overall range from this source runs from about $50K to $117K per year.
ZipRecruiter.com has a bit of a higher average salary for psychiatrists, however. They put the national average at about $266K per year. Regardless, this is still much higher than the salary of a psychologist.
Psychologist vs. Psychiatrist: Which is the Right Choice?
There is no wrong or right choice when choosing between these two professions. It depends on the type of work you prefer to do. For example, you will do more talk therapy as a psychologist, while a psychiatrist will prescribe medication and more medical therapy options.
Taking the time to look into both options will help you decide which path is right for you. Both options will require an advanced degree. However, if you become a psychiatrist, you have the potential to earn a much higher salary. Of course, the salary shouldn't be the only factor in your decision to enter either career.