Do you love health and fitness? Would you enjoy working in one of the many fitness careers available? With the right fitness career, you can help others in many different ways.
You might think becoming a personal trainer is the only real career option in fitness. This is simply not true. There are many excellent fitness careers you can choose from, some more common than others.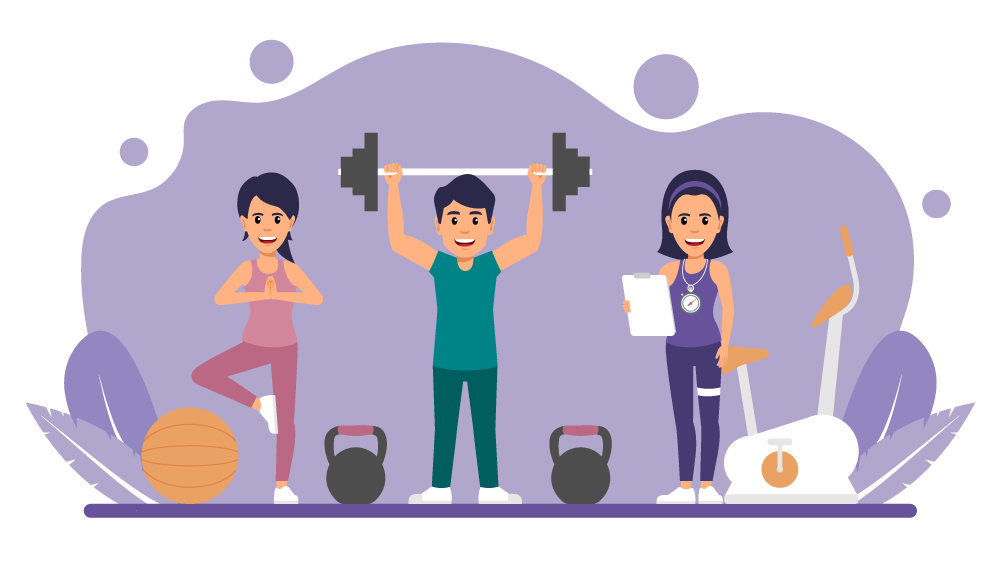 Why Should You Enter a Career in Fitness?
The obvious reason to enter one of the fitness careers is your love for fitness and health. However, there's more to it than just having a passion for fitness. Maybe you want to work with athletes or help people lose weight.
With a fitness career, you can help others learn to lead a healthier lifestyle. Many of these careers can be very rewarding. Let's look at the best fitness careers to consider when you want to help others become healthier.
7 Most Common Fitness Careers to Choose From
1. Personal Trainer
Probably the most commonly thought of a career in fitness is the career of a personal trainer. As a personal trainer, your job is to teach and motivate your clients to reach their fitness goals.
You might help clients lose weight, gain muscle, become more flexible, or simply help them minimize injury as they work out. Personal trainers earn, on average, $22 per hour.
2. Group Fitness Instructor
A very common fitness career you can go into is one as a group fitness instructor. This type of person may also be a personal trainer, but they have the skillset to teach group classes, such as Zumba, Bootcamp workouts, and other types of group training.
3. Health Club Manager
Maybe you don't want to be an instructor or trainer, but you love the idea of working in a health club. As a health club manager, you can manage a training facility or gym while providing our trainers and instructors the support necessary. This type of fitness career will put you in charge, and you will likely report directly to the gym or health club owner.
4. Nutritionist
Healthy eating is vital for anybody trying to become healthier and more fit. As a nutritionist, you will enter into the other side of the fitness industry. Instead of working with the exercise and training side of things, you will help clients figure out the right foods to eat and the right daily intake of fat, protein, and carbs.
5. Certified Strength and Conditioning Specialist
While this type of fitness career is similar to a personal trainer, you will be a specialist. Instead of just helping clients with fitness on a general level, you will be working with athletes and clients looking to gain more strength from their workouts.
As a certified strength and conditioning specialist, you may also become a strength and conditioning coach for a sports team. You will help athletes reach new levels and prevent injuries in their workouts and competitions.
6. Fitness Model
You don't need any education to start your career as a fitness model. However, you will need to be in incredible shape and look those seeking a fitness model prefer. It can be a bit of a difficult fitness career to break into, but it can also pay very well with daily rates up to $1,500.
7. Sports Medicine Medical Assistant
Another common fitness career outside of the gym is as a sports medicine medical assistant. This is a career that doesn't require a ton of training, but you will need some sports medicine training. You will likely work with athletes and individuals recovering from or suffering from an injury of some sort.
Sports medicine medical assistants will assist the physician with diagnostic tests, gathering patient information, and other tasks. They earn, on average, about $16 per hour.
6 Fitness Careers Involving Coaching/Teaching
1. Sports Coach
There are many levels of coaching you can get into if you want a rewarding career in fitness. You can be a youth sports coach, a high school coach, or even a college coach. At all levels of sports coaching, you will deal with many aspects of fitness and health.
2. Health and Wellness Coach
Maybe you prefer to work with clients closing when it comes to their overall dietary and fitness goals. As a health and wellness coach, you can guide your clients to a healthier lifestyle as they aim to reach their goals. Whether you help them lose weight, gain muscle, or just become healthier, this can be a very rewarding fitness career.
3. Physical Education Teacher
Of course, if you've always wanted to be a teacher and you love fitness, becoming a physical education or PE teacher might be the perfect option. Often, PE teachers also coach team sports and help out with other competitive events at the school. As a PE teacher, you will be helping the next generation learn how to stay fit and healthy. This can be a very rewarding career and has an average salary of $46,705 per year.
4. Martial Arts Instructor
There are several specialties you can teach as a business owner or in a specific type of facility. A martial arts instructor is a common option and allows you to work with all age groups offering both group and individual classes. You can work as an owner of your facility, or you can become an instructor at a martial arts facility if you have the right skillset.
5. Professor of Kinesiology
With a Ph.D. in kinesiology, you can become a professor of kinesiology. This rewarding fitness career allows you to teach in a classroom setting and form the next generation's minds. You will be a go-to expert when figuring out how movement affects, strengthens, improves, and shapes the human body.
6. Athletic Trainer
In addition to working with people to build strength and help them avoid injury, you will also treat athletes that become injured. Your goal as an athletic trainer will be to help athletes gain the strength and range of motion they need to complete in their sport.
7 Unique Careers in Fitness to Consider
1. Sports Journalist
As a sports journalist, you won't necessarily have to work out with clients or hit the gym every day. Instead, your job will include plenty of research, writing, and interviews. You might be responsible for covering a local sports team or even a national team.
Sports journalists may also be assigned specific events, including sports from bodybuilding to football to basketball to soccer. The national average salary for a sports journalist is about $38 per hour.
2. Kinesiologist
A unique fitness career offering a different type of option, kinesiologists work to test muscles and help develop treatment plans for improving the functionality of the muscle. They might help figure out the sources of stress on the body and put together a rehabilitation plan after an injury to help eliminate it.
This fitness career pays, on average, about $19 per hour and offers a flexible schedule.
3. Exercise Physiologist
Maybe you've always wanted to be a physiologist, and you love fitness. A career as an exercise physiologist might fit perfectly for you. This type of fitness career will include studying the human body when it comes to physical activity and exercise.
You will spend time analyzing how the body responds to stress during exercise. This type of career will often include coming up with rehabilitation plans based on the research done. You can earn an average hourly pay of nearly $20 per hour in this position.
4. Sports Massage Therapist
As a sports massage therapist, you will help athletes recover from injuries and sore muscles after a competition. You may provide deep tissue massage and other types of massage to help those recovering after competition or after a workout.
5. Sports Dietitian
If you want to work with athletes to create the proper diet for their goals and needs, you may want to consider a fitness career as a sports dietitian. This type of career will allow you to help athletes get the vitamins and nutrients they need while paying close attention to their caloric intake and output.
6. Apparel and Textile Engineer
Do you have a love for fashion and fitness? Combine the two and become an apparel and textile engineer in the fitness industry. You can use scientific research and your creative skills to help create new clothing products for the fitness industry.
7. Fitness Magazine Editor
Another way to break into the fitness industry without having to hit the gym daily is the career of a fitness magazine editor. If you have journalistic skills and some experience, this might be the perfect job for you. As an editor of a fitness magazine, you can spend your days speaking with top experts in the field and managing a team of writers.
There are many rewarding fitness careers to consider outside of the personal trainer career and other well-known options. Whether you want to go into the medical side of the industry or even help with a publication, you have several options for a wonderful career in fitness.
Related Learning Opportunities