The Law School Admission Test (LSAT) is currently required for admission into American law schools. And the American Bar Association (ABA) currently only approves law schools that require the test. The LSAT was designed to help law schools evaluate a prospective students' critical thinking, quantitative reasoning, analytical writing, and verbal reasoning skills.
As of 2021, 26 law schools now accept Graduate Record Examinations (GRE) test scores in place of LSAT scores. That means prospective students for those schools can choose which test they want to take. But since most law schools still only accept LSAT scores, it's best to take the LSAT – at least until more law schools begin accepting GRE scores.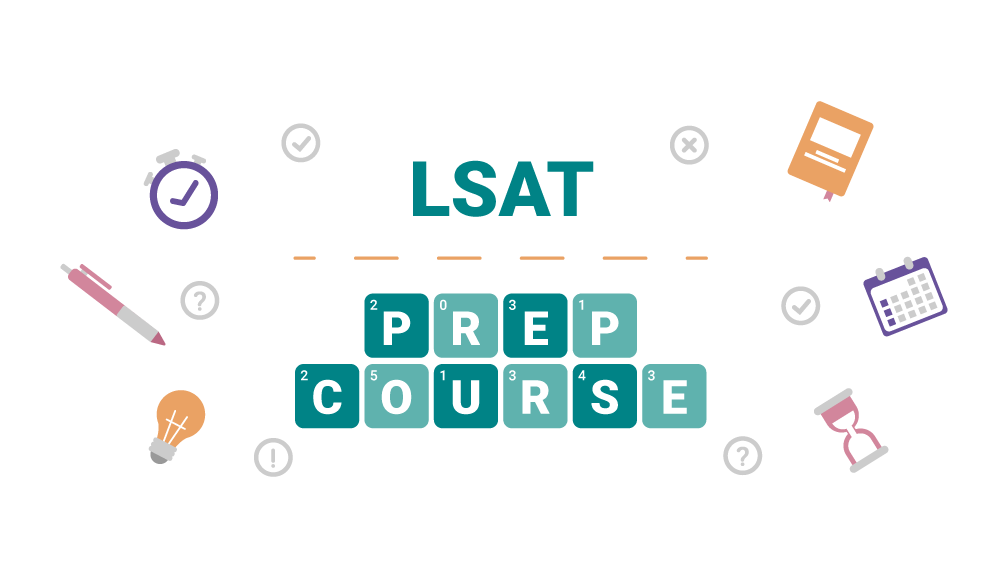 The Importance of LSAT Prep Courses
As of 2020, the LSAT score is the major factor law schools look at when considering applicants. The test is an indicator of how well an applicant will likely perform during their first year of law school. And an applicant with a low LSAT score will have a more difficult time getting accepted into law school.
The lowest possible LSAT score is 120. The highest possible LSAT score is 180. And the national average is 150. No law school has a required LSAT score. However, law schools are more likely to accept applicants who score a 170 or higher on the exam.
LSAT scores are critical. And LSAT prep courses can help an applicant improve their overall score. LSAT prep should focus on strengthening analytical thinking, critical reading, analytical reasoning, and verbal reasoning skills.
Online LSAT Prep Courses
Below is a list of popular online LSAT prep courses. The information provided below is for information purposes only. Applicants should thoroughly research prep courses before enrolling.
Kaplan: Kaplan's LSAT prep courses range in price from $700 to $1200. The $700 course is a self-study course that applicants can do at their own pace. The $1200 course is a live online course that consists of 8 four-hour sessions, two practice exams, 60 former LSAT exams for review purposes, and LSAT prep books.
There's also an option to upgrade to the Plus course that includes 3-hours of personal coaching.
Princeton Review: Princeton Review offers LSAT courses that range in price from $799 to $1800. The $799 course is self-paced. Applicants can take this course anytime and anywhere – as long as there's an internet connection.
The $1399 course is called the LSAT 165+ course. The course guarantees an LSAT score of at least 165, providing that the applicant scores at least a 158 on Kaplan's LSAT practice test. The LSAT 165+ course also includes 84 hours of instructions taught by an LSAT expert and 150 hours of online LSAT drills. There are also more than 8,000 questions similar to the LSAT style and 6 LSAT practice tests.
Blueprint: Blueprint's LSAT offers courses range in price from $699 to $1500. The three-month course is $699. The course includes unlimited access to live online LSAT review sessions by LSAT instructors—a personalized study plan and assessment modules that allow progress tracking. Customized practice tests, access to more than 85 past LSAT exams, and scoring of practice exams that explain right and wrong answers are included.
There is also a six-month course for $999 and a 12-month course for $1499. All courses include the same content. There's just a difference in how long students have access to the information.
LSAT Max: LSAT Max has LSAT prep courses ranging in price from $595 to $1495. LSAT Max has three LSAT prep courses. The courses include more than 100 hours of video that provide techniques and strategies for taking the test. One hour of private tutoring and four LSAT textbooks are included, as well.
The $595 prep course is LSAT Max 60. The Max 60 program provides 60 days of course access. The $995 prep course is LSAT Max 180. Max 180 provides 180 days of course access. And the $1495 course is LSAT Max 365, which provides a year of course access.
Khan Academy: Khan Academy offers a free LSAT prep course. Khan Academy's goal is to make LSAT training available to everyone, no matter their financial situation.
The Khan Academy LSAT course provides access to official practice questions from past LSAT exams. To date, there are thousands of practice questions available via the course.
The Khan Academy course gives students access to timed practice tests, test-taking strategies, problem sets, and instructional videos. It's also possible to create a custom practice plan.
Magoosh: Magoosh offers two LSAT prep-course options. The one-month LSAT Premium plan is currently $279. The one-month plan provides access to 8 LSAT practice tests, more than 6500 questions from past LSAT exams, timed practice tests, and 200 explanations for logic games. Tutors are also available via email. The 12 month LSAT Premium plan is currently $299, but it's normally $2148. The 12-month course is the same as the one-month course, except it provides 12 months of access.
What's on the LSAT?
The LSAT consists of four sections of multiple-choice questions that are scored. And the total time allowed for the test is 3 hours and 30 minutes.
The four LSAT sections consist of:
Two logical reasoning sections that test the ability to evaluate and analyze arguments. The purpose of this section is to determine if the applicant can tell if the sample argument is strong or weak. The applicant also has to demonstrate an understanding of what makes the argument strong or weak.
An analytical reasoning section that tests skills in basic logic. This section is sometimes referred to as the logic games portion of the LSAT. Questions in this section require strong deductive reasoning skills and the ability to recognize the structure in organized data.
A reading comprehension section that tests the ability to identify a written passage's details and main ideas.
The following two sections are also a part of the LSAT, but they aren't scored. The two sections that aren't scored do not affect the test score, but they play an important part in the law school application process.
There is a section of the LSAT used to test new items that may possibly appear on future tests. This section of the test isn't clearly marked, and it looks like any other portion of the test. This is purposely done so that test-takers will make an effort to provide their best answer.
The end of the test consists of a 30-minute writing sample. The writing sample assesses the ability to argue one position over another, like in a court of law. The sample must also demonstrate an ability to support one position while discrediting the other position successfully. This section isn't scored, but law schools use it to help with the admission process.
Preparing for the LSAT
The LSAT's purpose is to assess whether or not an applicant has the skills to study law successfully. Doing well on the test requires reading and understanding complex information, thinking logically, analyzing data, and performing well with limited time. The test isn't easy, and it helps to start studying at least a few months before the test date.
There are two ways to prepare for the LSAT. The first option is to take an in-person or online LSAT prep course. The second option is to self-study for the bar exam without the aid of a prep course.
Option One: LSAT Prep Courses
An applicant might decide that a prep course will help them do well on the test. However, keep in mind that taking a prep course doesn't guarantee LSAT success.
An applicant shouldn't expect prep courses to help them automatically get a high score. Instead, applicants should look to prep courses to provide structure and motivation to get the work done.
Some applicants need the structure and motivation that prep courses provide. LSAT prep courses can also provide a confidence boost for some applicants.
Types of LSAT Prep Courses
There are several LSAT prep courses available. Courses are available in-person, online, via video, and webinars. An applicant's learning style will help them choose the best type of course.
For example, an applicant who prefers in-person learning probably wouldn't do well with a video course. But an applicant who learns well with video instruction will likely excel with a video course.
Normally, live LSAT prep courses are taught at various locations. But because of the Covid-19 pandemic, many live classes are now only available online via Zoom until further notice.
The LSAT Center website maintains a list of live, online, and self-study courses listed by state. The website will indicate which live courses are now offered via Zoom.
Preparing for the LSAT without a Course
An LSAT prep course can help when it comes to taking the LSAT. However, applicants can also prepare for the test with self-study methods.
Applicants who self-study can expect to spend anywhere from four to six hours a week studying. It's also recommended to start studying at least four months before the test date.
To prepare for the LSAT:
Review past LSAT exams. This will provide insight into the types of questions, instructions, and format to expect.
Study sample questions and explanations to become familiar with what to expect on the actual exam.
Make use of LSAT preparation materials, such as the LSAT Logic Games Bible, the LSAT Trainer, or the 5lb. Book of LSAT Practice Drills.
Complete several LSAT timed practice exams. Use a timer just like with the actual exam.
After completing a practice test, closely study the questions that were incorrectly answered. Study each wrong answer to get an understanding of why it's wrong. Use this to learn how to approach similar questions on the actual exam.
Avoid cramming for the exam. Cramming for the LSAT is never a good idea. Start studying months ahead of time.
Time spent studying and completing previous LSATs is time well-spent. Studying previous exams is a great way to become familiar with the test. It also helps to strengthen important skills, such as reasoning and analytical skills.
Average LSAT Scores for the Top 15 Law Schools
The lowest score possible on the LSAT is 120. The highest possible score on the LSAT is 180. Any score above 160 is considered excellent. But for acceptance into a top 10 law school, an LSAT score of 170 or better is recommended.
Yale Law School. Average LSAT Score – 173.
Harvard Law School. Average LSAT Score – 173.
Stanford Law School. Average LSAT Score – 171.
Columbia University Law School. Average LSAT Score – 173.
University of Chicago Law School. Average LSAT Score – 170.
New York University School of Law. Average LSAT Score – 170.
University of Pennsylvania Law School. Average LSAT Score – 169.
University of Virginia School of Law. Average LSAT Score – 169.
Berkley School of Law. Average LSAT Score – 167.
Duke University School of Law. Average LSAT Score – 169
University of Michigan Law School. Average LSAT Score – 168.
Northwestern University School of Law. Average LSAT Score – 168.
Cornell Law School. Average LSAT Score – 167.
Georgetown University Law Center. Average LSAT Score – 167.
University of Texas School of Law. Average LSAT Score – 167.
What Happens Following a Low LSAT Score?
Some applicants will likely score too low on the exam to get accepted into their chosen law school. In this circumstance, applicants basically have two choices.
Any applicant can retake the LSAT to try for a higher score. It's possible to take the LSAT three times per testing cycle. Testing cycles last from June to the following May. However, there is a lifetime limit of seven attempts. That means after the seventh attempt, an applicant can no longer take the LSAT.
An applicant can consider applying to law schools that accept lower scores.
For example, an applicant might score 160 on the LSAT. The applicant might want to attend Yale, but the average LSAT score for Yale is 173. That doesn't mean the applicant can't possibly get accepted into Yale, but the odds are against it.
However, a school such as Cornell Law School has an average LSAT score of 167. The applicant with the 160 score might have a better chance of acceptance by applying to Cornell Law School than Yale.
Admission Chances with a Low Score
It's a myth that all law schools have a cut-off LSAT score. But law schools indeed have scores they consider either unacceptable or acceptable. However, exceptions are sometimes made for otherwise excellent law school candidates.
If an applicant's academic transcript or resume is excellent, they can possibly still get accepted into law school with a lower LSAT score.
Registering for the LSAT
Applicants can't apply to law school without first taking the LSAT. Because of this, it's best to take the exam well in advance of any school application deadlines. Taking the exam well in advance will leave enough time to retake the exam if necessary. An applicant might wish to retake the exam in the event of a disappointing LSAT score.
The LSAT is offered in various locations throughout the United States. And the exam is offered digitally in the United States, Canada, Puerto Rico, and the United States Virgin Islands. The Law School Admission Council (LSAC) states the LSAT is available in written format in several countries, including Argentina, Armenia, Australia, Bahrain, Bolivia, Brazil, China, Colombia, Ethiopia, Egypt, Greece, Hong Kong, Ireland, and the United Kingdom.
The LSAT takes place four times a year. Applicants must choose a date and then register for the exam. Online registration is the fastest method, but there are options.
Register Online. The LSAC offers online LSAT registration. Registering for the exam online via the LSAC website makes it possible to receive LSAT scores by email. Applicants who register via the LSAC can also register for the Law School Data Assembly Service and purchase LSAT test prep material. An additional benefit is the ability to apply online to any American Bar Association (ABA) approved law school.
Register via Telephone. Applicants can register via phone by calling the LSAC at 215-968-1001.
Register by Mail. Applicants can request a print registration packet from the LSAC by calling 215-968-1001 or completing an email request form.
Taking the Test
Applicants have 3 hours and 30 minutes to complete the LSAT. Electronic devices aren't allowed in the testing area. Prohibited devices include cell phones, digital watches, calculators, electronic tablets, laptops, media devices, and e-cigarettes.
Additional prohibited items include books, papers, rulers, earplugs, ink pens, mechanical pencils, timers, briefcases, and handbags. Weapons are also prohibited.
Applicants may not wear hats, hoods, or sunglasses in the testing area. The only exception is if the apparel is of a religious nature.
If an applicant arrives with a prohibited item, the item is confiscated before entering the testing area.
The LSAT test center will report any violations to the LSAC. And violating test center policies can possibly lead to score cancellation. Additionally, the LSAC might determine that the violation is serious enough to share with any law schools to which the applicant applies.
LSAT Scores and Law Schools
LSAT scores are an important part of law school admission. But an applicant's grade point average and resume are important as well. If an applicant is outstanding, that person could still earn law school admission even with a low LSAT score.
However, a high LSAT score makes it easier to get accepted into a top-ranked law school. And graduating from a top-ranked law school makes it more likely that the graduate will secure a good job with a good salary.
A high LSAT score doesn't guarantee entrance into law school. And a high LSAT score doesn't automatically mean an applicant will do well if accepted. Law school success still takes hard work and dedication, even with a high LSAT score.
Related Learning Opportunities
The Princeton Review: Reviewed

The Princeton Review is a top choice when it comes to preparing for standardized tests, career tests, and admittance tests.