Are you looking to become a paramedic? Maybe you want to help people in emergency situations. If you love a challenging career, you need to learn how to become a paramedic.
The specific requirements will vary a bit from one state to another. However, the basic requirements are pretty similar from one location to another. Let's look at the steps you will need to take to become a paramedic.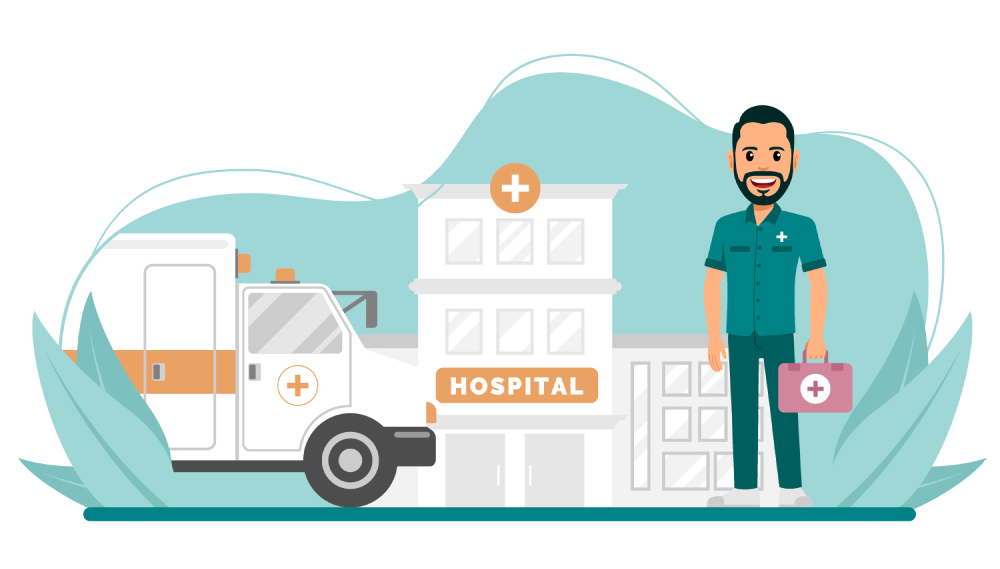 Helpful Skills for Becoming a Paramedic
Paramedics work in a fast-paced career. Some of the skills you want to have include:
Flexibility – Paramedics will work long shifts and may have schedules that change suddenly. They can be called in for overtime regularly, too.
Decision-Making Skills – As a paramedic, you will need to make decisions fast under pressure. These decisions will usually include treating patients during an emergency.
Compassion – While it might not be seen as a skill, paramedics need to have compassion. This is vital when dealing with people physically hurt or struggling emotionally.
Trauma Assessment – You may gain this skill throughout your training, and it's necessary. You will need to assess situations and manage trauma on the job.
Medical Software Skills – You will likely need to work with medical software, so gaining this skill will help.
Comfortable with Stressful Situations – You will need to handle high-stakes situations and unique types of emergency calls.
How to Become a Paramedic
Step #1 – Get a High School Diploma or GED
Getting your high school diploma or GED is a very important step. You won't be able to get into a training program without a high school education or equivalent.
As you go through high school, choose classes to give you a well-rounded education. Science courses are a good option, and so are math courses. You want to score well in these courses, and if you can take psychology classes, they can be helpful, too.
It's also a good idea to focus on your physical education. Fitness is important as paramedics work in a very physical environment.
Step #2 – Gain some Experience (optional)
If possible, start working in a job that can help you gain some experience. You can work as a lifeguard and gain instruction in CPR and first aid.
Some ambulance services and fire departments also have special programs for students interested in a career as a paramedic.
Step #3 – Gain a CPR Certification
Paramedics need to be certified in CPR. This may be a part of your certification program, but it doesn't hurt to get it done early. Many organizations throughout communities offer CPR training. It's not expensive and can help you work towards becoming a paramedic.
Step #4 – Keep a Good Driving Record
You want to get your driver's license and keep your driving record clean. If you get too many traffic tickets or get in too many accidents, it could make it hard for emergency services agencies to hire you.
With a valid driver's license and a clean driving record, you will be set up to become a paramedic without anything holding you back.
Step #5 – Meet the Medical Qualifications
Many of the paramedic training programs will require you to attest that you are in good enough health to handle the clinical portion of the course. This will require you to undergo a physical exam. It's necessary to make sure you have physical strength, but also the necessary immunizations, including:
Hepatitis B
Measles
Mumps
Rubella
Varicella
It may also be necessary to get a tetanus booster, and you may also need to pass a tuberculosis screening. A drug test will also be necessary for most paramedic training programs. You will likely need to show proof of health insurance, too.
Step #6 – Pass the Background Check
Many of the training programs will do a background check. This check will ensure you can pass the necessary background check to earn a state license as a paramedic. This check may require you to provide fingerprints.
The background check will look into your criminal record. While not having a perfect record may not keep you from becoming a paramedic, recent crimes can make it very difficult. It's required to disclose any criminal convictions.
Suppose you have been convicted of a felony or misdemeans involving weapons, physical assault, sexual assault or abuse, theft, abuse of children, or abuse of the elderly. In that case, it may make you ineligible for certification. If you're not sure about your background, you can review it with an advisor.
Step #7 – Complete the Right Training Program
If you want to become a paramedic, you will need to complete the CAAHEP-accredited paramedic program. This course will take less than six months for some but could take as much as a year to complete. You will need between 1,200 and 1,800 hours to complete it.
Those looking to become certified as a paramedic will also need to be certified as an EMT. You do not have to be an Advanced EMT to become a paramedic, however. Not sure the difference? Learn the differences between an EMT and a Paramedic.
You will need to pass the NREMT exam and the National Registry Paramedic cognitive exam. These exams are necessary to become a paramedic.
Step #8 – Get your State License
It's necessary to get licensed by your state before you work as a paramedic. The license requirements vary from one state to another. Some states only require you to get certified by the NREMT. However, some states have other requirements and may even have a state-specific exam.
You will likely need to recertify every two or three years, depending on your state.
Additional Certifications for Paramedics
While you will need to become certified to become a paramedic, you can earn other certifications, too. Some of these certificates will allow you to provide additional services and enter into other career opportunities. You can become certified in the following:
Healthcare emergency safety manager
Flight transportation
Critical care transportation
Medical interpreter
Hyperbaric and diving technologist
Driving emergency vehicles
Frequently Asked Questions About Becoming a Paramedic
How much can a paramedic earn each year?
Paramedics earn an average salary of about $36K per year. This salary depends on your experience and can be lower or higher. It will also depend on the location you work in and the hours you decide to work.
Do I need a degree to become a paramedic?
About 80% of paramedics have a high school diploma or GED only. The other 20% or so have a college degree, with most holding an Associate's degree. Only 4% of paramedics have a bachelor's degree.
While a degree isn't necessary for this career path, it can be helpful. You can become a paramedic with just a high school diploma and the right training.
Are paramedic programs offered online?
Typically, you will need to complete a paramedic training program in person. With so much of the training being hands-on tasks, it's likely you won't do much of your training through an online program.
Do I need to meet specific physical requirements to be a paramedic?
Yes. While there are no specific requirements, like the ability to do a certain number of push-ups, you will need to be rather fit. Paramedics spend plenty of time on their feet. You will also need to reposition patients, so physical strength is necessary.
Is a driver's license necessary to work as a paramedic?
A clean and valid driver's license will be necessary to get a paramedic job in most cases. In some states, you will also need to have the right endorsements on your driver's license. This endorsement will be necessary to drive the ambulance.
How long is paramedic training?
Most paramedic training programs will take one to three years. It takes about 1,300 total hours of training to qualify for your certification.
Are there any advancement opportunities for paramedics?
As a paramedic, you can advance your career in many other areas of healthcare. Some of the common positions paramedics advance to include:
Registered Nurse
Operations Manager
Dispatcher
Emergency Management Director
Physician Assistant
All of these positions will require additional training and education.
What type of job opportunities are available for paramedics?
There are many types of jobs you can enjoy if you become a paramedic. While the traditional ambulance paramedic is one of the options, there are several others, including:
Police officer
Firefighter
Offshore medic
Industrial medic
Wilderness rescue
Water rescue
Flight paramedic
Contract medic
Emergency room technician
While some of these positions will require more training, a paramedic can use many of their skills for these careers.
Related Learning Opportunities
How To Become a Firefighter

Want to be a hero? Become a firefighter! Let's look at how to become a firefighter, different career paths, and day-to-day as a firefighter.