While both physical therapy and occupational therapy are rehabilitative disciplines, they are not exactly the same. Sometimes, they are used interchangeably. Both do require hands-on work, but these two professions are rather different.
If you want to go into a career to help others, physical therapy and occupational therapy offer two good options. Let's look at what these both are and how they are different.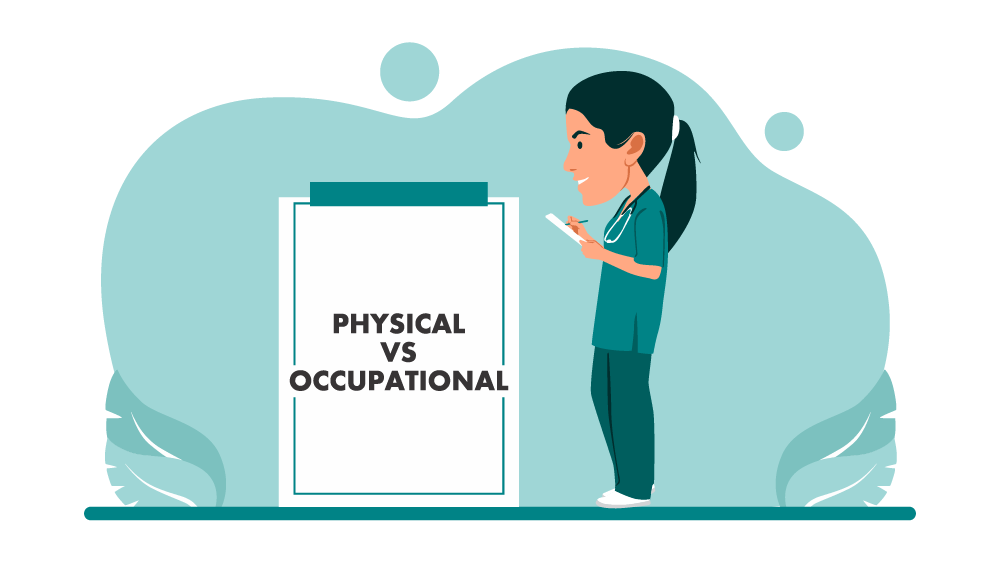 What is Physical Therapy?
According to VeryWellHealth.com, "Physical therapy is a healthcare specialty that includes the evaluation, assessment, and treatment of individuals with limitations in functional mobility."
If you become a physical therapist, you will provide several different services. Your job will be to help assess the condition of patients and provide the right options to help restore mobility and independence.
What is Occupational Therapy?
MedicalNewsToday.com defines occupational therapy as, "a healthcare profession. It focuses on helping people do all the things that they want and need to do in their daily lives."
A career in occupational therapy will have you helping people that have acquired a disability or have suffered a medical event. When they are going through their recovery process, you will help them get back to living their lives independently.
Physical Therapy vs Occupational Therapy: The Key Differences
Both physical therapy and occupational therapy offer a focus on the patient. However, there are a few main differences between these two types of therapy.
Type of Therapy Provided
Occupational therapy offers the right choice for patients looking to regain their ability to handle daily tasks on their own. This could include things, such as household tasks, hobbies, social tasks, and more.
Physical therapy, on the other hand, doesn't focus much on the daily tasks, but instead on improving the mobility of patients. This includes exercises to help patients move their bodies and help to manage their pain.
Type of Patient
The type of patient each area focuses on is also a difference. Physical therapy will focus on patients that are recovering from injuries or medical events. Often, these patients are trying to regain mobility and the injuries can vary from minor to life-changing.
Occupational therapists will also work with those suffering from injuries. However, they will also work with patients suffering from developmental and cognitive disabilities. These disabilities often impact the emotions, motor skills, and behavior of the patients.
Those in need of help with tasks, such as taking a shower or getting dressed, need an occupational therapist. However, those trying to improve the movement of their shoulder after separating it, need a physical therapist.
Functions of the Job
While the skills necessary to be a physical therapist or occupational therapist do overlap, the functions they perform are different. It's actually common for occupational therapy to include many physical therapy techniques. However, the job responsibilities will be different.
Responsibilities of Physical Therapy
Consult with patients to learn about their symptoms and physical condition
Provides an evaluation based on the APTA standards
Create a customized treatment plan for each patient
Teach patients exercise techniques they can use to manage pain and gain mobility
Promote healing through stimulation or massage
Assist patients when using equipment
Maintain organized and detailed patient records
Track the goals of patients and their progress
Offer in-home treatment and exercise options
Responsibilities of Occupational Therapy
Performing a full assessment of the functional abilities of a patient including physical, sensory, cognitive, and emotional
Creating a custom treatment plan
Helping patients reach the goals found in the treatment plan
Using assistive technology to help patients gain independence with daily tasks
Help patients gain the motor skills necessary to get back to handling daily tasks
Work with patients struggling with cognitive issues and memory loss
Provide patients with home exercise and continued therapy
Both physical therapists and occupational therapists may work in a variety of settings. It's common for these two careers to include working in long-term care facilities, skilled nursing facilities, acute care, schools, and inpatient and outpatient settings.
Specialties
While the education requirements are pretty similar between physical therapy and occupational therapy, the specialties are different. Both careers will likely require a doctorate degree. However, you can become an occupational therapist with a master's degree.
Once you have your education, you will likely gain certifications in a specialty. The specialties are rather different for physical therapy vs occupational therapy.
Physical Therapy Specialties
Neurologic Certified Specialist (NCS)
Pediatric Certified Specialist (PCS)
Geriatric Certified Specialist (GCS)
Clinical Electrophysiologic Certified Specialist (ECS)
Women's Health Certified Specialist (WCS)
Sports Certified Specialist (SCS)
Orthopedic Certified Specialist (OCS)
Cardiovascular & Pulmonary Certified Specialist (CCS)
Occupational Therapy Specialties
Environmental Modification (SCEM or SCEM-A)
Low Vision (SCLV or SCLV-A)
Feeding, Eating, and Swallowing (SCFES or SCFES-A)
Physical Rehabilitation (BCPR)
Driving and Community Mobility (SCDCM or SCDCM-A)
Mental Health (BCMH)
Gerontology (BCG)
Pediatrics (BCP)
It's pretty easy to see the differences between physical therapy and occupational therapy when you look at the specialties.
Salary
Both physical therapy and occupational therapy offer good annual salaries. According to Indeed.com, you can earn an average of $82K per year as a physical therapist. Indeed.com also puts the average salary for an occupational therapist at about $82K per year.
The differences in the salary are seen when you look at the experience and top employers. Occupational therapists tend to have the ability to earn a higher salary. Some of the top employers will pay more than $125K per year for an experienced occupational therapist.
While physical therapists can also earn more than $100K, the top employers tend to pay close to $115K per year. Even an experienced physical therapist will often earn a bit less than an experienced occupational therapist.
Going into a career in physical therapy or occupational therapy offers a rewarding option. Both provide good salaries, but they are very different. If you want to help others, either career might work well for you.
It will really come down to the type of work you want to do, the degree you want to get, and where you plan to work. Make sure you look at both physical therapy and occupational therapy closely before making your final decision.