When you look into coding courses or look up tech topics, you might discover Pluralsight. It's a learning platform with courses on security, data machine learning, software development, and much more. However, it's important to read this Pluralsight review before choosing a course from this platform.
There are many learning platforms to choose from. You want to make sure you choose the right one for you. Let's look a bit closer at Pluralsight in this review to help you make the right decision.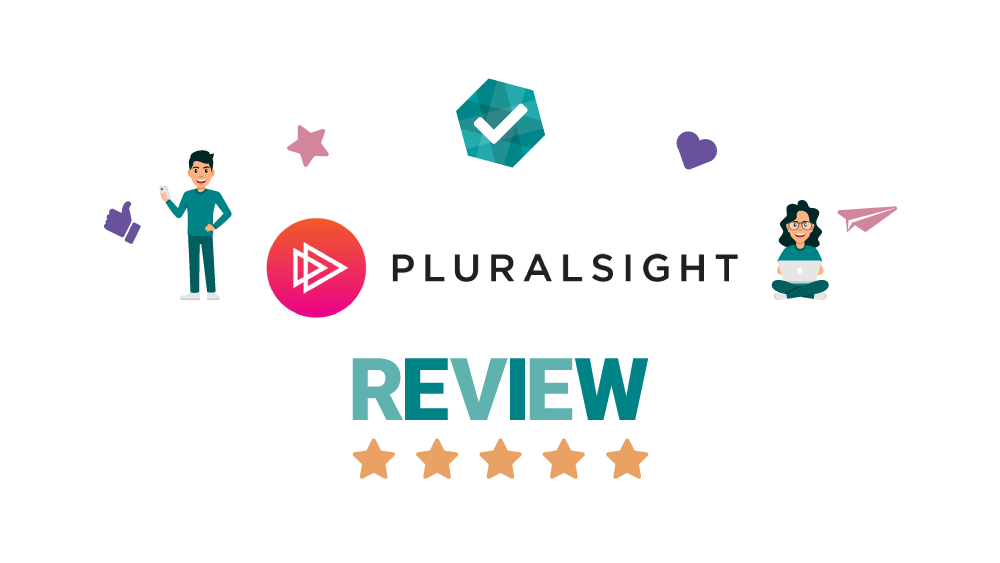 What is Pluralsight?
Pluralsight is a learning platform filled with guides, interactive courses, video courses, hands-on projects, webinars, assessments, and more. In addition, the platform offers content on many different topics created by more than 1,500 industry experts, such as Adobe, Oracle, Microsoft, and Google.
Courses will assess your knowledge before you sign up. You will take a 20-question test to figure out if you're a beginner, intermediate, or advanced when it comes to a specific skill. This helps you to choose the right level course for your needs.
Pluralsight offers a premium version with even more options and a free version. In addition, this version offers industry certifications you can gain and access more features.
The company was listed on the NASDAQ stock exchange in 2018. It's used by many Fortune 500 companies for training, as well.
Pros & Cons of Pluralsight
Pros: What People Love About Pluralsight
Offers more than 9,500 courses with about 80 new courses added each month
Provides both mobile and desktop options with offline viewing
Each course provides a self-paced quiz to test your retention of the material
Access to prep materials for professional certifications are offered for premium users
Expert instructors teach the courses
Plenty of community support offered
Easy to organize to fit your learning style
Cons: Why Other Options Might Be Better Than Pluralsight
Doesn't offer any lifetime access
Not able to buy just one course
No refunds offered
While there are a few cons to Pluralsight, most online reviews are very positive. Pluralsight is aimed more towards intermediate and advanced users, but they offer some beginner courses.
Course Topics Covered on Pluralsight
The courses offered on Pluralsight covers a variety of topics, including:
Software Architecture
Data Analysis & Science
Software Development
IT
Manufacturing
3D Animation
Game Development
Podcasting
Communication
Management
Machine Learning
Artificial Intelligence
Cloud Computing
Cybersecurity
There are a variety of courses offered with titles, such as 'What's New in Java 16' and 'Dealing with a New Company Culture.' You will find plenty of options if you're trying to learn new skills online to advance your career.
Within these categories, you will find courses covering all types of topics, including:
Building AI
Decision Making
Management
Motion Graphics
Rendering
Bug Fixing
Programming
AutoCAD
Administrative Processing
SQL Server
Pluralsight offers excellent courses for those trying to build technology skills. In addition, it's a platform aimed at the student looking to become even more tech-savvy.
Pluralsight Review: The Cost
There are multiple plans for individuals and businesses when looking at the cost. You will choose between two plans with yearly and monthly payment options if you're an individual. These plans are:
The Standard for $299 per year or $29 per month – You get the core course library, paths, and skills assessment with this option.
The Premium for $449 per year or $45 per month – You get the entire library, including the core and expanded courses, along with exams, projects, and interactive courses with this plan.
Choosing the yearly plan will save you money, but you will need to know you will use Pluralsight for at least one year. The core course library offers around 2,500 courses, while the expanded course library provides another 7,000 courses.
For businesses, you can choose the Skills plans, which will help you build skills within your team. There are three options with yearly pricing per user, which include:
Starter for $399 per year, per user – This plan gives you the course library to help build your team.
Professional for $579 per user per year – You get basic reporting and user analytics to go along with the core and expanded course library with this plan.
Enterprise for $779 per year, per user – You get the expanded content library with advanced skills and roles analytics with this plan.
All three plans offer the Skill & Role IQs, and the Professional and Enterprise options offer 14-day free trials. You will also get API access and Labs & Sandboxes with all three plans.
When you upgrade to the Professional or Enterprise plans, you will get certification practice exams, interactive courses & projects, and trend & usage analytics.
Top Features of the Pluralsight Learning Platform Reviewed
This specific learning platform offers plenty of different features you might not find on another platform. Below is a look at some of the most important features you will get with Pluralsight.
Course Discussions
You get course discussions with other students with each course. This gives you the chance to ask and answer questions as you communicate with the community.
Hands-on Challenges and Projects
If you choose the Premium, Professional, or Enterprise plans, you will get hands-on coding challenges and projects with each course. This will also include guided feedback, which can help you learn even better.
Cross-Platform Support
You can take the courses from Pluralsight on your mobile device and desktop. The platform also has an offline mode.
Practice Exams
With the upgraded Premium, Professional, and Enterprise options, you can get practice exams to help you prepare for professional certification exams.
Certificate of Completion
Every course will come with a certificate of completion once you have completed the course. These certificates can be submitted for continuing education credits or continuing professional education credits to PMI (Project Management Institute), (ISC)², CompTIA, and ISACA (Information Systems Audit and Control Association).
Role IQ
A unique feature allowing you to choose a role title and complete the necessary skill assessment, Role IQ helps you see how proficient you are with skill. It can make it easier to work on your weaknesses.
Visual Studio Code Extension
You can use this extension to find code-specific content recommendations if you're working on a coding problem. This may come in the way of paths, courses, video clips, and guides. You won't need to use Google to find the answer with this feature.
Quizzes and Tests
You get to practice what you've learned with the short quizzes and tests found in each course.
With these features, you will also get free access to Qwiklabs if you're taking a Google Cloud-Authored course.
A Review of the Content from Pluralsight
The content or courses found on Pluralsight are the best you will find. However, they only publish about three out of every 1,000 proposals they get. This is due to their very high standards for content.
Pluralsight wants to be known as a high-quality option with the best content. Therefore, they require authors to provide high-quality videos with very clear audio. All instructors must be experts on the subject matter, as well.
Frequently Asked Questions About Pluralsight
Is Pluralsight a good choice for beginners?
Yes and no. There are some beginner-level courses, but the platform is designed more for intermediate and advanced users. While this might be the case, there are three levels for subjects taught on Pluralsight, beginner, intermediate, and advanced.
You can use Pluralsight and learn many basic skills if you're a beginner. Then, you can add to your skills with the next two levels.
Who teaches the courses on Pluralsight?
Experts teach courses found on this learning platform in the field. Many have several years of experience. These are some of the best instructors you will find with IT professionals and others teaching the courses.
Will courses from Pluralsight help me with my career?
Yes. Pluralsight offers courses to help you build your skills. With the right skills, you can boost your resume. In many cases, skills stand out more than a degree. So if you're looking to enhance your career and build your technology or creative skills, Pluralsight offers courses for you.
Are there any alternatives to consider like Pluralsight?
There aren't any learning platforms exactly like Pluralsight. However, some offer common course topics. Udemy is a popular alternative, and so is Coursera. However, Team Treehouse is the one closest to Pluralsight in content quality. LinkedIn Learning also offers an option similar to Pluralsight.
Who is Pluralsight best suited for?
The best person to use Pluralsight is someone looking to build their technology skills. If you want to learn about coding, bug fixing, or even business management, Pluralsight is a great option. They offer plenty of excellent courses to help you advance your career and build new skills.
---
There are many learning platforms out there, which is a very hot market right now. However, none truly compare to what Pluralsight offers. This platform provides some of the highest-quality courses you will find in the tech and business space. So if you're looking for a great option to learn new skills, Pluralsight might be the right choice for you.