Online learning is a growing industry expected to reach $336 billion by 2026. More than 30% of American students are taking at least one course online. Surprisingly, 52% of graduate students believe their online college-level courses provide a better learning experience than in-classroom college-level instruction.
You may seek a reputable online education facility that provides professionals with the certification necessary to maintain their licensing requirements. The popular LinkedIn professional media platform now offers courses; read further for a review on LinkedIn Learning.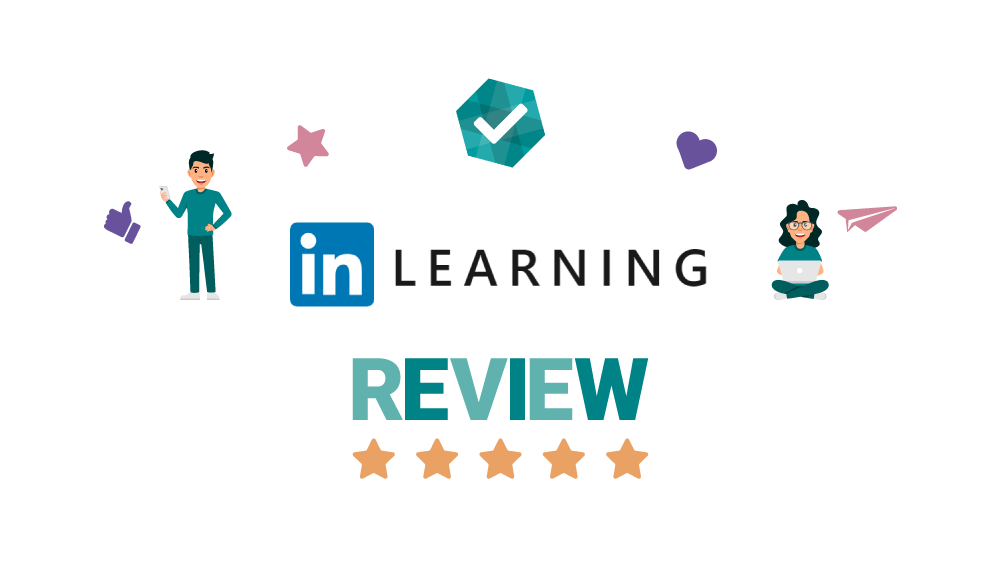 What is LinkedIn Learning?
In 2017 Lynda.com, one of the oldest learning platforms merged with LinkedIn. The creation of that merger is LinkedIn Learning, which offers more than 16,000 courses. This platform is a MOOC (Massive Open Online Courses) provider.
If you are active in business or seeking a career, you most likely are familiar with LinkedIn and probably already have a profile. The LinkedIn platform is best known for business networking. However, they are now focusing on education by offering professional courses through their LinkedIn Learning platform.
The process begins when you register on the platform and start selecting skills you have an interest in. You then receive recommendations on topics that fit your interest.
Another way to find available courses is to look for course availability according to your field. You begin by selecting a category of either business, technology, or creative and receive recommendations. If you know what type of educational course you are looking for, you may also select the search option and choose that way.
Directions of Learning
We like LinkedIn learning because it uses direction, which is like nothing available on any other website. For example, LI learning targets professional development, general education, etc. You may also select your preferred method of learning:
Software—Each profession has a preference for specific software programs
Subject—You select a specific topic, such as HR, Finance, etc. and then make a selection of topics based on your subject
Learning Paths—If you are transitioning into a new career, the LinkedIn Learning Paths will assist you with finding a path that leads you to success. This is because once you make your path selection, LinkedIn provides you with a structured path by providing you with a list of courses necessary to achieve success. For example, if you select a digital marketing path, the Learning Path will provide you with a list of course recommendations, including:
Content Marketing Foundations
Creating an Integrated Strategy
Google Analytics
Growth Hacking
Lead Generation Foundations
Online Marketing Foundations
SEO Foundations
The low cost of this program makes learning a small investment. LinkedIn Learning offers a one-month free trial. The free trial membership includes access to all LinkedIn premium career features:
Access to 10,000+ expert-led courses
Offline viewing to learn on the go
Personalized course recommendations
Watch anytime on your phone or computer
Project files to practice as you are learning
Assess progress with quizzes
Earn a certificate when you complete the course
Once your free trial is over, rates are $29.99 per month, or they offer a discounted rate of $19.99 per month when you register for a year.
LinkedIn Learning courses are self-paced, which means you pick the speed at which you move through the course. They also have a language selector that provides courses in various languages to meet everyone's needs.
User-Friendly Website
The LinkedIn homepage is devoid of any personal touches, and the feeling when you visit is of a cold but professional website. It has a standard layout with learning options on top, recommended and featured courses in the middle, and self-promotion items at the bottom.
Course pages are standard in comparison to other online course providers. There is an instructor information section to learn about the person teaching any course you are considering. In addition, course descriptions, lesson lists, and previews are pretty standard.
Overall the website is easy to use and navigate. If you are new to learning online, you will have no problem finding your way around, and if you are an old-timer in the online course field, this will be a walk in the park.
How is LinkedIn Learning Good for Job Seekers
LinkedIn Learning is good for job seekers or anyone looking to request a promotion or raise. The courses help to boost your resume, attracting the attention of a potential employer or manager. In addition, taking courses shows those looking to promote or hire that you are motivated to succeed.
This is especially helpful when you are transitioning into a new career. For example, if you want to move into marketing, you need to know various marketing areas, such as Facebook Ads. By taking a LinkedIn Learning course online, you obtain the necessary skills.
Even if you plan to maintain your current position, employers love employees who are proactive at learning new skills for their profession and personal life. Therefore, it will be impressive if you walk into your next job review with a copy of your course or learning path certificate to show you are self-motivated in advancing yourself and the company. You may also share your certificate on your LinkedIn profile.
In both of the above scenarios, consider the company manager looking at two potential candidates for a raise or promotion. One candidate has a lot of experience but does nothing to improve themselves. The other candidate has less experience but spends 50% of their free time taking courses to improve themselves.
Which candidate strikes you as the one who has the potential to advance the company with their talents? First, of course, every manager wants the person who shows themselves to be an active team member.
Any course you take is a great boost to your resume. When taking special courses in a specific area, you may add those under your "skills" section of your resume or LinkedIn profile. If you complete a full learning path, that counts as education, and you may list that under the "education" section of your resume or profile.
When interviewing, take the opportunity to advise your potential employer about your educational activities. Talk in detail about the courses you completed or are taking. Let them know what the course is, what you learned, and how it will help you as an employee at their company.
LinkedIn Learning Review of Drawbacks
When dealing with the LinkedIn Learning platform, you will need to research the quality of the course you plan to take. Then, investigate which is the best choice for your desired result. The biggest problem is you have no way of knowing how current the course material is.
LinkedIn Learning student reviews indicate the courses are not necessarily the best on the market. Students feel they are mediocre in quality, in addition to a lack of advanced courses.
Depending on the type of course, the course material currency may or may not be relevant. For instance, writing course materials do not change much over the years, but technology, engineering, and law regularly change.
You need to be aware that the certificates of learning you receive are recognition you have completed a course. These are not accredited classes. If you need an accredited certificate, you need to check into alternative online learning sources, such as Approved Course, where you will find courses in a wide range of professions.
Review of Pros and Cons
So what does all of the above information mean to you as a prospective learner?  At a glance, taking LinkedIn courses is of value.
The courses are professionally made
Easy to use learning
Nice features on the program
You do have to be willing to put in the time to research the instructors and courses to make sure the learning platform is solid with what you need. The comfort of learning in your pajamas and slippers combined with a completion certificate and the end of the course adds to the value. You may add your courses and programs to your resume.
When looking at the cons, you need to consider whether the following are of importance to you:
The classes and programs are not accredited
They offer no pricing options; your only choice is a monthly v. annual plan
There are not many advanced level courses
If you need an accredited program, you will need to seek alternative options to receive that type of credit.
Consider Your Options
As with any course of learning, it is best to consider all options and then decide on a reputable company that has approved educational courses. When considering the positives shown in a LinkedIn Learning review, you need to make sure their offerings provide the best continuing education certification and meet your job requirements.
Related Learning Opportunities
Coursera Review

By partnering with the top companies and universities, Coursera provides online learning with a wide range of opportunities.