If you love the idea of traveling and becoming a nurse, a career as a travel nurse is a great option. You can work temporary jobs all across the country. Most of the time, you will work for an agency that will assign you to specific areas throughout the country.
As a traveling nurse, you gain valuable work experience and see plenty of new areas. However, this type of career comes with many pros and cons. Let's look at the necessary steps to becoming a travel nurse.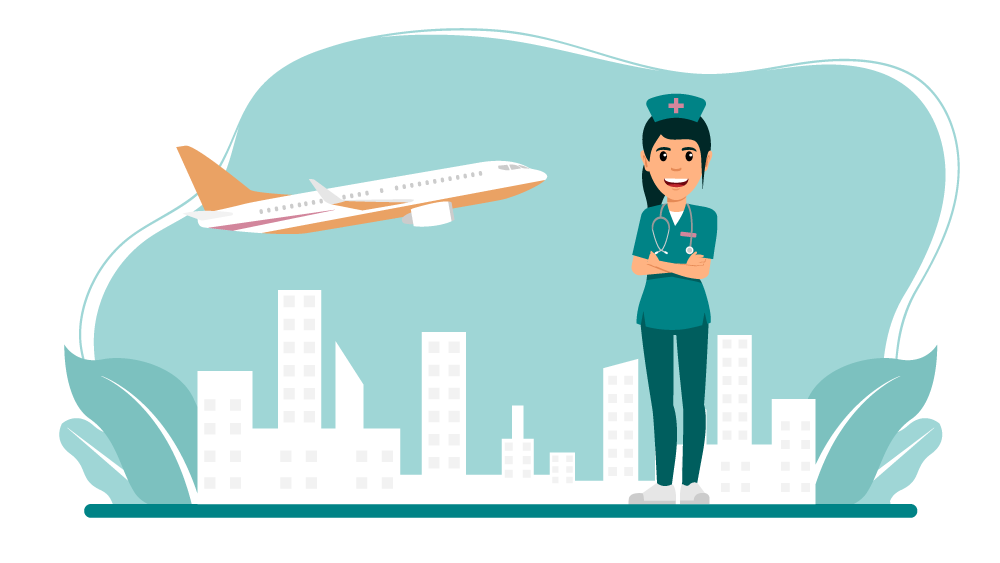 Steps to Become a Travel Nurse
Step #1 – Get the Necessary Education
You have to become a registered nurse before you can become a travel nurse. It starts with a high school education or a GED. After getting your high school diploma, you will need to complete a college nursing program. This needs to be at least an associate degree in nursing or an associate of science in nursing.
While an ADN or ASN will work, many hospitals require a bachelor's degree in nursing. An associate degree will take two or three years. However, a bachelor's degree will take four to five years.
You can still become a travel nurse with an associate degree, and many hospitals will accept your degree for assignments. However, if you decide to change and take a permanent job, you may need a bachelor's degree.
Step #2 – Pass the NCLEX Exam
The National Council Licensure Examination or NCLEX is necessary to become a registered nurse or a licensed practical nurse. This exam isn't easy and takes some serious study time. However, you can make sure you pass the exam the first time with a good prep course.
Step #3 – Get the Necessary Nursing Experience
You will likely need one year of recent nursing experience. This is because most hospitals want you to have some experience before you work as a travel nurse.
In many cases, you will need two years or more of nursing experience. You want to be careful which job you choose as your first. It can help you figure out your specialty.
It's also a good idea to land your first job in a compact state. This can go a long way to make sure you can become a travel nurse and easily travel across the country. Currently, 24 states participate in the compact license, which gives you 24 places you can find a job. This is important for a travel nurse as the compact states won't require you to apply for an additional travel nurse license.
Step #4 – Decide What You Want Out of Your Travel Nurse Pay
There are multiple ways to get paid as a travel nurse. You can get pay packages that include regular benefits, such as a 401(k) and medical benefits. Other packages will include free housing, travel stipends, rental cars, and more.
You want to make sure you choose a nursing agency that pays you the way you prefer. This type of pay is much different compared to a permanent nursing position. Make sure you understand the types of pay packages offered, as they can be a bit confusing.
Step #5 – Complete a Travel Nursing Profile
When you work with an agency, you will need to complete a travel nursing profile. This includes an application, a skills checklist, and clinical references. You will need this for any agency you work with, as hospitals will use your profile to help decide if they should hire you.
Step #6 – Get Your Documents Together
There are some items you will need. If you plan to work as an international travel nurse, you will need to have a passport. The right paperwork and licenses will make a difference. You will need to have the required licenses and certifications to land any type of nursing job.
You will also need to maintain your medical records. This can help you land the best travel nurse jobs.
Duties of a Domestic and International Traveling Nurse
You can work as a travel nurse domestically or internationally. As a travel nurse, you will have a variety of duties and tasks you must perform. Some of the common things you will do include:
Assessing, diagnosing, implementing, and evaluating care for patients
Administering fluids and medications
Reviewing diagnostic tests and lab work
Monitoring and overseeing aspects of patient care
Working with physicians to develop a care plan
Providing the necessary resources for patients and families
Assessing the psychosocial needs of patients and their families
Learning patient care systems
Working domestically means you will work in the United States. Most work assignments will be shorter, only lasting a few months. You will also be able to respond to natural disasters and disease outbreaks in the United States.
If you choose to work internationally, you will leave the US for your assignments. These assignments often range from open to two years. For example, you might be assigned to help with natural disasters or disease outbreaks in other countries. Travel nurses working internationally often work in rural areas and remote areas of the world.
Choosing a Travel Nurse Agency
You will pick up on what you like best as you gain some experience as a travel nurse. For example, you may decide you like specific locations or a type of hospital. This can help you to choose the right travel nurse agency for your needs.
There are plenty of websites online you can use to figure out the right agency for you. As you do the right research, you will quickly determine what you like best and what's best for your needs as a travel nurse.
You want to look at the different types of nursing agencies as the type of medical facilities will differ by agency. It's a good idea to choose an agency with the payment plan you like and the type of hospital you prefer. You can even talk with a recruiter to help you iron out the details.
Frequently Asked Questions About Becoming a Traveling Nurse
What will a workday for a traveling nurse look like?
As a traveling nurse, you will do the same things a registered nurse will likely do, but in a different type of setting. Since you move from contract to contract, the setting can change slightly, and so can some of the tasks.
You will work with doctors and other healthcare professionals at hospitals and other healthcare facilities. When you're not working with your patients, you will likely be doing research. This could be research about the next place you will go.
What's the average salary for a traveling nurse?
As a traveling nurse, you will likely make an average salary similar to a registered nurse. However, you can make more, depending on the contract. Registered nurses make an average salary of around $80K per year.
Are traveling nurses in high demand?
Registered nurses are in high demand, and it's one of the fastest-growing career options. Traveling nurses help to fill the void when healthcare facilities need help. With a large portion of the nursing workforce over 50 years old, this field is likely to keep growing at a fast rate.
Traveling nurses are a very important part of the healthcare industry. They bridge the gap between supply and demand. Since there has to be a certain number of nurses for patients, it's necessary to have this type of nurse to help out when more are necessary.
Do you get a tax-free housing stipend as a traveling nurse?
Traveling nurses are often worried about housing. Some companies set up the accommodations for you, and you might be able to get a tax-free housing stipend. However, you will need to own a tax home if you want to earn a tax-free stipend. Take the time to speak with your nursing agency about a tax-free stipend and determine if you qualify.
Will my nursing license be valid when traveling?
It will depend on the state. In most states, you won't need any new licenses to start working. However, there are a few states where you need to apply for a separate license.
Many states have what is known as a compact state agreement. This agreement allows your credentials to cross into any state that's a part of the agreement without issue.
How long are contracts for travel nurses?
Most contracts for travel nurses will range from about eight to 13 weeks domestically. International contracts can be longer, and this is just an average. Some contracts can be as long as a full year or even two years.
Are You Still Interested in Becoming a Travel Nurse?
There are many great benefits to becoming a travel nurse. While this career isn't for everybody, if it's for you, it's a good idea to make sure you understand what you're getting into. As a travel nurse, you can earn a living and also see the country.
If you love to travel and want to be a nurse, this is a great career for you. Use the steps for how to become a travel nurse and enter into this rewarding career.
Related Learning Opportunities
How To Become a Travel Agent

Learn how rewarding a career as a travel agent can be! Plan vacations for individuals and groups by making all the arrangements.