For a new driver, behind-the-wheel test day is a day filled with excitement and anxiety. If today is the date for you, it's important to remember that you are not alone and that everyone you will see today at the DMV feels the same as you. Set yourself up for success by being prepared to pass your driving test the first time. Use this list of steps to help get yourself ready for the big day.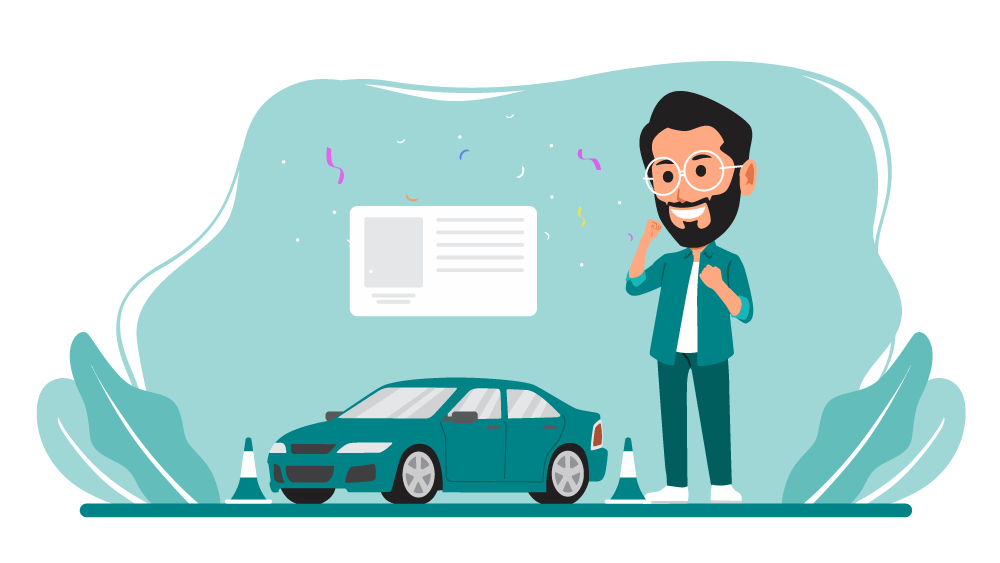 9 Tips to Help Build Test-Day Confidence:
While it is a skill you may never in real life, practice parallel parking every chance you get. Your examiner may not ask you to do it by, if you don't practice, they probably will.
Practice starting and stopping smoothly. Tossing and examiner back and forth by punching the accelerator and stopping the brakes is a sure way to lose points.
Make sure your turning skills are sharp. Always into the lane closest to you and get that signal turned on well in advance.
Before turns or lane changes, practice turning your head completely as you check your surroundings. While you can see everything about your surroundings in a properly adjusted mirror, your examiner can't see what direction your eyes are pointing so turn your head that way, too.
If you have time before test day, spend some time driving the streets and neighborhoods around your test center. Make mental notes about any street signs, speed limits, dips in the road, etc. Your test will be happening on these very roads, so it is a plus if you feel comfortable driving there.
On test day, as with any time you get behind the wheel, make sure you are adequately rested and have done all you can to eliminate distractions.
When you get to the testing location, remember that first impressions Make sure you arrive punctually and treat everyone you encounter with politeness and respect.
When the examiner enters your car, take an extra moment to double check your seatbelts and the adjustment of your mirrors and seat. Since it will probably be the car you brought to the testing center, all these things will be okay, but this quick double check will assure the examiner that you are serious about operating a car safely.
Confidence, even just for show, can make you and your special passenger more comfortable. Genuine confidence is important but, if you're still nervous, simply putting on your "I got this" face for the test can make things much easier.
The key to passing your test (and driving in the future) is always to be prepared for what lies ahead. Understand that the average driver will make 2 ½ mistakes for every mile that he or she drives. Keeping this in mind, remember to spend less time beating yourself up and more time paying attention to and compensating for the 2 ½ mistakes the drivers around you are making
The freedom and responsibility that comes with being a licensed driver will change your day to day life dramatically. Good luck and we will see you on the road!
You've done everything to prepare and the big day is here, time for your driving test. You aced your permit test, and now it's time to show that all those hours practice driving with it have you ready to hit the road solo. Before you head out, look over this checklist to make sure that you are good to go. Make sure to keep calm and relaxed. It is not as bad as it might seem. As long as you have practiced safe driving habits during practice, there's no reason you can't show them off come game time.
Make sure the car you choose to drive for your road test is mechanically sound, has current inspection and tags and is fully insured. The DMV will pull the VIN to make sure, so take care of business here. It would be a shame to fail your road test even before you got behind the wheel!
If you're under the age of 18, make sure to bring the proper paperwork, signed by a licensed adult, parent or guardian confirming that you completed your required hours of driving time.
Check your mirrors and make sure that you (and your examiner) are buckled up safely before you pull away.
When the examiner asks you to change lanes, be sure to signal, check your mirrors and look over your shoulder before doing so.
Watch road signs (especially speed limits) carefully. The disregard of a single sign will result in automatic failure.
While you may never use it again in real life, parallel parking will be a part of your exam. Make sure to practice at home before attempting this with an examining trooper in your car. Practice makes perfect!
If you are nervous about your road test, don't worry, you're not alone. The problem with this understandable fear is that it can result in mistakes because you are concentrating on your feelings and not on the road. Try to clear your mind as much as possible. If you do fail the first time, it's not the end of the world. While there may be a small waiting period between attempts, you'll have the opportunity to take it as many times as you need. But if you've made the most of your permit practice time, you shouldn't have to worry about a thing. Good luck on your road test!
Related Learning Opportunities
Driving is a privilege, not right!

Despite being the main method of transportation, and a near requirement to be an adult in most of the US, driving is not a right - it's a privilege.