More than 14,000 people want to know how to become a real estate agent every month in the United States. With about 2 million real estate licenses out there, it's a popular profession. It's not easy to become a real estate agent, but it's not super difficult, either.
While getting your real estate license might take some time, it can be worth it. A successful agent can make a very nice living. It's not easy to help buyers and sellers with their real estate needs, however.
State Specific Real Estate Licensing
Before deciding to become a real estate agent, it's necessary to weigh the risks and rewards. It will take some upfront money to invest in your career. You may also want to gain some advanced training before working with clients.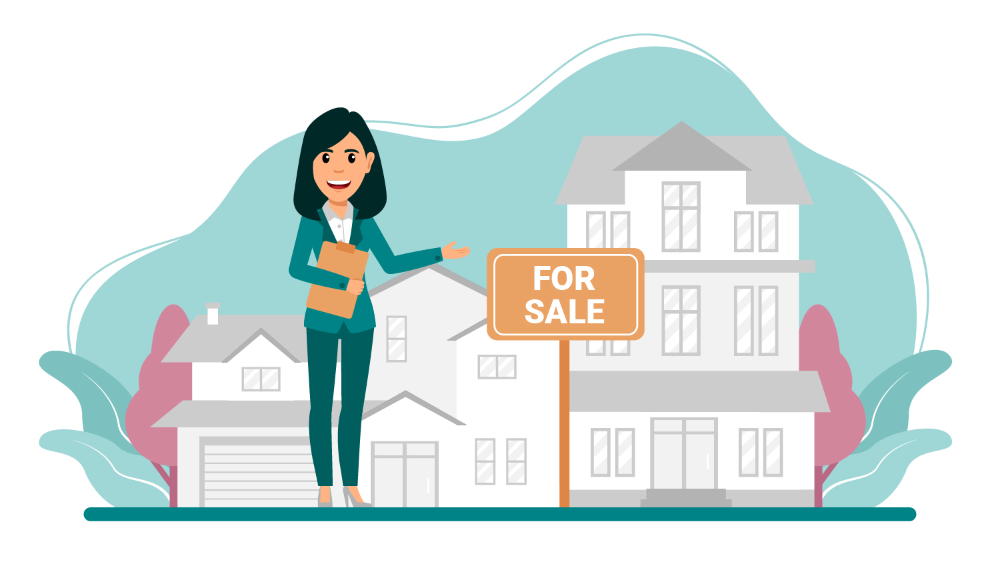 Becoming a Real Estate Agent in Five Quick Steps
1. Complete the Pre-licensing Courses
You will spend $200 to $900 to take the pre-licensing course in your state. It can be completed online or in a classroom. The classroom version may cost more than the online version.
Each state is a bit different. Some states will require around 60 hours for pre-licensing training, while others may require double or more.
You will learn the principles necessary and the practices and legal aspects of the real estate industry.
2. Pass the Real Estate Licensing Exam
After completing the pre-licensing courses, you'll need to pass the real estate licensing exam. It will cost between $100 and $300 to take the test, depending on your state.
The exam will include sections for federal real estate laws and general real estate principles. There will also be a state-specific laws section you will need to complete. Each section will likely consist of 60 to 100 questions, and they will be multiple-choice.
Some pre-licensing courses will give you practice tests that you can use to prepare for the big exam. Since about half of those taking the exam will fail it the first time, you want to make sure you're fully prepared. Even if you fail, you can take the exam again. However, if you don't pass within two years of completing the pre-licensing course, you'll have to retake the course.
Once you pass the test, you will need to pay the fee to activate your real estate license. This fee can range from $200 to $400, depending on your state.
3. Take some Advanced Training Courses
Some of the online providers of pre-licensing courses also offer advanced training courses. Some of these courses can give you the necessary information and skills to become a successful real estate agent. Completing advanced training can also give you a leg up with the best brokerage options.
4. Become a Realtor, Optional
If you want to become a Realtor, you will need to be a licensed real estate agent first. Then, you will need to join the National Association of Realtors. Becoming a member of the NAR provides many benefits, including:
Transaction management services
Real estate market data
Discounts on education courses
And the ability to put Realtor on your marketing materials
The NAR provides credibility and sets you apart from other agents. It can be a good way to grow your career faster.
5. Find the Right Brokerage
The right brokerage can make a huge difference for a new real estate agent. While the rest of the process of becoming a real estate agent is important, this is another very important step. Choosing the wrong brokerage may lead to failure, even if it's a good brokerage.
You will need to work under a supervising broker to practice real estate in any state. The right brokerage will do more than just allow you to work as a real estate agent; they will help you gain access to the necessary tools, mentorship, and more to create a successful business.
Joining a brokerage isn't free. You will pay anywhere from $25 to $500 per month for the tools they will give you. This payment is also part of the fee for working under the umbrella of a supervising broker.
Depending on the broker, you may pay tech fees, desk fees for marketing materials, and other costs to run your business as a real estate agent. Make sure you prepare your budget for these costs.
A Few Quick Tips for Choosing Your Brokerage
It will be necessary to interview and be hired by a broker, but you should also be interviewing them. You want a brokerage that fits well with you, and some of the things to consider include:
Differences between a franchise broker and an independent broker
Ask about the broker's goals and mission
Check for the type of training and tools offered by the brokers
Make sure they are close to the area you plan to work in
Research the brokerage's average listing number and the quality of their listings
Use these tips to help make sure you find the right brokerage for your specific needs. They should match up with what you need as much as you should be a good fit for them.
Building Your Network After Becoming an Agent
Once you become a real estate agent, you'll need to build your network. This takes time and effort. Some of the best ways to build a strong network include:
Asking current clients for referrals directly
Attending events and conferences with other agents
Joining the local Chamber of Commerce
Provide incredible customer service to all your clients and potential clients
Engage and build your social media profiles
Always carry business cards and give them out to those you meet
Be quick to respond to communications
With the right networking events and stellar customer service, you'll be able to build your network faster.
Frequently Asked Questions About Becoming a Real Estate Agent
How much do real estate agents make, on average?
The Bureau of Labor Statistics puts the average yearly earnings for a real estate agent at about $51K. The top 10% of agents can make more than $160K per year, however.
Which memberships will help me achieve success as a real estate agent?
Getting a local multiple listing service membership is rather essential. This may cost a few hundred dollars a year to more than $1,000. It's essential since it's the main system used within the industry to list properties. The MLS will disperse listings to main websites, such as realtor.com.
Will I earn a salary as a real estate agent?
Typically, real estate agents don't get paid a salary. Most brokerages pay 100% commission. This is something you may need to be prepared for, as it can take several months to close your first real estate deal and get paid. However, once you get things moving, you can make a very nice living as a real estate agent.
How long will it take to become a real estate agent?
The entire process of becoming a real estate agent can be done as fast as you want in most cases. On average, agents will take four to six months to complete the pre-licensing classes. If you don't need to work a full-time job as you train, you can complete the course much faster.
Will I need to complete continuing education courses?
Yes, as a real estate agent, you will need to gain continuing education credits. Each state is a bit different. Most of these types of credits can be earned online or at a real estate industry convention.
Is it necessary to renew your real estate license?
Yes, you will need to pay a fee and renew your real estate license every so often. Every state can differ; however, you will need to show proof of your continuing education and pay the renewal fee. Don't allow your license to expire, or it could cause serious issues.
What type of score will you need to pass the real estate licensing exam?
You will need to meet your state's minimum passing score. Typically, to pass the exam, you will need to score at least a 70% on the test. This score could vary a bit from one state to another.
What happens if you don't pass the real estate exam on the first try?
Most states will allow you to retake the test more than once if necessary. However, if you have to retake the exam, you will have to pay to retake it. With the right real estate exam prep course, you can make sure you pass the exam the first time.
What will the real estate pre-licensing course cover?
Each state is a bit different, but this course will likely cover fair housing laws, titles, fiduciary responsibilities, the types of property ownership, contracts, deeds, and other state-specific topics. You will learn the real estate laws on a federal and state level.
Related Learning Opportunities
The CE Shop Review

The CE Shop, Reviewed! State approved continuing education courses, pre-license courses, and exam prep courses for real estate and more.